While many of our staff have passions outside academia, there are very few who can say that passion might take them all the way to the Olympic Games.
But for Dr Rachael Gunn – who lectures in media and creative industries in the Department of Media, Communication, Creative Arts, Languages and Literature –  the recent announcement that breakdancing (known as 'breaking') will feature at the 2024 Olympics means there's a good chance she'll be wearing the green and gold in Paris in a few years' time.
Dr Gunn (known within breaking circles as b-girl Raygun) is Australia's top-ranked female breaker and recently spoke to the Lighthouse about the continued rise of the breaking scene, and her personal mission to get more women involved.
---
1. A favourite photo from your camera roll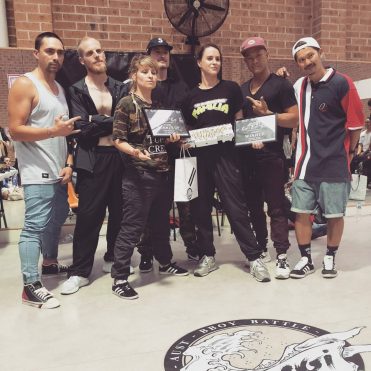 I won my first solo women's breaking competition in 2019 – here's me with the runner up, MC, judges, and organiser at the Ryugi Vol. 25 event.
2. Something you've read recently that had an impact on you
Towards a Chinese Hip-hop Feminism and a Feminist Reassessment of Hip-hop with Breakdance: B-girling in Hong Kong, Taiwan and China by Matthew Ming-tak Chew and Sophie Pui Sim Mo (2019).
This is the first article on women breaking in these regions, and while it resonates with my own research and experiences breaking in Australia, it shows how the pressures and challenges are compounded for women breaking there. It's amazing to see that so many b-girls have persevered.
3. Your definition of success
People I respect respecting me.
4. The first person you go to for advice
My husband – he does so much work behind the scenes to help me succeed.
5. A website or app you can't live without
Google calendar – I have it set up so it shows my events and tasks each day. It helps me remember everything I need to do, and gives me the satisfaction of ticking things off each day. Sometimes it's just nice to see that you've got things done.
6. A personal quality you value in others
Candour.
7. What you need to do your best work
A comfy chair and a good cup of tea.
8. Something you're trying to do differently in 2021
Getting to know more people – I'm not going to let Covid get in the way of that.
9. A moment you felt proud
When 10 out of the 40 entrants to a mixed open breaking competition were women. When I first started there were maybe one or two women entering these competitions. It was amazing to see the growth of the b-girl scene and the success of some of my initiatives.
10. Something you'd like staff to know about
I'm teaching a women's introduction to breaking course on 27 February, supported by the City of Sydney and the street dance association DSDA. It's open to novice dancers and complete beginners, all women are welcome!