Exciting discoveries in the treatment of Alzheimer's disease, stroke, cardiovascular disease, dementia and motor neuron disease could be on the horizon, with the announcement of NHMRC Ideas Grants funding for researchers in the Faculty of Medicine, Health and Human Sciences.
In congratulating the grant recipients, Deputy Vice-Chancellor (Research) Professor Sakkie Pretorius says all Macquarie staff can feel proud to be part of a research institution generating the knowledge behind tomorrow's healthcare.
"These projects are a true embodiment of MQ Health's 'Heal.Learn.Discover' mission, delivering innovations that will go on to help millions of people – and potentially save hundreds of thousands of lives," he says. "This funding is the result of the extraordinary work and dedication of many talented researchers and support staff, and I congratulate them all on this success."
Congratulations to our new NHMRC Ideas Grants recipients

Professor Thomas Fath (Lead Chief Investigator); Dr Janet Van Eersel and Dr Magdalena Przybyla (Chief Investigators)
$1,252,244 for 'Unraveling the molecular mechanism of tau spread in Alzheimer's disease'
Dementia is the second biggest cause of death in Australia and in this project, Professor Fath's team will look at the progression of Alzheimer's disease, which is still poorly understood.
Recent findings by the team suggest that core cellular pathways and building blocks of nerve cell connections are required to allow the spread of pathology in the brain. The project will look at whether these pathways can be used as effective targets to intercept the disease and prevent further cognitive decline.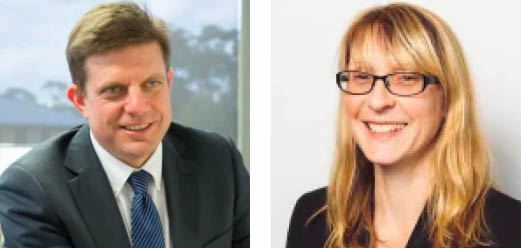 Professor Marcus Stoodley (Lead Chief Investigator); Dr Lucinda McRobb (Chief Investigator)
$993,866 for 'Preventing stroke from arteriovenous malformations using precision thrombosis'

This project will focus on malformations in the brain called AVMs, which are the main cause of stroke in children and young adults. Most large AVMs are untreatable, leaving one-third of young patients at constant risk of sudden death or lifelong neurological disability.
The team aims to develop and clinically trial new medicines that – when combined with focused radiation – will block the abnormal vessels, preventing them from bleeding and causing stroke.

Associate Professor Yazi Ke (Lead Chief Investigator); Dr Annika Van Hummel  and Dr Alexandra Daryl Ariawan (Chief Investigators)
$687,444 for 'Targeting pathogenic TAR DNA-binding protein 43 to treat frontotemporal dementia and motor neuron disease'
Frontotemporal dementia and motor neuron disease are rapidly progressive and fatal neurodegenerative diseases that affect people in their prime. Poor understanding of the processes that lead to these diseases have slowed drug development.
Through innovative experimental design, the team aims to decipher a novel disease mechanism that involves specific molecular interactions and translate these findings into new therapies for the diseases.

Associate Professor Simon McMullan (Lead Chief Investigator); Dr Cara Hildreth and Dr Peter Burke (Chief Investigators)
$517,958 for 'Innate threat detection circuits in the superior colliculus co-ordinate respiratory and cardiovascular responses to visual stimuli'
Our surroundings have a physical effect on bodies, and things like light pollution, traffic, and aircraft noise all significantly affect cardiovascular health. Syndromes that make people hyper-sensitive to sensory stimuli (such as post-traumatic stress disorder) can sometimes even double cardiovascular risk in these patients.
This project will investigate the interactions between systems in our brain that subconsciously scan our surroundings for interesting or threatening features, and those that co-ordinate our cardiovascular and respiratory systems. The findings will significantly improve understanding of how sensory information affects the autonomic nervous system.