Macquarie Business School staff go over the 'Nitty Gritty of Engagement' – one of the weekly modules in the University's 'Engage with Industry' program.
With diversification of research income being a key focus of the Operating Plan, developing and nurturing meaningful relationships with external partners is becoming an increasingly important skill for our academics.
But how many of us would be comfortable starting up a conversation with an industry partner, much less asking them for funding?
That's where the University's 'Engage' programs come in. A collaboration between the Corporate Engagement team and the faculties, these multi-week programs focus on enhancing knowledge, increasing confidence and developing practical skills for researchers and HDR students to initiate and build collaborative relationships with industry partners.
"Our goal is to transform Macquarie into a university that is renowned for its partnerships with industry, government and NGOs, and where our research has far-reaching impact in the world," says Corporate Engagement's Faculty Engagement Manager Helena Hurley.
"We've now run the 2020 'Engage with Industry' program in all four faculties and we've been delighted with the positive feedback coming back from our academic staff. We're also excited by the enthusiastic response from our HDR students, with their Engage program having commenced on 22 October."
Helena says it's been interesting to see the participants' shift in thinking when it comes to perceptions around industry engagement.
"Through the course of the program they come to realise that relationship building isn't just about asking for funding when funding is needed," she says. "They start to understand that relationships take time, and often result in something much richer than just funding."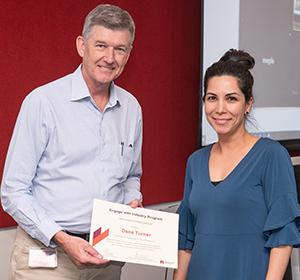 Professor Patrick McNeil (Executive Dean, Faculty of Medicine, Health and Human Sciences)  presents program participant Dr Dané Turner with her certificate of completion.
Dr Marina Junqueira Santiago, a researcher in the Department of Biomedical Sciences, says the Engage with Industry program opened her eyes to possibilities she didn't realise she had.
"I started out thinking I could only engage a specific industry, based on my research expertise," she says. "But after my one-on-one coaching session with the facilitator Jane Cockburn, I was able to identify all the other possibilities that I had never considered.
"I've learnt skills that will help me to succeed when contacting and meeting partners, including how to reach out and – most importantly – listen to them. I would definitely recommend this program to researchers at Macquarie."
---
The Corporate Engagement team are planning for future training programs and invite any interested academics to contact them at ce@mq.edu.au.