Macquarie Cycling Ambassador Catherine Ennis (DVC Research)
The Biketober Business Challenge kicks off this Thursday, with Team Macquarie ready to prove our University's commitment to greener and healthier ways of getting to work.
It's not too late to register (and go in the running to win an eBike) but if there's something holding you back, this advice from Macquarie's Cycling Ambassador Network might just give you the confidence to give biking a try. You don't have to cycle to work to participate to Biketober but it is a great opportunity to start new healthy habits!
"It's too hard / I'm too unfit"
You needn't be too ambitious – think five kilometres rather than 50, at least until you've developed some riding fitness.
Try mixing cycling with other modes of transport to start with – cycle to a train station and finish the journey by train, or arrange a car-share with someone who lives closer to campus.
Cycle to campus in the morning, keep your bike in the office (or an MQ Bike Hub), go home via public transport and cycle home the next day.
Consider a folding bike – park a short distance from campus and whip it out of the boot for the rest of the journey. The money you'll save on parking fees will more than cover the cost of the bike.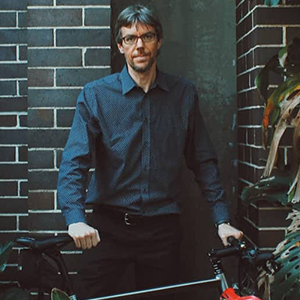 Cycling Ambassador Francois Horion (Office of the Executive Director, Student Engagement and Registrar)
"It's dangerous"
The chance of being in a crash is extremely small. Less than one per cent of cyclists crash each year and from this only 0.001% end up in hospital on any given day.
If you compare with the risks of car crashes, medical conditions and injuries due to over-sitting and lack of exercise, the risk of cycling being detrimental to your health is minimal.
"It takes longer"
For distances of up to 5km, commuting by bike is often quicker than by car, and travel times are similar for commutes between 5 and 10kms.
Modelling suggests that even with high levels of investment in transport infrastructure, traffic congestion will continue worsen, with the morning peak period starting earlier and finishing later. As traffic is rarely a problem for cycling commuters, your travel time on a bike is more predictable.
You save time not having to find car parking.
"I want to stay off busy roads / I'm not sure what route to take"
"It's too weather-dependent"
Check the forecast before you ride to be prepared. Carry a rain jacket and a light layer for warmth. Shelter in a cafe – the rain usually doesn't last that long. Take public transport home if it's a wash out.
And when the weather is fine, there is no more invigorating feeling than a fresh breeze and sunshine on your face as you cycle past drivers stuck in traffic.
Try to join car-pooling schemes so you can get a lift home if rain is too heavy.

Cycling Ambassador Marios Elles, FSE PACE Officer and Macquarie University's representative on the City of Ryde Cycling Advisory Committee)
"But don't you get all hot and sweaty?"
Yes, sometimes you get sweaty but a quick shower is easy thanks to Macquarie's end-of-trip facilities like BikeHubs and office facilities. Registered BikeHub users also have free access to the Sport and Aquatic Centre's showers and change rooms.
A cycling ambassador familiar with your building can show you around the closest showers and end-of-trip facilities to help you with your arrive-at-work routine.
Wearing breathable fabrics and a removable wicking base layer will help keep you dry.
"What about all my stuff?"
Keep things like a change of clothes, towel and toiletries on campus in BikeHub lockers or in your office.
For your other things, you can carry a small backpack, use saddle bags or a soft lunch box you can fix to the handlebar.
"I don't want to wear lycra"
It's not compulsory! Plenty of people choose to cycle in comfortable, plain clothes. Just make sure your pants have adequate stretch.
"It's all testosterone-fuelled, aggressive men"
More and more women are taking up cycling – over a third of registered 2020 Biketober participants are female and we have a number of female members in our Cycling Ambassador Network.
And the men in our network are pretty good blokes too!
As the participants in this City of Sydney cycle trial project discovered, you're much more likely to experience a friendly interaction from a fellow cyclist at the lights than a road rage incident.
"I won't be able to drop/collect the kids"
There are many options for transporting young children with you, such as child seats, trailers and removable 'tag along' bikes – the Network can help you with advice.
For older kids, why not encourage them to cycle along with you to/from school and help them build healthy habits?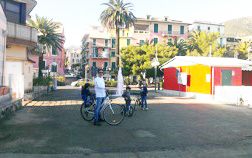 Professor Culum Brown's children all went to childcare every day on the back of his bike – for several years he had two kids on the back! 
"What if my bike breaks or I get a puncture?"
Check out the Bicycle Network for tips on bicycle maintenance or come along to our Bike Mechanics Workshops on 8 and 9 of October. To register and for more details on events take a look here.
Have a backup plan – an Opal Card and mobile phone is good to have with you when cycling.
---
Contact the University's Cycling Ambassadors Network at cycling@mq.edu.au or connect with us on Yammer. You can also visit the Bicycle Network for a great guide for people new to riding.