In the lead up to the Vice-Chancellor's Learning and Teaching awards, we will be profiling all the Highly Commended Finalists over the coming weeks.
This week, we take a look at the amazing staff from the Faculty of Science and Engineering.
---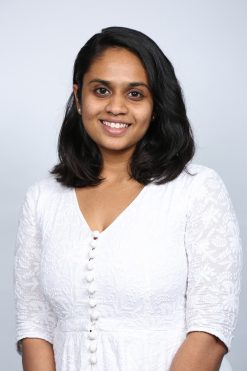 Charanya Ramakrishnan
Student-nominated award
Charanya Ramakrishnan focuses on creating an immersive learning environment through her teaching. Her students are encouraged to write, collaborate and solve problems in a written form to increase concentration and promote stronger content recall. Inspiring, motivating and guiding students is a core ethos of her teaching.
"I inspire students by staying relevant. Students struggle to understand decades-old examples that might have become obsolete. I use exciting and contemporary examples that students can relate to, like Game of Thrones or Avengers in lectures, workshops and assignments to facilitate better understanding of concepts. Learning becomes a fun activity and it helps students retain concepts more efficiently," says Charanya.
"I motivate students to learn by exhibiting enthusiasm and by introducing them to cutting-edge technologies. I keep the environment fun by walking into a lecture with my jolly, upbeat attitude to ensure students enjoy learning and remain engaged.
"I show students I care about their learning and make myself available to guide and assist them, in any way possible."
---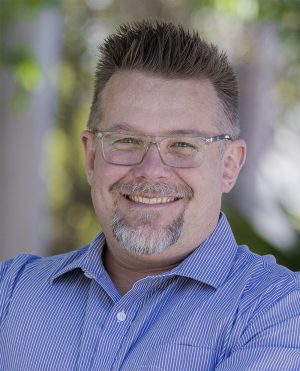 Christopher Burrell
Student-nominated award
A valued lecturer in the Department of Chiropractic, Christopher Burrell has always endeavoured to convey his heartfelt enthusiasm for the chiropractic discipline through his teaching. This year in particular, he has shown exceptional leadership during the shift to online teaching, a particularly difficult task with such practical learning.
"It was clear that a move to online learning would generate significant stress felt by the entire student body. The unique manifestation for chiropractic students was that they were not in their 'skills' classes learning how to perform the therapeutic interventions that they will rely upon in their future clinical practice," he says.
"I took a very simple step of changing what was previously 'skills testing' into assessment of their clinical reasoning and technique application rationale. I did this while maintaining the personal one-on-one format and feedback that a student would have had prior to COVID-19. I designed and coordinated for students to engage online, one-on-one with their tutors. Each student received dedicated time for these assessments and immediate feedback on performance.
"I designed this in a deliberate effort to demonstrate our care and support for the individual student learning journey during a time when many students were reporting feeling isolated."
---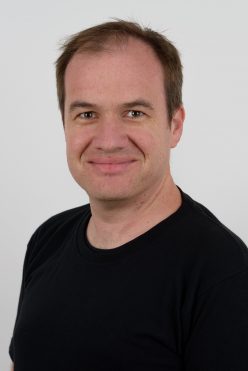 Dr Matthew Roberts
Student-nominated award
Matthew's teaching philosophy is to empower students to learn by giving them all the tools and guidance they need to construct their own understanding. He recognises that the way he learned may not be the way that current students learn now, especially in this technological age.
"The tools they use, the motivations they draw upon, the things that excite them, are all new to me" he says.
"Instead of forcing students into channels I am comfortable in, I push my teaching into the channels they are comfortable with such as YouTube and Discord. Students seem more comfortable interacting in these places, than in person. Since teaching only happens via interaction, my teaching goes to where the interactions occur.
"In recent years I have been focusing my growth as a teacher by making better use of assessments, taking a student-focused point-of-view, and engaging students on their terms. The progress I've made became very important as teaching moved online and I think the positive responses I received this semester are a result of years of steady growth."
---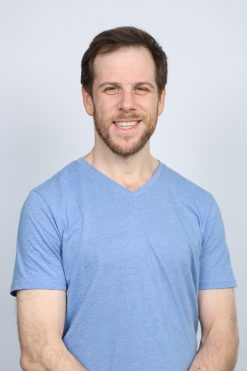 Dr Christopher Lustri
Early career award
This year, Dr Christopher Lustri has taken on the role of Discipline Lead in Applied Mathematics within the Department of Mathematics and Statistics to develop units oriented around mathematical applications. His focus in the unit development has been centred in the importance of professional skills to students.
"I identified that students should have more opportunity to excel in course learning outcomes relating to professional skills and communication. I took steps to include this at all levels of the specialisation, so students can be confident in these skills by the time they graduate," says Christopher.
"Taking these newly-designed subjects in addition to their PACE unit ensures that students develop skills that are of significant benefit to their future employability in every year of their degree. I am now coordinating development of several 3000-level units to continue strengthening professional skills in students and engage them by motivating material through practical applications of mathematics."
---
­­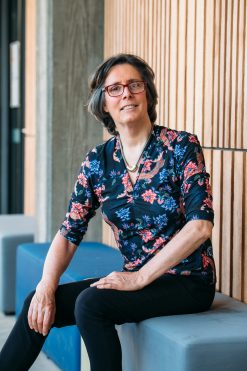 Anna Wells
Sessional staff award
Anna Wells has been a tutor and lecturer for Business Statistics since 2016. She communicates with students in a straightforward manner, avoiding jargon and technical terms and aims to model a professional style of communication that students can use in their future careers.
"I enjoy helping students who feel that mathematics and statistics are daunting subjects to them," she says.
"I remember how it feels to learn statistics. Some students need help to relate lecture material to new problems. Examples which are relevant to students' lives can increase interest and motivation so I have developed a series of exercises which demonstrate how statistics can provide insight into contemporary issues. These include comparing numerical reasoning skills of males and females, estimating the proportion of Australians supporting waste reduction, and activity levels of adults. Each exercise was based on one of the United Nations Goals for Sustainable Development.
"I'm always happy to find another way to explain a topic until a student feels confident they understand."
---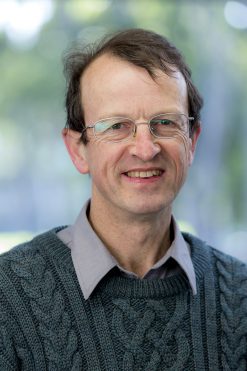 Professor Simon George
Teaching excellence award
From 2008 to 2020, Professor Simon George has taught and convened the astrobiology unit 'Life, The Universe and Everything'. This inter-disciplinary unit has drawn in students from across the University in areas outside the Faculty of Science and Engineering, exposing them to science and enriching their learning experience.
"Astrobiology was commonly something that they had not thought about prior to studying the unit," he says.
"The unit follows a learning approach that changes the way students think about our civilisation and our place in the universe, and thus is a highly appropriate vehicle to enhance STEM knowledge for non-science students. Tutorials are based on problem solving and include group discussion sessions which encourage critical thinking. On several occasions, non-FSE students without a science background have achieved the highest unit mark, including in 2020.
"COVID-19 caused many changes in how the unit was delivered this year. Some of the hands-on tutorials had to be replaced with new virtual fieldtrips, which enabled me to take the students on a virtual experience to key astrobiology locations in Australia. Based on student feedback these converted tutorials worked very well to keep the students engaged."
---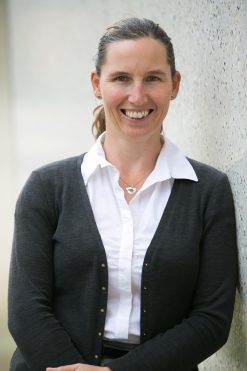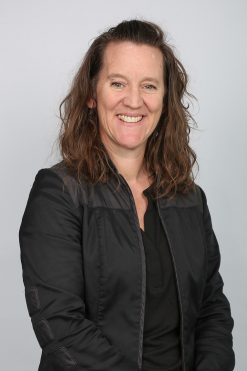 Dr Kerrie Tomkins and Associate Professor Kira Westaway
Educational leader award
Graduate employability is a key issue for universities, with many employers reporting that graduates are lacking basic transferable skills.
To tackle this problem Dr Kerrie Tomkins and Associate Professor Kira Westaway recently developed a solution that embeds employability skills within degrees so that graduates can take ownership of their skills to be attractive in a competitive job market.
"We administered an online survey of potential employers to establish which skills they valued the most in environmental graduates. This clarified the importance of enterprise skills verses technical skills and enabled us to be the first to pitch the Skills Mastery concept to the Faculty," says Kerrie.
"We then embedded employability into the curriculum of the Bachelor of Environment by creating the first employability-dedicated unit, which uniquely builds on the employability content and complements it with other essential environmental skills," says Kira.
"The Skills Mastery approach prepares the students for their degree, starts them on their employability journey by helping them to recognise the required skills, and compels them to be proactive at the start of their studies."
---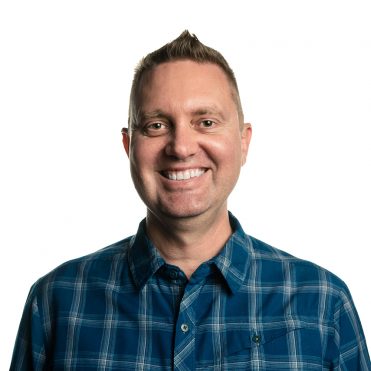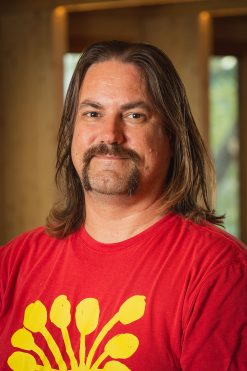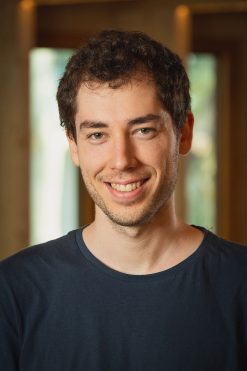 Associate Professor Nathan Daczko, Michael Rampe and Peter Reeves
Learning innovation award
Associate Professor Nathan Daczko, Michael Rampe and Peter Reeves are pioneers of digital innovation, having originally developed the Virtual Petrographic Microscope and then ImageMatrix as its web-based replacement. Both blended learning tools focus on enhancing engagement, increasing flexibility, and enriching learning environments for our students.
"Microscopy is fundamental to Earth Science curricula, but it is also used in environmental sciences, biology and ancient history to examine soils, fossils and ceramics," says Nathan.
"Our digital innovations have super-charged the student learning experience by providing an exciting and world-class digital learning environment for both on-and off-campus students that increases their opportunity to learn. The inherent richness of using these tools over low-resolution non-interactive images has greatly improved collaboration and satisfaction of students while off campus, a cohort magnified by COVID-19."
"So often we look at off-the-shelf solutions for blended learning, which is fine, but we believe a proven strength at Macquarie is to identify gaps and needs and develop rich tools ourselves for our cohorts, thus creating unique and rich learning experiences," says Michael.
---
Stay tuned in the coming weeks as we reveal more of our Highly Commended Finalists and share details on when the winners will be announced.