Macquarie's new childcare centre, Waratah Cottage, welcomed the first cohort of children and families to the centre yesterday (21 September).
Centre Manager Melissa Hope is thrilled to open the recently refurbished centre, a wonderful addition to the University for working parents.
"Welcoming new children and families into an early learning community is always exciting as everyone brings something special to the mix," explains Melissa.
"And in this case, it's even better as we all join together to create our new community and a sense of belonging at Waratah Cottage!"
The centre has been designed so that the older and younger children have separate playrooms and playgrounds, each with their own sandpit, digging patch and plenty of space for exploring.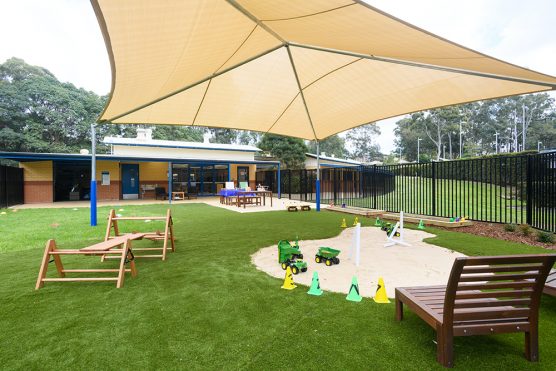 One of the outside play areas
To allow children to settle in, only a small number of children are currently enrolled in the long day care program, with numbers planned to steadily increase. Vacation Care children will join them in the upcoming school holidays.
Vice-President, People and Services Nicole Gower is encouraging staff who may not require permanent care to consider using the casual care that Waratah Cottage will offer from October.
"Being a working parent can be challenging, so anything that makes it easier is fantastic!  Casual care is flexible and designed to support staff with ad hoc care requirements; staff can enrol their children for as little as two hours with the reassurance that they will be receiving high quality care and education."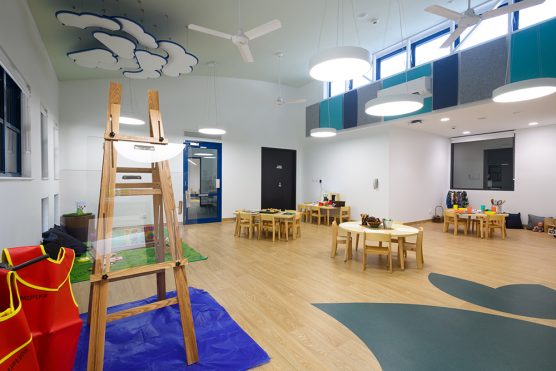 Reading corners, craft stations and more at the new centre
Dr Consuelo Martinez Reyes, Lecturer in Spanish and Latin American Studies, has a child enrolled in the long day care program at Waratah Cottage, and one attending Vacation Care during the school holidays. She's excited by the convenience of having them in the one place.
"My daughter's been going to Vacation Care for about three years now. She loves the activities and the staff. She'll be so excited about the new building, which is absolutely gorgeous and spacious, both inside and outside. I love the neat decoration, the new green area at the front, the rejuvenated 'mud' kitchen at the back, and of course that I can come into campus and drop off both my children in the same building," says Consuelo.
"The convenience is great. And I trust the staff, so I'm at ease, especially with the younger one, who's just starting day care. The fact that there is a new day care as well as holiday care full of fun stuff to do makes me feel like Macquarie cares about being family-friendly. There is definitely a need for day care options in Sydney and having one right here at your workplace and of such good quality is priceless."
Enrolments for the long day care and Vacation Care programs are filling up quickly, so please contact Waratah Cottage on ext 4680 or cexp.waratah@mq.edu.au with any questions or for more information.