After a long hiatus, we're pleased to welcome back our regular Snapped On feature, which celebrates our working life at Macquarie in monthly photo highlights.
With many of us now working on campus on a regular basis, and some face-to-face events resuming, please remember to stay COVID-safe and follow personal distancing and hygiene guidelines (these can be found under 'COVID-19 resources' on the COVID-19 information page).
---
Staff Wellbeing Month kicks off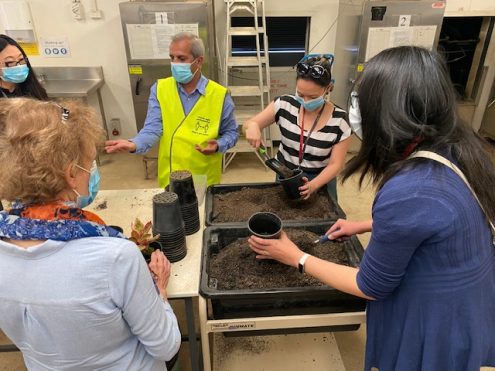 Staff embracing their green thumbs at the indoor plant workshop.
With 2020 being such a challenging year, Staff Wellbeing Month has provided a great opportunity for many of us to take some well-needed time out to focus on our overall health and wellbeing.
Plants are a natural healer and can be great for your mental health, so it was no surprise staff flocked to the Indoor Plants Workshop and Bush Care event.
At the workshop, attendees learnt about the benefits of indoor plants, how to eradicate pests and diseases organically, and even left with their own indoor pot plant to practice their news skills on.
Bush Care saw staff explore our beautiful campus grounds to help with an hour of weeding to contribute to natural bush regeneration.
There are still plenty of events to enjoy before Staff Wellbeing Month finishes on 30 September, so take a look at the program and register today.
---
B. Braun donates kits for medical students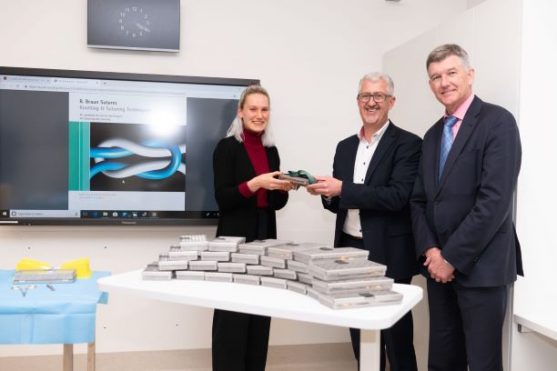 (l-r): Leanne Freame, MD Student, Christian Gabriel, Managing Director B. Braun, and Professor Patrick McNeil, Executive Dean, Faculty of Medicine, Health and Human Sciences
Last month, corporate partner B. Braun visited campus to donate 30 suture kits to Macquarie MD for the medical students to use during their practical studies.
Suturing is 'stitching' wounds after injury or surgery so these kits are a great educational resource for the students. B. Braun will maintain the kits, worth thousands of dollars, to make sure the tools are sharp and fit for purpose.
---
Macquarie community raises $3409 for the Indigenous Literacy Foundation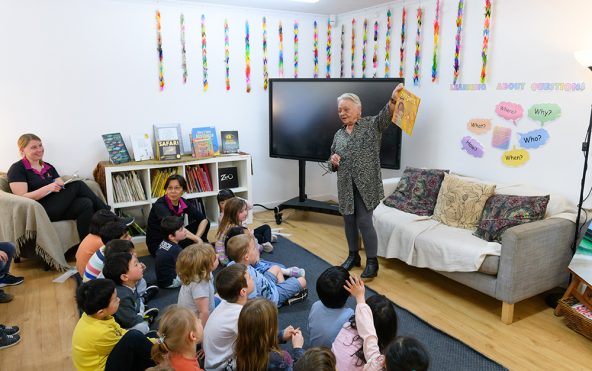 Aunty Clair Jackson reading to the kids at Banksia and Gumnut Cottages 
Macquarie acknowledged Indigenous Literacy Day with a week-long celebration and fundraising for the Indigenous Literacy Foundation.
Some of the celebrations included yarning circles led by the Macquarie Indigenous Association, walking tours of Darug country sites on campus, and a yarn between award-winning poet and novelist Aunty Julie Janson (the voice of our Welcome to Country) and Walanga Muru Cultural Advisor Sue Pinckham.
The week also featured Walanga Muru Academic Engagement Coordinator and PhD candidate Tamika Worrell, PVC Indigenous Strategy Dr Leanne Holt, and Campus Life's Sophie Curtis yarning with Indigenous student Hannah Darlington, as they discussed the importance of aboriginal authorship, literacy in education outcomes for Indigenous students and the Wuyagiba Regional Study Hub (Macquarie's bush campus).
The children at Gumnut and Banksia Cottages also enjoyed a visit from Aunty Clair Jackson, who read the wonderful book Respect by Aunty Fay Muir and Sue Lawson.
A total of $3409 was raised across the week from the book stalls and donations made by staff and students. A huge thank you to those who donated and purchased a book. You can still donate to the Indigenous Literacy Foundation until 2 October.
---
Macquarie and Pearson: partnering in the future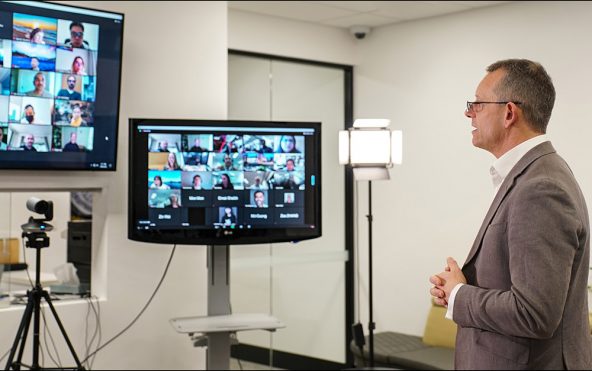 Professor David Wilkinson, Deputy Vice-Chancellor (Engagement) addressing virtual guests at the Pearson Test of English (PTE) Academic Test Centre and MOOC launch

Last week, Macquarie and Pearson came together to celebrate a new partnership with two joint initiatives: a test centre and a MOOC (Massive Open Online Course).
The virtual event saw more than 70 guests – including partners, agents, and other stakeholders in Australia and overseas – enjoy a virtual tour of the facilities and a preview of the MOOC, which commences on 5 October.
Face-to-face attendees included Professor David Wilkinson, Deputy Vice-Chancellor (Engagement); Nicole Brigg, Pro Vice-Chancellor (International); David Barnett, Managing Director, Pearson; Dr Pamela Humphreys, Director, MUIC-ELC; Cara Dinneen, Associate Director, MUIC-ELC; Jessica McCarthy, Test Centre Coordinator.
MUIC-ELC commenced testing for the Pearson Test of English (PTE) Academic Test Centre in building 8SCO in August. PTE Academic is a computer-delivered English language proficiency test and the fastest-growing test globally.
Macquarie has also been a test centre for IELTS for several decades, making us the first testing lab to house both IELTS and PTE Academic computer-delivered tests.
In addition to the test centre, guests previewed an upcoming MOOC preparing candidates for the PTE Academic test and to be hosted on the FutureLearn platform.