Macquarie's 3MT competition winners (L-R): Maryam Shahpasand, Geraldine Sullivan, Andres Vidal-Itriago and Sumedha Prabhu. 
How do you think you would go if you had to summarise 100,000 words – the average length of a PhD thesis – in three minutes? Oh, and by the way, your audience probably doesn't have any knowledge of your field, so you need to make it super simple. Oh, and could you also make it entertaining, please?
That's the challenge of students participating in the Three Minute Thesis (3MT) competition, which sees more than 900 universities in over 85 countries showcasing the best of their PhD research.
Last week, the 2020 Macquarie University 3MT Competition winner was announced by HDR Academic Director Professor Jennifer Cornish who was Chair of the live event. The prestigious judging panel included Professor Simon Handley, Pro Vice-Chancellor (Higher Degree Research Training and Partnerships), Professor Sakkie Pretorius, Deputy Vice-Chancellor (Research) and Professor Dominique Parrish, Pro Vice-Chancellor (Learning and Teaching).
And boy did our students rise to the 3MT challenge.
First place winner Geraldine Sullivan from the Department of Molecular Sciences wowed the judges with her presentation on the fight against antibiotic resistance.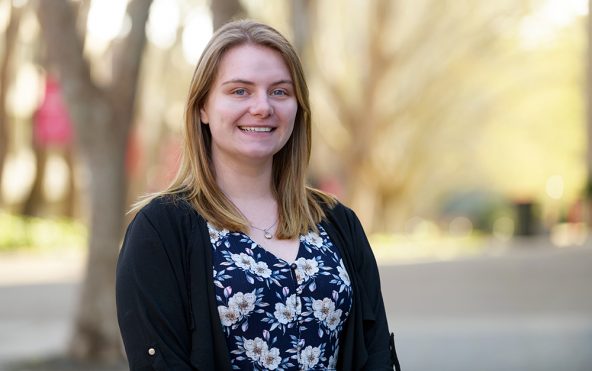 "It is a great honour to be recognised by the judges, who are well established in their careers and great researchers themselves," says Geraldine.
"The competition improves your presentation skills and makes you think about your research in a new light. I used to get stage fright when I was younger, so I always take the opportunity to practice my presenting skills."
Watch Geraldine's winning presentation
Did you know we're on a trajectory towards 10 million deaths worldwide per year (more than COVID-19 and cancer deaths combined) because of antimicrobial resistance? Geraldine explains how combining antibiotics could be the answer.
Congratulations to the other winners:
As part of their win, Macquarie's 3MT finalists undertook a media communications masterclass with SBS World News presenter Anton Enus, with Geraldine receiving an additional 1:1 session with Anton, as well as professional videography support from Group Marketing to prepare her entry for the Asia-Pacific Final.
---
You can show your support for Geraldine by voting for her in the People's Choice ballot on 1 October on the Asia-Pacific 3MT website.