If you're not familiar with the incredible work the Widening Participation Unit does for disadvantaged and underrepresented students, it's time to make a cuppa, get comfortable and read on.
Who are you?
The Widening Participation Unit (WPU) was established in 2011, within the portfolio of the DVC (Academic) and presently sits under the PVC (Programs and Pathways).
WPU's team of eight full-time staff, five casual student contractors and a number of PACE students, is headed by Interim Head, Dr Stuart Upton, who is also the Programs and Pathways Manager for PVC (PP).
WPU is made up of three teams which engage in initiatives aligned with the University's Widening Participation Strategic Plan 2018 – 2022.
Outreach initiatives for Refugee and Asylum Seekers are headed by Saya Hussein, while the Regional and Remote outreach is headed by Margaret Meehan, supported by Lotus Rana and a number of casual student contractors. WPU's Evaluation, Projects and Support teams include Joy Hou, Melissa Wong, Carolina Morison and Jindri De Silva and is also supported by a number of casual student contractors and PACE students.
What do you do?
WPU works to meet the University's commitment to the national widening participation agenda, which seeks to enable and empower students who experience disadvantage or have been traditionally underrepresented in higher education, with access to participate. Widening participation initiatives are primarily funded by the Commonwealth Government's Higher Education Participation and Partnerships Program (HEPPP).
The WPU team designs and delivers research-informed initiatives that enhance disadvantaged and underrepresented students to access learning opportunities that encourage them to explore their potential.
Widening participation initiatives have mostly occurred in the pre-university, outreach space, but are increasingly engaging students through the life cycle of their higher education learning journey.
Over the years, WPU has developed strong networks of partners within, and external to, the University, who collectively form a growing community of equity-focused practitioners and academics.
WPU's Outreach team focuses on delivering initiatives in partnership with schools across Greater Sydney and in regional areas of NSW, engaging students from refugee backgrounds as well as those from regional and remote areas. These initiatives are delivered via LEAP programs – Learning, Education, Aspiration and Participation.
WPU's Evaluations, Projects and Support teams coordinate and enable non-LEAP widening participation initiatives to be delivered in collaboration with a variety of stakeholders, to generate advocacy and awareness. Managing relationships is key to their function as is their responsibility to provide financial, evaluation and reporting oversight for the University's HEPPP allocation.
Why do you do it?
Education is a fundamental human right and the benefits of education are well known to radiate beyond the individual, creating positive impacts for the whole of society.
Enabling access for all students who have the capacity to participate in higher education, and particularly those who have faced structural disadvantages based on socio-economic status, is not only the right thing to do, but a necessity.
Any frequent misunderstandings or misconceptions about what your team does?
Many of the WPU's initiatives delivered under the LEAP banner have become well known, sometimes more so than the team behind it, leading to confusion as to who the LEAP and WPU teams are! We are one and the same and much more when our networks of collaboration are considered.
At a macro level, the disadvantages and challenges faced by many students, particularly those who experience educational disadvantage due to financial and other impeding factors, are not as broadly known or as well discussed as they could be. While education offers the key to equality, there needs to be equity in education for that to be achieved.
This explains it succinctly: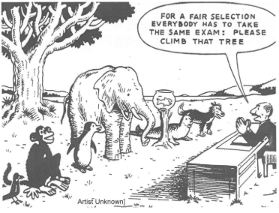 What's a recent achievement you're proud of?
The LEAP UP Refugee Mentoring program, first established in 2011, was recently awarded the 2019 Australian Financial Review Higher Education Award in the category of Equity and Opportunity. We are pretty proud of this, as we are of the impact our initiatives have on students and their respective communities in regional and remote areas, and the growing network of partnerships and collaborations we have established.
Anything exciting on the horizon?
COVID-19 has changed everyone's horizon, including how we engage with students and our partners to deliver widening participation initiatives that add value.
COVID-19 has also highlighted that now, more than at other times, disadvantages exacerbated by financial circumstances are likely to negatively compound on students' outlook and participation. With this in mind, WPU's work in the field and across our network, is as important as ever.
These are challenging times which bring opportunities to engage with our students and audiences in new ways. The WPU has focused on building a trove of online resources as well as participating in new collaborations with like-minded partners.
How can we engage with you?
You can find out more about WPU from our 2019 Highlights or our website.
You can join us on social media: Facebook, Instagram, Twitter and
LinkedIn. Or simply drop us an email, or come and visit us at 11 Hadenfeld Ave – you'll get your steps up!