Lisa Wynn is one of Macquarie's unsung heroes, who not only thrives in her regular role as an Associate Professor in the Anthropology Department, but also rescues injured or orphaned wildlife on campus as trained rescue volunteer for Sydney Wildlife.
Lisa first learned about the organisation when she came across their O Week booth. Sydney Wildlife's founder, Sonja Elwood, has a long association with the University, having completed her bachelor, masters and MRes degrees at Macquarie.
"I found out that they are always looking for volunteers, so I did the training course which they offer four times a year, and I was hooked!" Lisa says.
Lisa says Macquarie staff are regularly involved in her animal rescues across the campus.
"Human Resources Director Nick Crowley rang me on his way to work one day – he'd found a baby ringtail possum on the ground and he knew I was a wildlife rescuer," recalls Lisa.
After assessing the possum for injuries, Lisa took it back to her office to warm it up and rehydrate it with a mix of apple and water through a syringe (creating possibly the cutest video ever viewed on the internet).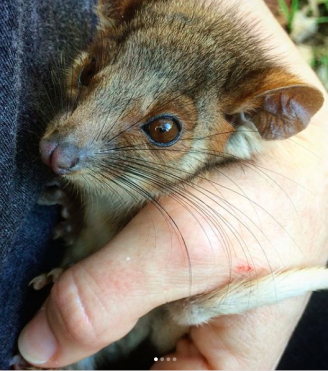 The baby ringtail possum found by Nick Crowley
Another rescue involved Neil Durrant, General Manager of the Faculty of Arts, and an orange-brown ball of fur he spotted huddled on an outdoor staircase.
"The poor possum was stuck between a glass barrier, a concrete wall, and a three-metre drop. When separated from his mum, he clearly couldn't figure out where to go so he just hunkered down for the day and hoped nothing would notice him," says Lisa.
"But he was very exposed and vulnerable to being attacked by ravens and currawongs during the day, so by spotting him and calling a wildlife rescuer, Neil probably saved this baby's life!"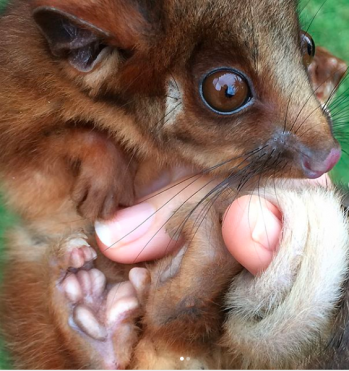 The orphaned ringtail possum found by Neil Durrant
Lisa details these rescues and more on her Instagram @fierceaussieanimals, which features everything from brown snakes to tawny frogmouths.
Ironically, while Lisa has always been an animal lover, she is actually allergic to cats, dogs and most furry things.
"That's probably why wildlife rescue appeals to me," she says. "The great thing about being a wildlife carer is that you see so many interesting different creatures that you wouldn't normally encounter outside of a zoo.
"The hard thing is that the animals that come into care are not pets, and they really do not want cuddles. They're hurt or orphaned and scared and, with a few exceptions, human contact is not good for them, so you have to keep your distance and minimise contact for the animal's sake."
What do if you find an injured or orphaned animal, according to Lisa
"If it's a snake, a goanna, or a bat, keep your distance but keep an eye on the animal and call a wildlife rescue organisation like Sydney Wildlife – their 24-hour hotline number is 9413 4300. They'll send out a specially trained and vaccinated rescuer."
"For any other animal, the first thing you should do is try to protect it, if you can do so safely. You can do that by putting a cardboard box over it, or even a laundry basket, which you can then cover with a towel. That will calm the animal down, and it also protects it from other animals that might attack.
"Don't offer them food or water. When they're hurt and in shock, they won't be interested, and it can do them more harm than good.
"What you do next depends on you. If you're comfortable trying to catch it, then you can scoop it up with a towel, put it in a box, and take it to your local vet.
"If you don't have a car or don't feel confident capturing the animal, call Sydney Wildlife and they'll send out a local rescuer. It might even be me!"