Representatives of Macquarie University and our hearing partners at NSW Parliament House: (l-r) Mr Kim Terrell (Hearing Australia), Professor Patrick McNeil (Executive Dean, Faculty of Medicine, Health and Human Sciences; ), Janet Menzies (Cochlear Ltd), Chris Rehn (Royal Institute of Deaf and Blind Children), Jim Hungerford (The Shepherd Centre), Felicity Wilson MP, Professor Catherine McMahon (Director, Audiology, Macquarie University), Professor David McAlpine (Director, Hearing Research, Macquarie University), Dr Melanie Ferguson (National Acoustic Laboratory) and David Brady (Deafness Forum of Australia; Hear For You).
Hear, hear! MPs get hearing checks for World Hearing Day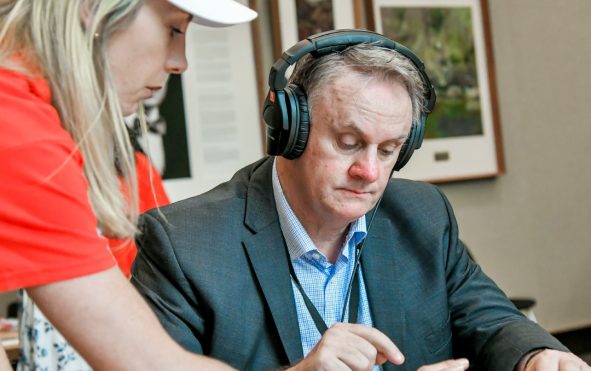 NSW MP Mark Latham gets his hearing checked.
To mark World Hearing Day on 3 March, staff and students from Macquarie University Hearing and their Australian Hearing Hub partners met with NSW State MPs in Parliament House to deliver the results of 111 hearing checks carried out the previous week.
"We showed them just how loud it is for them to hear each other by screening a video of dosimeter readings worn by MPs in the upper and lower house during a question time session," says Professor Catherine McMahon, Director of Audiology at Macquarie.
Along with the hearing checks, the team also discussed the importance of hearing at all stages of life.
Take Hearing Australia's 10 minute online hearing test >> 
---
Macquarie recognised for gender equity work in STEMM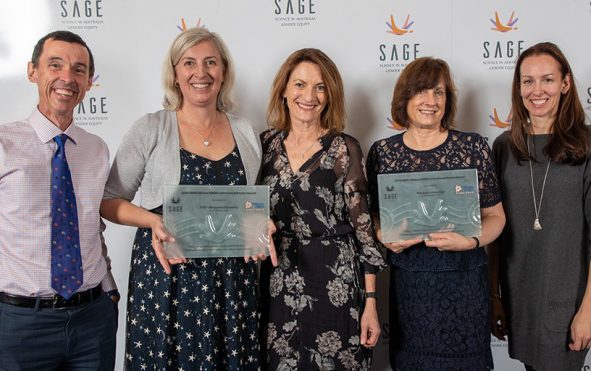 Champions of change in STEMM (L-R):  Nick Crowley (Director, Human Resources); Dr Katrina Sealey (AAO-Macquarie); Jo Hatton (Manager, Workplace Equity and Diversity); Distinguished Professor Lesley Hughes (Pro Vice-Chancellor, Research Integrity and Development; and Associate Professor Heather Handley (Faculty of Science and Engineering)  
Both Macquarie University and AAO Macquarie (Australian Astronomical Observatory) received a Science in Australia Gender Equity (SAGE) Athena Swan Bronze Award at a special ceremony in Adelaide last month. The awards recognise actions taken to address gender inequity in STEMM disciplines.
Macquarie is now the only university with bronze awards at both institutional and departmental levels.
---
Report into autism in Indigenous communities launched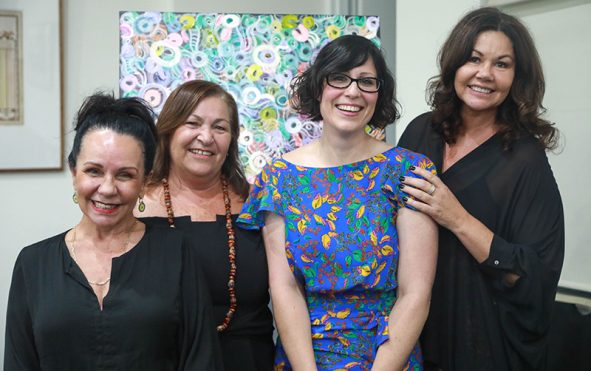 (l-r): Hon Linda Burney MP, June Riemer (First Peoples Disability Network), Professor Liz Pellicano, Maria Watson-Trudgett (Positive Partnerships)
The Hon Linda Burney MP launched the first major report into autism in Aboriginal and Torres Strait Islander communities, conducted by Macquarie academics Dr Rozanna Lilley, Mikala Sedgwick and Professor Liz Pellicano, at the State Library of NSW on 18 February.
While autism is likely to be as common in Aboriginal and Torres Strait Islander communities as other groups, the report reveals that there are fewer tailored services and less support available to these families, meaning that autism supports fail to be inclusive of the distinctive cultures of Aboriginal and Torres Strait Islander peoples.
The artwork for the  report (featured in the background of the above image) is titled An Optimistic Journey and the artist is Maria Watson-Trudgett.
---
That's a wrap on O Week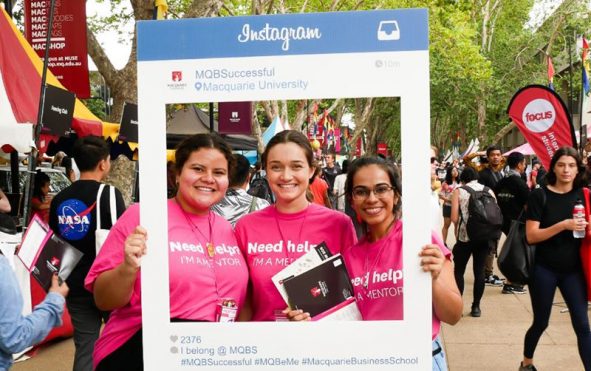 Well done, and thank you, to everyone involved in one of our most successful O Weeks in recent Macquarie history. In the lead up there were fires, storms and a serious virus. None of those things deterred our new students from attending, and enjoying, O Week.
O Week Stats
| | | |
| --- | --- | --- |
|   | 2020 | 2019 |
| Total O Week sessions held | 168 | 108 |
| Students at Faculty Welcome | 4764 | 4291 |
| Attended campus and library tours | 3000+ | 1300 |
| Attended professional and personal workshops | 2000 | 1500 |
An outstanding effort from all involved.
We are far from finished…
While O Week is done and dusted, our comprehensive onboarding campaign continues. We've a range of student-centred communications and activities planned to ensure we support, and retain, our new students. For more information on this part of the plan, contact Director of Student Life, Kylie Ebert at kylie.ebert@mq.edu.au.