Dr Prashan Karunaratne and Dr Murray Taylor from the Macquarie Business School are both known for their innovative approaches to driving student success. And now their dedication has been recognised at a national level, with both men receiving a citation each at the 2019 Australian Awards for University Teaching for Outstanding Contributions to Student Learning.
Congratulating Dr Karunaratne and Dr Taylor on their achievement, Professor Dominique Parrish, Pro Vice-Chancellor (Learning and Teaching) says she is pleased to see Macquarie's commitment to student success brought to life by such innovative teachers.
"These awards are evidence of the sustained commitment and dedication of these great teachers who believe in, and continuously provide transformative learning experiences for their students," she says. "Well done to both of you."
Macquarie Business School's Professor Leonie Tickle, Associate Dean (Learning and Teaching) also offers congratulations to two of Macquarie Business School's finest.
"Dr Murray Taylor and Dr Prashan Karunaratne truly do transform the lives of students through their engaging and inspiring teaching, and it's wonderful to see that recognised through these prestigious national awards," she says.
———————————————————————————————————————————————–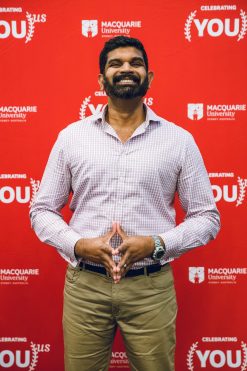 Dr Prashan Karunaratne – who began teaching at the University in 2003 and began lecturing in the Macquarie Business School's core economics unit three years later – has somewhat of a cult following among Macquarie students, with his well-known catchphrase "#EveryoneSayWow!".
Prashan says his focus is on developing an active learning culture, which is particularly important when teaching more theoretical subjects.
"Learning business and economics can appear to be dry, so it's often challenging for a lecturer to engage students," he says. "I redesigned the curriculum to instil the 'why' of learning, using threshold concepts, and the 'how' of learning, utilising learning taxonomies."
Prashan has also been integral to taking the Macquarie Business School's knowledge and reputation well beyond the University, with his enthusiastic utilisation of online learning platforms.
"I upload my lectures to my YouTube channel Prashan Economics, which has amassed more than 60,000 views and over 400,000 minutes of watch time," he notes.
"I'm also part of the team responsible for delivering the University's 'Excel Skills for Business' suite on Coursera, with the courses having been completed by over 50,000 learners worldwide."
Prashan's passion for improving student outcomes is clear, having successfully engaged tens of thousands of students to develop a love of economics and encouraging other teachers at the University to look at teaching through the "how and why" lens. Prashan also engages the wider community through the University's LEAP and Widening Participation initiatives.
———————————————————————————————————————————————–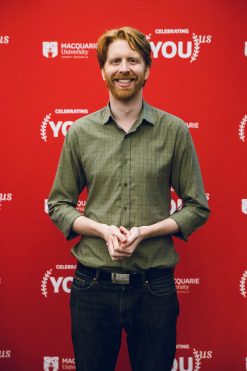 Dr Murray Taylor has been teaching at Macquarie since 2009 and has introduced innovative learning approaches to large undergraduate Business and Management courses at the University.
Murray's teaching framework is built on the idea of collaboration with others, encouraging students to form their own links with content rather than the traditional approach of teacher to student knowledge transfer.
"I purposively design my learning environments to evoke understanding through the building of storytelling elements so students can better engage with complex unit material," he says.
Through this approach, student curiosity is stimulated by interactive and social elements of the classes. A key example of this is Murray's integration of a gamification element within the second-year international business subject, Introduction to Global Business. Students collaborate together through the game "Traders of Macquarie University" to understand real-world global investment decisions.
Murray's use of digital storytelling in the classroom also ensures students with different learning and cultural backgrounds are engaged.
"My research into digital storytelling revealed that diverse student cohorts face learning difficulties in Western classrooms," he says. "This research informed my teaching style to improve the participation and engagement of international students through peer-to-peer discussions and active learning activities, leading to significant increases in their motivation to learn and engage with their learning environment."
---
See the full list of winners in the 2019 Australian Awards for University Teaching.