The Vice-Chancellor, Professor S Bruce Dowton joined members of Macquarie's Gender Equity Self-Assessment Team (GESAT) last week to celebrate the University's achievement of SAGE Athena SWAN Bronze Award accreditation.
The award recognises the University's commitment to advancing the careers of staff from diverse backgrounds and addressing underrepresentation of women in Science, Technology, Engineering, Mathematics and Medicine (STEMM) disciplines.
The highly collaborative accreditation process was led by GESAT, co-chaired by Distinguished Professor Lesley Hughes and Pete Boyle. GESAT conducted in-depth self-assessment of Macquarie's structures, systems and culture to identify gender equity-related gaps and barriers, and developed a robust and measurable SAGE action plan to address them.
Hatrick for the Global Leadership Program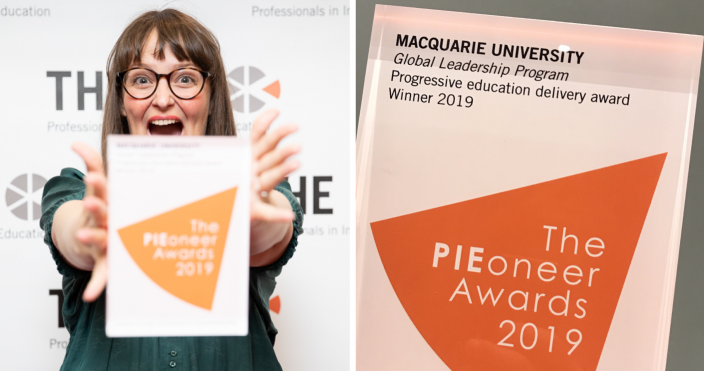 Anneke Rowe (main picture), Manager of the Global Leadership Program, has good reason to be excited with the program winning the Progressive Education Delivery Award at the 2019 PIEoneer Awards in London this month. This is the third major award win for the team in the last year.
Working with over 3500 engaged students, the GLP program focusses on highlighting students' responsibilities and opportunities as global citizens, while increasing their employability and preparing them for a globalised workforce in a 21st century workplace.
Celebrating Macquarie's impact at Parliament House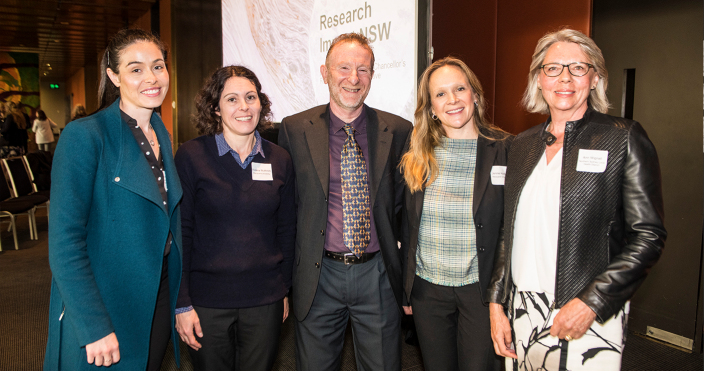 L-R: Dr Lauren McLellan, Professor Viviana Wuthrich, Distinguished Professor Ron Rapee, Professor Jennie Hudson and Honorary Postdoctoral Fellow Ann Wignall.
Staff from the Centre of Emotional Health (CEH) were joined by Professor Sakkie Pretorius, Deputy Vice Chancellor (Research), at NSW Parliament House on 19 September for the launch of Research Impact NSW – a publication showcasing the contribution of public universities to the state's prosperity and wellbeing.
The publication highlights Macquarie's outstanding contribution to the understanding and treatment of both Motor Neurone Disease and mental health, with Distinguished Professor Ron Rapee presenting to the audience on the impact of the Centre for Emotional Health's Cool Kids programs.
Strengthening our bond with Brazil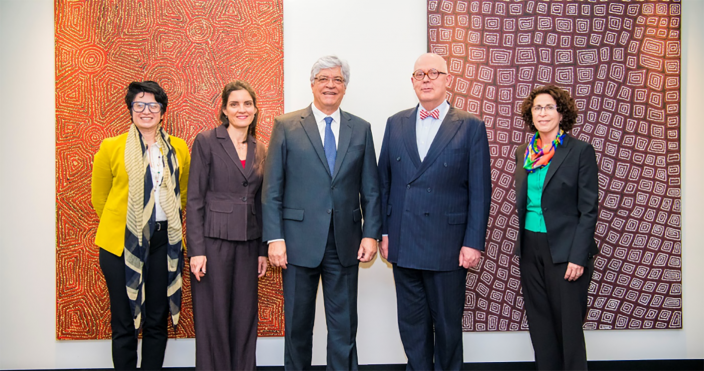 From left: Ms Guie Hartney, Associate Director, Global Business Development; Ms Mariana Madeira, Deputy Consul-General of Brazil in Sydney; His Excellency Sérgio Eduardo Moreira Lima, Ambassador of Brazil;  Professor S Bruce Dowton, Vice Chancellor;  Ms Nicole Brigg, Pro Vice Chancellor, International.
Professor S Bruce Dowton, Vice Chancellor, welcomed His Excellency Sérgio Eduardo Moreira Lima, Ambassador of Brazil and Ms Mariana Madeira, Deputy Consul-General of Brazil in Sydney, who were on campus on the 19 September. This was the Ambassador's first visit to Macquarie University.
During the visit, the Ambassador shared his views on the bilateral relationship with Brazil and was briefed on Macquarie's current engagement with Brazil. He also met with Ms Nicole Brigg, Pro Vice Chancellor, International; Associate Professor Judi Homewood, Pro Vice Chancellor HDR, Training and Partnerships; Associate Professor Tracy Rushmer, Associate Dean HDR from Faculty of Science and Engineering; and key staff members from Macquarie International and Higher Degree Research Office.
The meeting helped identify opportunities for greater research collaboration with Brazilian institution under various Brazil government funding schemes and Macquarie's Cotutelle program.
Alumni and industry partners connect at Leaders in Business event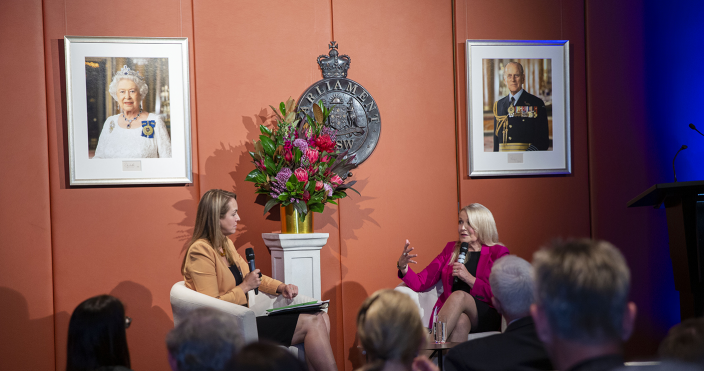 The Macquarie Business School Leaders in Business event brought together more than 200 alumni, staff and industry partners to discuss the changing world of business and ways key institutions are approaching the challenges.
Keynote speaker Elizabeth Gaines, CEO of Fortescue Metals Group, backed up her insights on innovation and culture within one of the world's largest mining companies with a lively discussion prompted by questions from the audience. Elizabeth is a proud alumna of Macquarie having completed her Master of Applied Finance degree in 1997.
Alumna Siobhan Hayden was MC for the evening, and The Hon Victor Dominello MP, NSW Minister for Customer Service, hosteed the event.
50 years of Re:Conception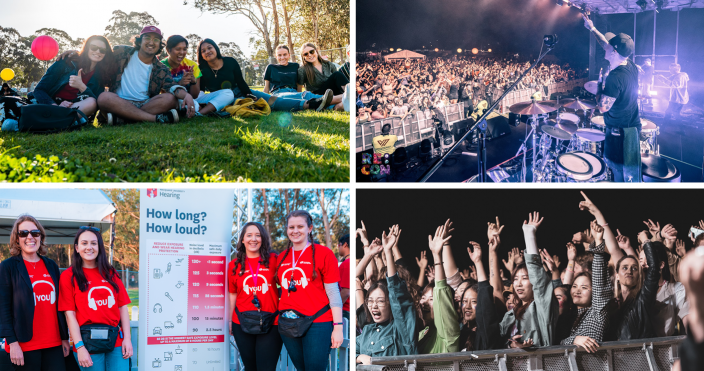 Re:Conception on September 13 marked the 50th anniversary of Macquarie's annual celebration of university life – made even more special with the attendance of alumnus Phil Gibbs (B Arts 1977), ­widely regarded as the 'godfather' of the original Conception Day.
Project lead Natalie Lee says the event – which attracted 5000 students – was a perfect illustration of what makes Macquarie special.
"It was wonderful to see students, staff and alumni coming together in the spirit of fun, inclusion and university pride," Natalie says. "The success of the event was due to the professionalism, commitment and tireless efforts of teams across the University: Student Life, the Australian Hearing Hub, Campus Security, Risk and Assurance, Student Wellbeing, the Events team, the Student Representative Council, student groups and the Macquarie Mentors and Buddies, among many others. I'd like to personally thank all the staff who helped us create a safe and successful event and welcome any feedback to natalie.lee@mq.edu.au."
Macquarie signs new MOU with NSW Dept of Planning, Industry and Environment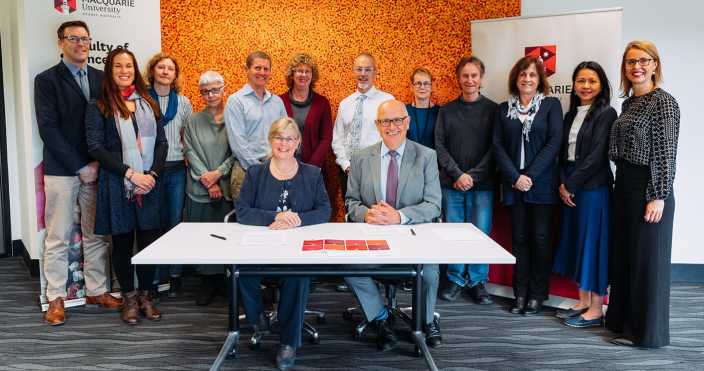 The NSW Department of Planning, Industry and Environment's Energy Science and Environment Science Director, Georgina Kelly, and Professor Kevin Jameson, Deputy Vice-Chancellor Academic (seated), with members of the DPIE and Macquarie University steering committee.
It was all smiles on 10 September as the University signed a new five-year MOU with the NSW Department of Planning, Industry and Environment.
The previous five-year MOU enabled 42 different PACE projects, multiple collaborations between Macquarie and DPIE staff, and 14 research projects totalling over $6 million in research funding. The largest project – the  NSW Adaptation Research Hub – Biodiversity Node focuses on building resilience in species and ecosystems in the face of rapid climate change.
Session 1 brand and recruitment campaign hits the market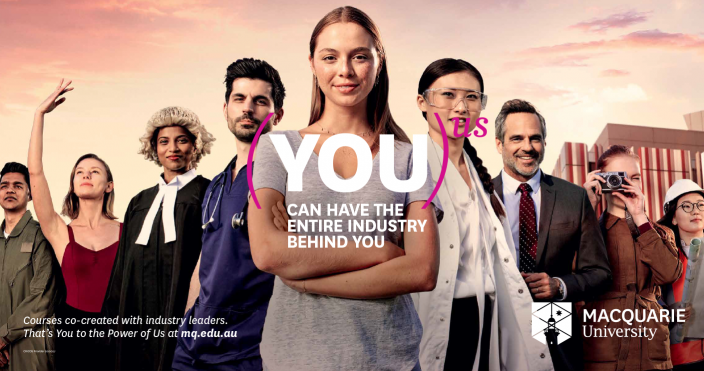 Macquarie's 2020 Session 1 brand and recruitment campaign is now in market, appearing on billboards, train stations, cinema and buses across Sydney and the Central Coast, as well as digital through Facebook, search and display.
The Session 1 campaign builds on the success of last year's brand re-launch, with the You (us) campaign having resonated strongly with audiences. The new campaign executions focus on Macquarie's Curriculum Transformation, highlighting double degrees and industry co-created courses, and the University's internship programs, alongside the existing executions. The campaign will run until 7 February.
Wally's Walkers combat rugged terrain for charity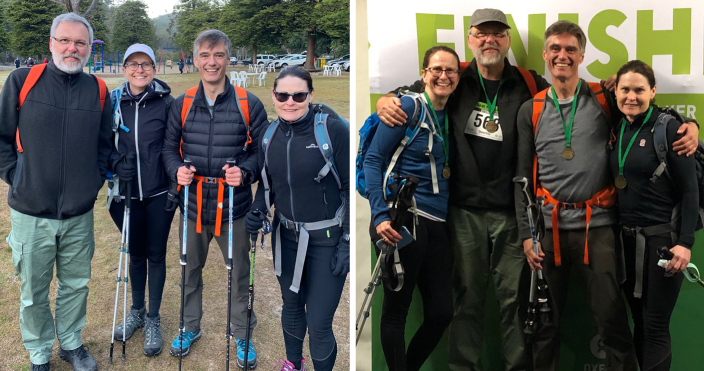 Go team! Members included Mary Ryan, Erik Reichle, Simon Handley and Linda Schofield.
The Wally's Walkers set out from Bobbin Head on a cold and windy, but sunny day and covered 50 kilometres on the Oxfam trail through rugged bushland in just 15 and a half hours.
"I couldn't have asked for better team-mates," says Professor Mary Ryan. "The four of us not only pushed through to the end together, crossing the finish line somewhere in the middle of the 200 teams that finished, but in doing so, raised well over $8000.
"This placed us second in our fundraising efforts on our category leader board of Health, Education, Science and Technology. It was a proud moment personally, and for our Macquarie community. Thank you all for supporting us and donating to this important cause to alleviate poverty."
Making a Splash!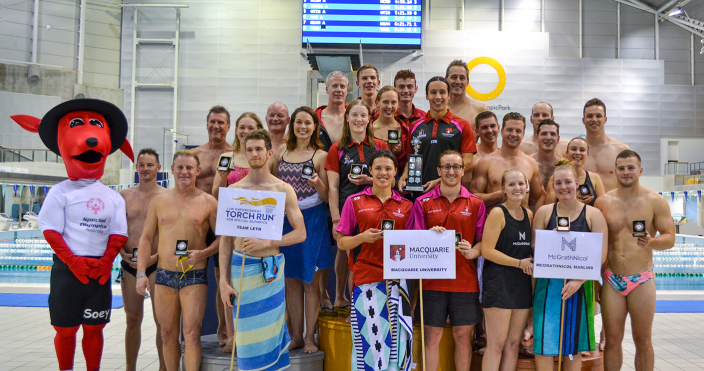 The Special Olympics Splash is a fun and competitive corporate swimming relay where the aim is to raise funds and awareness for Special Olympics Australia to help support weekly sports programs in our community for people with an intellectual disability. This year, Campus Life entered the event for the first time.
Macquarie's team of seven students and one staff member were well coached by Cam Ellicott and took home the Gold in a record time, beating off competition from seven other teams.
The team got to swim with, and against, several Olympic swimmers and Olympic Gold Medallist Chris Fydler joined the team for the final.
The event raised almost $20,000 for this very good cause with special thanks going to Chum Darvall who was Macquarie's major sponsor.