As a Student Files Assistant for Archives and Records Management, Yasmin Goodwin's typical day entails searching, creating and managing a range of university records. She spends most of her time in the office, at a desk – where she usually eats her lunch of salad, soup or some leftovers.
When I was given the opportunity to have a week of free eats out and about on campus I was very excited. Who doesn't love a free meal? But more importantly I was looking forward to treating my co-workers to some cheap meals out as we explored the campus together. I'm no stranger to the food outlets on campus, but I'm often too busy to head out during the day. An adventure awaited, so here it is… a week of MQ eats.
---
Monday: Lunch at Ubar (Campus Common)
The chatter and buzz of a bustling lunch break is all around as we enter the Campus Common. I order with my colleague at the bar after agonising over which pizza to try. We agree a little caramel slice on the side wouldn't hurt either! We perch on the bar stools, soaking in the atmosphere and watching passers-by flood in and out. It really does feel like the beating heart of campus with the thump of the music and chatter of students in the background! When our buzzer sounds we delight over how good our pizza looks; with a beautifully thin base and puffy crust, the Godfather is a sure recommendation. We leave feeling revived –­ UBar is the perfect place for light-hearted conversation.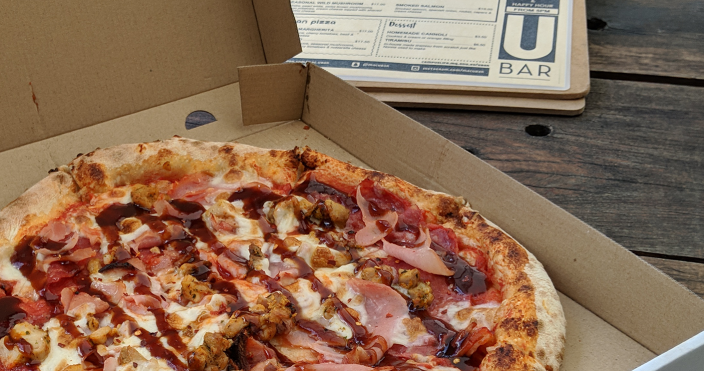 ---
Tuesday: Breakfast at the Library Café 
I manage to catch the early bus to work, so I decide to head on over to one of my favourite spots on campus. When I arrive, students have gathered in silent anticipation for the Library doors to slide open at 8am. It's a peaceful spot in the morning – not only are people meeting and having quiet conversations, but so are the birds! I order my favourite, a blueberry bagel with cream cheese and an English Breakfast tea. Many people don't know, but you can order in at the Library Café (saves yet another disposable cup!) and I decide to sit outside and enjoy the sunshine while I read a book. The Library Café is the perfect place for a peaceful start to the morning.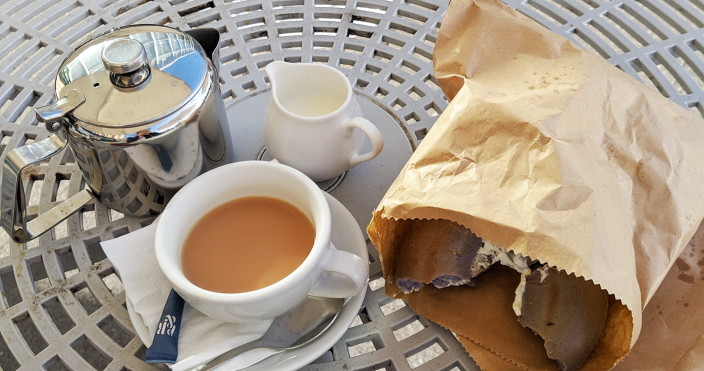 ---
Wednesday: Lunch at the Globe Café (10 Macquarie Walk)
After the recent renovations, I was eager to visit Globe Café and was pleasantly surprised to discover how Sharetea has amalgamated with Globe Café to offer delicious pearl milk tea and hotdogs along with their usual range of café paninis and sweet things. My colleagues and I had a lot of fun choosing what to try from such a big range, but we couldn't resist the opportunity to have milk tea and hotdogs. The benches under umbrellas would be a great way to enjoy a sunny day but we opted for the relaxed indoor atmosphere. Globe Café is a quiet hidden gem, the perfect place to try something new with friends.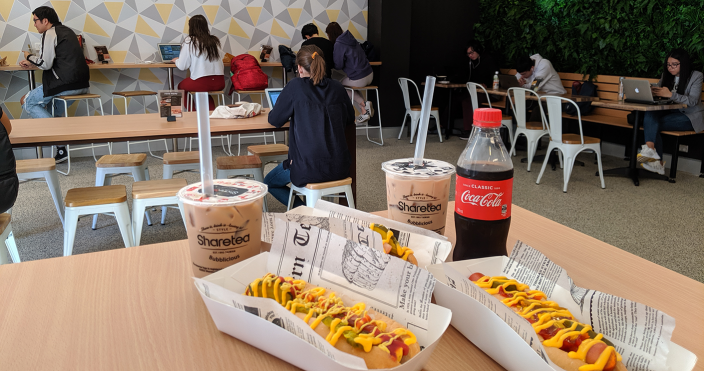 ---
Thursday: Lunch at Crunch Café (Sport and Aquatic Centre)
A short wander off Wally's Walk will lead you to a sweet little spot to enjoy some quick takeaway and the sunshine. It's a great little getaway from the main beats of Macquarie and one of the only spots on campus where staff, students and local families come together. Enjoy your conversation over good food as you take a break from the busyness of the University. There's a burger for every taste at an affordable price which you can enjoy outside looking over the lawns and, let's face it, the walk will be good for you! Crunch Café is the perfect place for laid-back stroll and a hearty lunch away from it all.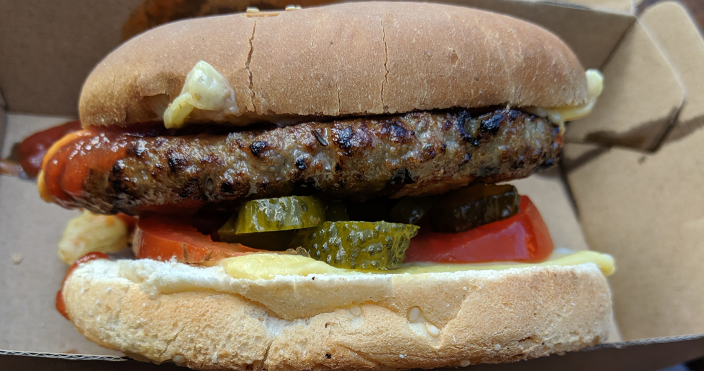 ---
Friday: Lunch at the Staff Café (23 Wally's Walk)
A scenic stroll down Wally's Walk never gets old – joining the stream of students while gazing at the towering branches overhead is so refreshing. I pick the corner table looking out over the passers-by, because I can't resist the view. The Staff Café could not be more beautiful at this time of year as you watch the leaves fall… one might even blow gently into onto your table! I am glad to say that to food is just as refreshing as the surroundings.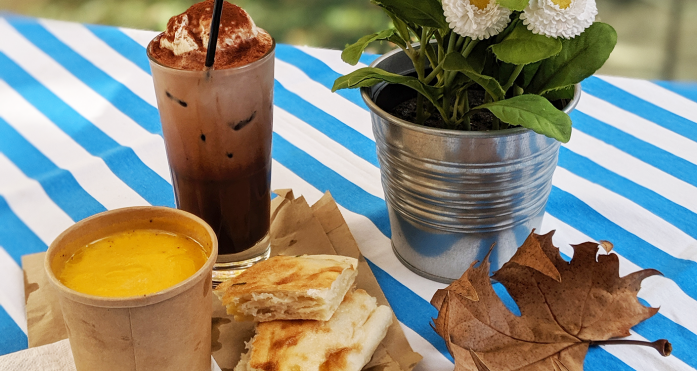 The Soup Kitchen is back on the terrace at the Staff Café, and is better than ever. Not only can you get a sumptuous cup of soup and Turkish bread for only $6.50, but you can also use your staff privileges to order yourself an iced chocolate on the side. Look, if you're having a healthy lunch you're allowed to splurge on the drink, right? Head on inside if you would prefer table service, a more substantial meal and a space away from the students. You never know, you might also bump into a friend you haven't seen in a while. The Staff Café is the perfect place to connect with nature and catch up with friends. 
---
The verdict
We all know of the physical and mental health benefits of getting out and about in your lunch break, and the truth is that Macquarie has so much to offer. My new favourite spot is Globe Café, hidden away from the centre of campus – it's a great place to grab a bite and unwind in your lunch break.
This week I was reminded of how going out on your own or with a colleague adds variety to your regular routine, which can improve your mood and productivity in the workplace. Remember, campus isn't just here for students … why not make the most of it?
---
Discover all our on-campus food and drink outlets.