One of the important pieces of work happening under the banner of  Program Beacon is the delivery of a brand new Curriculum Management System (CMS) for the University.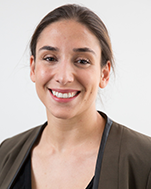 Kerri Mackenzie, Senior Education Program Officer in the Faculty of Medicine and Health Sciences, joined the Curriculum Management System upgrade project late last year to give a 'coalface' user perspective and ensure the system is developed with the user-experience in mind. Here she answers some common staff questions about the project.
Can you briefly describe the Curriculum Management System project?
The Curriculum Management System project will provide a new system to give staff one 'single source of truth' for all activity relating to the Macquarie curriculum. It brings together aspects of the multiple systems we currently use (such as webforms and spreadsheets), streamlining the curriculum management process and providing a better user experience for staff.
How does it fit with the bigger curriculum transformation work happening at the moment?
The Curriculum Management System activity is just one component in creating a better learning environment for our students. It has been informed by – and integrates ­with – our new Curriculum Architecture Principles.
What are some of the key features/functions staff will notice about the new system? What will change?
Although the new system is replacing several others, we haven't just taken everything existing and squeezed them into one new place. It's a new, efficient and intuitive system, where course development tools are connected, captured in the same place and visible to everyone.
It will have better reporting and notification functions, enabling consultation and decision-making. When you submit a change or new proposal, the system will also be able to assign virtual meeting dates to it, so that the proposer can see when to expect an outcome on their new curriculum idea. By moving all aspects to one platform, we are supporting good governance whilst also eliminating the double-handling that happens now.
How will the Curriculum Management System implementation improve things for staff so that they can focus on student success?
The new system will provide clarity for everyone involved in curriculum management, explaining what staff members need to do and how they do it. By having the system in place, accountability will be much clearer. It will be a fantastic time-saver in the long run, creating more time and space to focus on the things that really matter.
What timelines are we working to? What stage are we at now, and when will it go live?
We're in the second phase of design and build and the system will be launching across the University in June this year.
---
Other questions about the new Curriculum Management System? Email beacon@mq.edu.au