Throughout 2018 the University delivered a range of projects on and off campus, and this year the Property team will continue to bring the 2014 Campus Master Plan to life. More than $500m and around 80,000m2 of key, transformational buildings plus infrastructure upgrades will be completed over the next few years.
Arts precinct
Bordered by Wally's Walk, First Walk and Western Road, the Arts Precinct redevelopment is well underway with progress becoming more visible each month since construction started in July 2018. This year will see the site's greatest transformation as new and repurposed buildings take on their future form. The Arts Precinct is due for completion in early 2020.
Key features:
Approximately 17,000m2 total area, including a 4,800m2 new building
Teaching, academic and showcase spaces to highlight the Faculty's ongoing work, research and achievements
Dedicated museum floorspace consolidating the University's Ancient History Museum, Numismatics and Australian History Museum
A new atrium connecting refurbished and new buildings will feature roofing 'balloons' to allow abundant natural light while protecting from wind and rain.
Central Courtyard 
The new heart of campus will to return to Wally's Walk in the form of a revitalised and replanted Central Courtyard. Flowing onto the University's lake and lawn, the Central Courtyard area will be redeveloped to include 25 formal teaching spaces and adjacent informal learning areas that will complement MUSE/MAZE and add newer format teaching environments. The Central Courtyard is due for completion in late 2020.
Key features:
68,000m2 total area
Social and educational focus
New on-campus accommodation for students (345 beds planned in the initial phase)
New graduation hall, retail areas including the U Bar, upgraded Lincoln Building with food and beverage outlets and a new home for the Research Office.
What's happening next?
The contract will be awarded and announced shortly, after which construction will begin.
Clinical Education Building
To sit between Macquarie University Hospital and 75 Talavera Road, a brand new $43m building will cater for expansion of the Faculty of Medicine and Health Sciences' teaching program. Construction will start in March with the building due for completion in early 2020.
Key features:
Timber building with four levels of lecture theatres and modern study areas
Modern, environmentally sustainable design and landscaping to blend communal, exterior and indoor spaces.
What's happening next?
The contract will be awarded and announced shortly, after which construction will begin.
Macquarie University International College (MUIC)
Several buildings representing 3200m2 of space are undergoing a makeover to transform the MUIC teaching, study, communal and amenity areas to modernise and future-proof this important College which hosts a large international cohort each year. New classrooms will be ready for use at the beginning of Session 1, with all works to be completed by the end of April 2019.
Key features:
New student hub
Refurbished courtyard
New Independent Learning Centre
New International English Language Testing System centre
Walanga Muru pavilion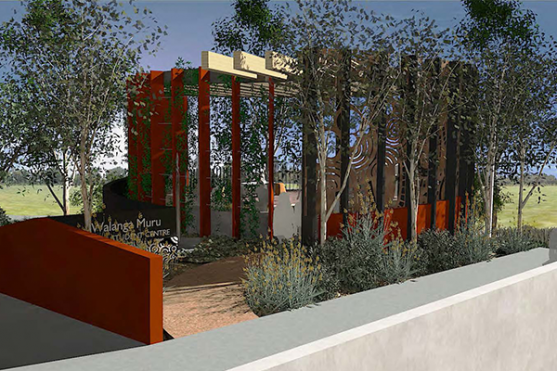 Next to 6 First Walk, the University is halfway through construction of a pavilion designed as an attractive and functional gathering place for Aboriginal and Torres Strait Islander students, staff and visitors. The outdoor area will feature native landscaping and will be large enough to host formal or informal gatherings but small enough to ensure a sense of togetherness and community.
Shared zone – Research Park Drive/Innovation Road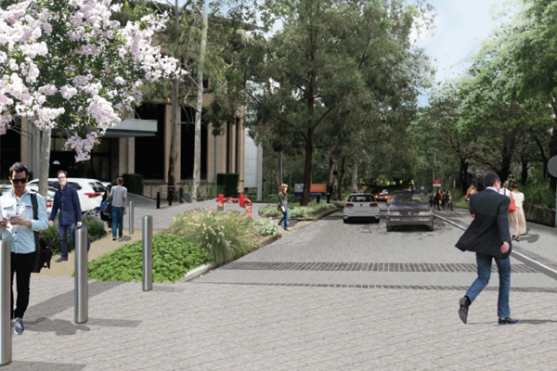 Cordoned off for the final stages of works since late 2018, the road and footpath areas surrounding 4 Research Park Drive will reopen in coming weeks. The upgraded, refurbished outdoor thoroughfare has been designed as a shared public area where both pedestrians and drivers are accommodated. Wally's Walk is a notable example of the University's commitment to prioritising pedestrian spaces where possible across the campus.