More than 9000 new students will be arriving on campus this week for Session 1. With that many new students walking around it's quite likely staff will be asked for help at least once.
Here are a few tips to help you guide our new students to where they need to be.
Find your way before you help them find theirs
Still think of 10 Macquarie Walk as E3A? If you're not yet an expert in our new building names, use University's location guide to refresh knowledge and make sure you can direct students to the correct location.
Printed maps available will be available at the Library information desk, and you can make the most of the maps dotted around campus if you need to direct a lost student.
Guide them to our O Week app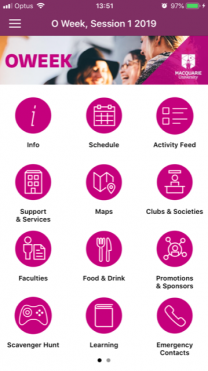 Created especially for our new students, the O Week app gives students all the information they need to know about the week's activities, and includes a handy interactive campus map. It's available for anyone to download on Google play and App store (search 'MQ O Week').
The app was first launched for last year's Session 2 O Week and was downloaded by almost 2000 people.  This year's version also includes a photo scavenger hunt, encouraging students to explore different parts of campus.
Avoid the bounce
If you're not able to answer a student's question and need to refer them to someone else, make sure you've got the right service in mind so you're not sending them on a wild goose chase. If you're not sure, send them to Student Connect at MUSE (18 Wally's Walk).
Be a friendly face 
Remember, many students won't know anyone on campus, so a smile and friendly offer of help will go a long way!