Main image: Vice-Chancellor Professor S Bruce Dowton chats with staff.
Vice-Chancellor Professor S Bruce Dowton joined members of the Executive to serve breakfast to staff at this year's All Staff Breakfast on 6 December.
More than 850 staff attended the event, which was co-hosted by Human Resources and the Office of the Vice-Chancellor at the University lakeside.
Speaking to staff at the event, Professor Dowton reflected on another remarkable year – including curriculum architecture progress, Australian Research Council  grant success and campus development – and thanked staff for their contribution to the University this year.
---
We caught up with staff at the event and asked them: What was your favourite Macquarie moment in 2018?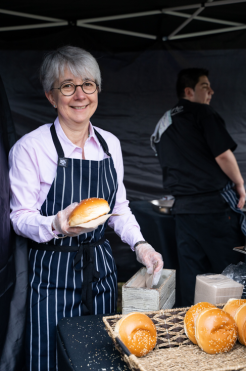 Professor Barbara Messerle, Executive Dean, Faculty of Science and Engineering
"One of my best moments was seeing for the first time the Engineering undergraduates working together in teams in the fantastic new facilities at 44 Waterloo Road."

---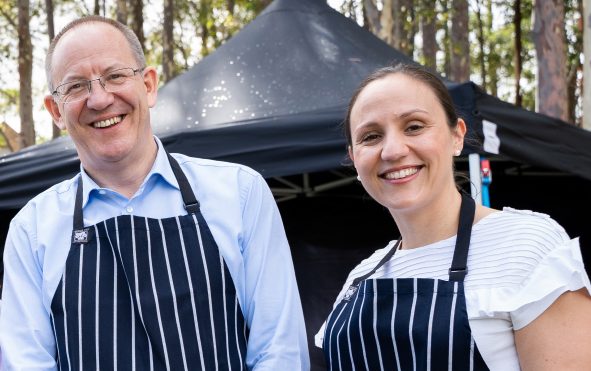 (l-r): Robin Payne (Chief Financial Officer), Nicole Gower (Director, Human Resources)
Nicole Gower, Director, Human Resources
"I'm proud of the work we have done in 2018 on our new enterprise agreements, and the innovative approach adopted under interest-based bargaining. The collaboration, strategic thinking and problem solving from the University and the unions was a real highlight, with a successful outcome for all."

---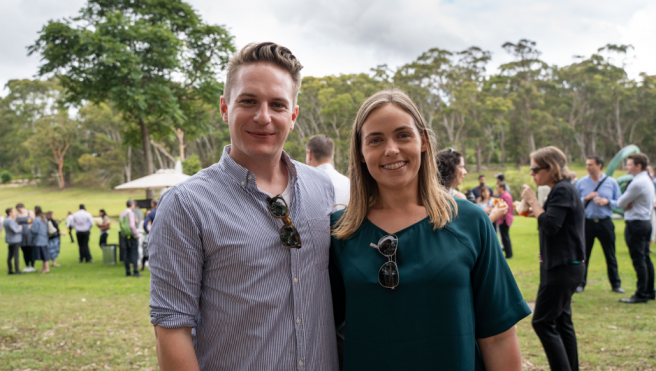 Johnathon Parker and Nicola Dew, Events and Domestic Protocol
"Our highlight for 2018 has been seeing the Events and Domestic Protocol team grow from strength to strength, achieving some amazing results. Personally, having the opportunity to support events across so many different portfolio areas of the University has been a great learning experience."
---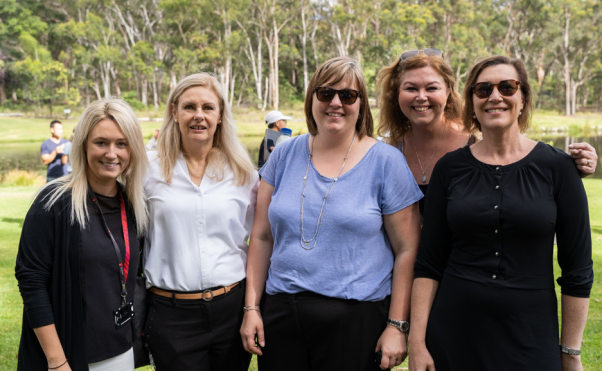 (l-r): Rebecca Gillies, Sue Benson, Gina Lewis (Property); Samantha Cookson, Sandra Murphy (Group Marketing)
Samantha Cookson, Communications Manager, Group Marketing
"My favourite moment was definitely the appearance of Eric the Bush Turkey and his highly industrious approach towards building his turkey-mound on Wally's Walk. He was just so committed to the task, spending many days heaping, scratching, pecking and organising piles of leaves and bark to create his little love nest. #loveyourworkeric."

---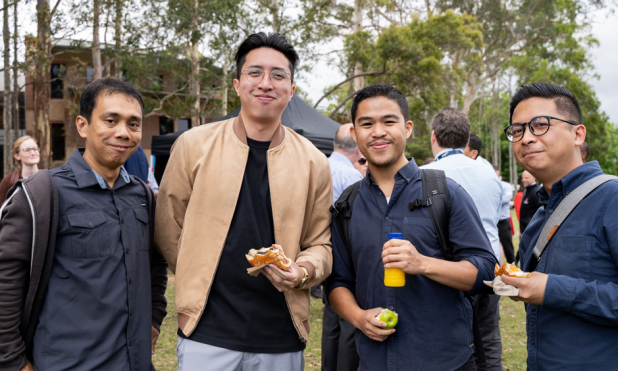 (l-r): Michael Mendoza, Marco Reyes, Michael Garganera, Mike Catabay (Learning Innovation Hub)
Michael Garganera, Educational Media Producer, Learning Innovation Hub
"A 2018 Macquarie moment that put a smile on my face was seeing a really cute kookaburra up close during a field trip which we were filming."

Mike Catabay, Educational Media Producer, Learning Innovation Hub
"My favourite Macquarie moment would be the launch of the Widening Participation Unit's cookbook The Sweetest Memory. I contributed photography to the project and seeing the result from everyone supporting such a great cause redefined for me what truly 'meaningful work' can be. A strong finish to a challenging year!"

---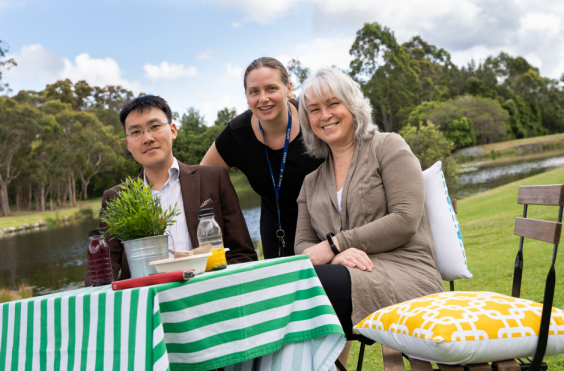 (l-r): Dr Henry Kha, Dr Sonya Willis and Teresa Somes (Macquarie Law School)
Dr Henry Kha, Lecturer, Macquarie Law School
"A 2018 highlight for me was starting as a lecturer in law at Macquarie University. I look forward to what awaits!"
Dr Sonya Willis, Lecturer, Macquarie Law School
"There have been many 2018 highlights for me, including having one of our law students picked as a top 10 Australian speaker in the Jessup International Law Moot, getting a New Staff Grant, running a Vulnerability Workshop with over 20 Macquarie researchers and watching hundreds of students I had taught happily graduating."
Teresa Somes, Associate Lecturer, Macquarie Law School
"I feel with the appointment of Marc Devos as our Dean this year, and plans moving ahead for the new law school building, we are all looking towards the future and the growth of the law faculty."