Joe Lander's portraits will be on display in MUSE as part of Staff Wellbeing Week.
Joe Lander is currently Artist in Residence at the Centre for Emotional Health.
His inspirational project Portraits of Recovery – which documents the experience of men who have suffered mental illness – is one of the highlights of Staff Wellbeing Week, with the exhibition on display in MUSE from 23 October to 1 November.
Joe will be speaking about his work, and his own personal struggle with mental illness, at a special event on Thursday 25 October. You can register for this event on the Wellbeing Week website.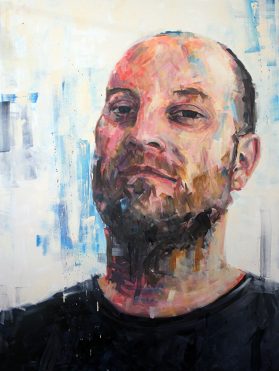 Tell us a bit about the Portraits of Recovery project.
Portraits of Recovery is a series of painted portraits of men who have experienced mental illness and recovery. The paintings will be exhibited alongside a written account by each man of their experience with mental illness.
The project came about through my own journey and experience with depression, anxiety and attempted suicide. I was a high school art teacher for many years until I suffered a severe episode of depression and had myself admitted to hospital as I was planning to kill myself. When I left hospital, I painted a large-scale self-portrait as a way of reconnecting to my life and found that it became a way of initiating discussion around my health and recovery. Over time, I found this experience was freeing and beneficial, and the project grew from an intention to give the same opportunity to other men.
How has Macquarie supported the project?
Macquarie has provided a highly supportive environment where my initial idea could grow and be nourished. In many ways the idea has become a collaboration with many different people in various roles across the University and I believe it is because the project now belongs to so many people that it is successful. I think the University's support for this project is emblematic of a determination to be a first-class employer and education provider.
How do the subjects find the process of telling their stories and having their portraits painted?
The men I've painted are inspirational in their determination to shine a light on mental health issues. Often they've told me about the benefits of being able to speak up about their thoughts and feelings, and how doing so has helped them to create circumstances in their lives that are supportive and healthy.
How long does it take to paint the portraits?
The portraits usually take two to three weeks to create, however they can take much longer. Each painting is unique – as is each sitter – and the process always has to accommodate individual differences.
Why do you choose to paint only their faces?
I paint faces because they are where we express so much of our emotions and thoughts, often without even realising it. I want the audience to connect with the paintings and the people who are painted, and as such the paintings are deliberately within the popular concept of a portrait. Some artists seek to challenge their audience, however for this project I want the opposite, I want the audience to connect and identify with the ideas that the work presents.
What do you think about the way mental illness is perceived and treated?
Mental health and the way we interact with it is highly important. We need to change the culture that surrounds mental health for men and provide examples of how to enter into conversations about what is going on inside. Attitudes are changing, and I am proud that I can create this series of artworks and be part of a healthier future for all Australians.
——————————————————————————————–
If you would like to support the Centre for Emotional Health, you can donate on their website.
If you're experiencing difficulties with your mental health, free confidential coaching and support is available to staff through the Employee Assistance Programme. Other services you can call are Mindspot (1800 61 44 34), Lifeline (13 11 14) and Beyondblue (1300 22 4636).