MPID's best come together for Innovation Showcase
Fujitsu Australia hosted the Macquarie Park Innovation District (MPID) Innovation Showcase last Friday 21 September, supported by City of Ryde (main picture). Innovators including 3M, AMP Capital, Cochlear, Fujitsu, Konica Minolta, Modular Photonics, ORIX, Schneider Electric and MQ Incubator start-ups connected to unearth and explore the best of Macquarie Park's innovation.
See how MPID is multiplying our innovation potential through connection and collaboration:
---
Audiology team go bush for indigenous health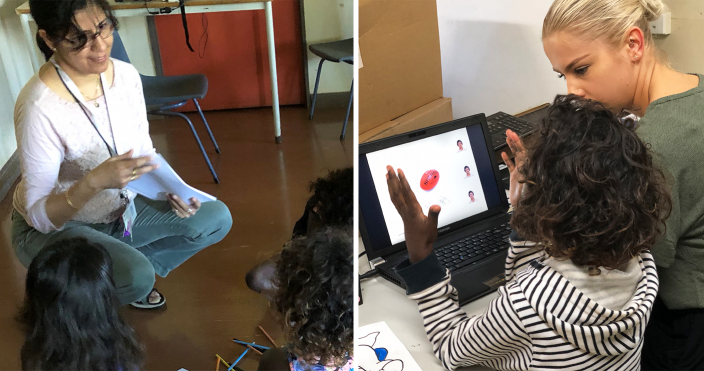 Associate Professor Mridula Sharma (pictured, left) and Distinguished Professor Katherine Demuth recently led a field trip with five of their students to a remote Indigenous community in the Northern Territory.
The project – 'Indigenous ear health and phonological awareness' – saw five Masters of Clinical Audiology students undertaking hands-on training, with the team's findings to provide evidence-based advice for teachers and parents to enhance the language and literacy skills of Aboriginal children with conductive hearing loss.
---
 Stokes stoked to receive alumni award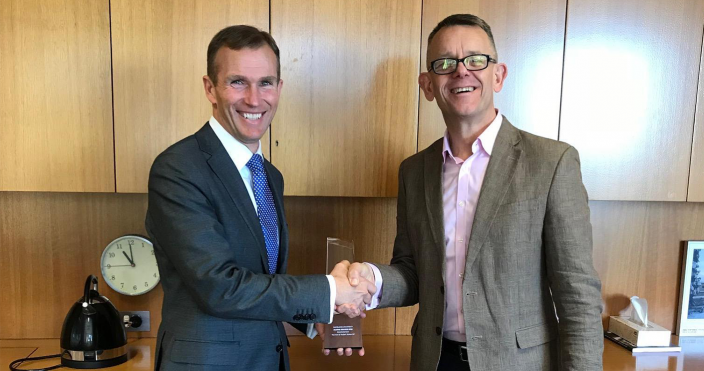 Deputy Vice-Chancellor (Corporate Engagement and Advancement) David Wilkinson popped into the office of Hon. Rob Stokes MP, to present him with his 2018 Alumni Award. Mr Stokes – who was recognised for his contribution to the environment – was unable to attend the award ceremony in May.
"As an early proponent of inter-disciplinarity in education, Macquarie powerfully influenced my contribution at the intersection of law, education, environment and planning," says Mr Stokes.
---
UBar's dessert pizza scores silver at Australian Championships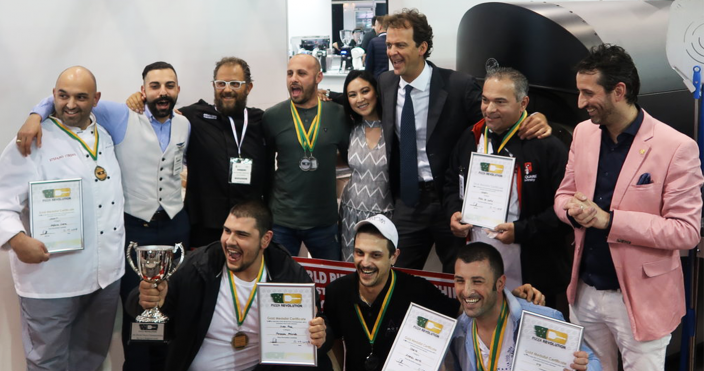 Campus Life's Fabio De Lutiis (pictured back row, second from right) put his 20+ years of pizza making experience on show at the Australian leg of the Seventh World Pizza Championships, where he picked up a silver medal for his dessert pizza.
Fabio's pizzas are available at the Ubar, with his winning dessert pizza to feature as a menu special very soon.
---
R U OK? lunch and learn  session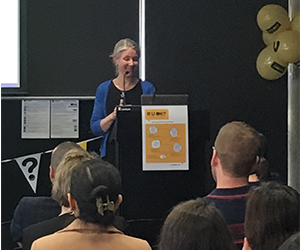 Our R U OK? lunchtime seminar, with guest speaker Jo-Elle Warhurst (pictured), was well attended by staff on 13 September. R U OK? Day is a national day of action dedicated to reminding everyone that any day is the day to ask, 'Are you OK?' and support those who may be struggling.
If you have noticed that one of your colleagues is not travelling well, here are some simple steps to start a conversation:
Ask "are you ok?" – help staff open up by asking "how are you going?"
Listen without judgement – take what they say seriously.
Encourage Action – urge them to commit to doing one thing that might help them.
Check in later – if they're really struggling follow up soon and also encourage them to seek additional help (e.g. Employee Assistance Program).
RUOK? provide some great resources on this topic.