(L-R) Dr Ming Li, Dr Fatemeh Salehi and Dr Supriya Pillai are among the talented females that are changing the face of engineering at Macquarie.
Ahead of the next Gender Equity Summit on September 25, we take a look at the significant progress that's been made towards achieving gender balance in the School of Engineering.
It's no secret that – like engineering more broadly – engineering at Macquarie is a heavily male-dominated discipline. A few years ago, one media commentator went so far as to call Macquarie's engineering department a 'man cave'.
But the last 18 months have seen a significant shift. Propelled by the University's Gender Equity Strategy, which commits Macquarie to recruiting more academic women in under-represented disciplines, the School of Engineering has undertaken an ambitious drive to seek out and recruit talented females.
Dean of the School of Engineering, Professor Darren Bagnall (pictured, below) says there were a number of obvious reasons for doing so.
"With a national shortage of engineers, Australian companies need to be able to tap into the full 'talent pool' available, and that pool should include more women engineers," he says. "We know that to attract more young women onto our courses we need more women in our academic team."
"We also know that diverse engineering teams make stronger teams and with improved gender balance, teams find better solutions to problems. This understanding applies not only across engineering but also to our faculty teams."
While several other Australian universities have advertised 'women only' engineering positions, Professor Bagnall says Macquarie instead took other pro-active steps to give the University the best possible chance of securing talented female candidates, while building a more inclusive and flexible culture.
"We've used our networks to identify promising candidates and then encouraged them to apply," he says. "We took extra special care when forming long-lists and then committed to interviewing all the women on those long-lists."
The results have been quite remarkable.
"The percentage of women in academic positions in the School of Engineering is set to rise to 20 per cent (eight out of 40 positions) in the next month, and will potentially reach 25 per cent (11 out of 43 positions) by January," says Professor Bagnall.
"These are small beginnings but it marks a considerable change from the roughly five per cent (two out of 28 positions) we were at 18 months ago."
Impressively, out of the 300 applications in the school's 2018 recruitment round, there have been six offers made – all to women.
"We did some deep introspection around the possibility of our unconscious bias tipping too far in favour of female candidates," recalls Professor Bagnall. "But ultimately we were very confident that not even strongest of the other 300 candidates could match these six."
Even more incredibly, with three of the University's new female recruits specialising in mechanical engineering, this area of engineering at Macquarie can now officially be called female-dominated.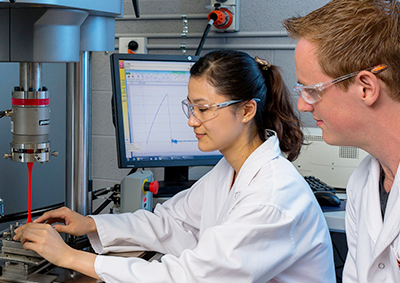 "I'm not sure any other Australian university can say that," says Professor Candace Lang, who joined Macquarie's engineering department in 2012 and is a member of the University's Gender Equity Self-Assessment team. Alongside Dr Yijiao Jiang, Professor Lang was one of only two female engineering lecturers working at Macquarie at the end of 2017.
"The mechanical engineering team at Macquarie represents an extraordinary pool of talent," says Professor Lang. "Our mechanical engineering degree program already has the largest cohort of students in the School of Engineering; our next task is to increase the number of females among them."
Dr Jiang says she's pleased that Macquarie has recognised the need to remedy the School's gender imbalance.
"Talented women add distinct viewpoints and broad expertise to our research and teaching, as well inspiring the next generation of female engineers," she points out. "It's important that young students – regardless of their background – are able to find someone to connect with and look up to."
Professor Bagnall says that while he will never really understand what it's like to be a woman in a male-dominated engineering school, the insights he has gleaned from female colleagues has given him an even greater admiration for women working in the discipline.
"I've seen how much harder it is for women," he says. "How they are held to higher standards; how student feedback can often be a better measure of gender bias than teaching quality; and how careless meeting times, inflexible schedules and huge work expectations can be deeply challenging to family life.
"Nevertheless, against this backdrop there are still many hugely successful women in engineering. They have had the determination to work through – and beyond – all the extra challenges they've faced as a minority. And they've been willing to do this because of their sense of purpose and a deep commitment to their research goals.
"Our new staff – who are working in important areas like cancer detection and renewable energy – are carrying out research that will change the world.  They are not just role models to future young women engineers but to all of us."
While Professor Bagnall says it's still 'early days', he hopes their recent recruitment success is a sign of more good things to come.
"We hope that women in engineering at Macquarie – both current and future – truly feel the sense of belonging they have a right to expect."
---
Hear more from Professor Bagnall on the School of Engineering's gender progress at the University's Gender Equity Summit on Tuesday September 25.