Main image: Larry Marshall (CEO of the CSIRO) congratulates Hyperdrive Science team members (L-R:) Professor Peter Karuso, Dr Paul Jaschke, Dr Kavita Ragini and Dr Fei Liu of the Department of Molecular Sciences.
Macquarie's Hyperdrive Science team win CSIRO people's choice award
Congratulations to Macquarie's Hyperdrive Science team for their win in the CSIRO ON Accelerator program's 'Innovation IMPACT' people's choice award.
The Hyperdrive Science team's vision is to help pharmaceutical companies find cheaper, safer and more effective drugs for everyone. The team has developed a new discovery platform that enables the rapid association between drugs and their targets in the human body, addressing this shortfall in the current pharmaceutical drug development process. The service increases the accuracy of drug candidate selection, reduces costs, and creates new opportunities for finding novel targets to unlock hidden value in the assets already owned by Hyperdrive's customers.
---
Macquarie PhD student wins National FameLab final
PhD Student Vanessa Pirotta (pictured fourth from left) from the Department of Biological Sciences has won the British Council's 2018 FameLab national final and will head to the UK to represent Australia at the international final.
FameLab is a live science communication event where PhD students present their research in three minutes. Vanessa won the judges over with her presentation on her research project which investigates the use of drones to collect health information from free swimming whales.
"I still can't believe that I won," Vanessa told This Week.  "It took a few seconds to sink in. I'm so grateful to have the opportunity to share my research on an international stage."
Vanessa's research project investigates the use of custom-built waterproof drones installed with a petri dish to collect whale blow/snot from free swimming whales.
Read more about the project >>
---
2018 Brian Johns Lecture: Morry Schwartz AO talks 'slow news'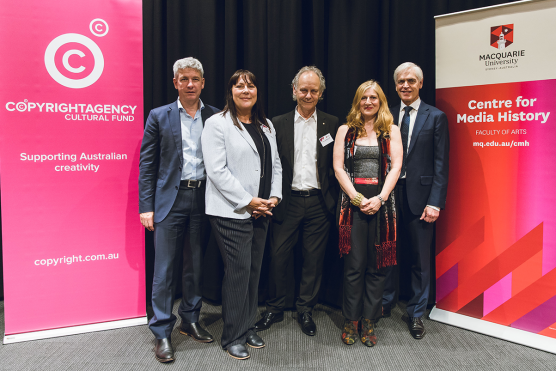 From left: Adam Suckling, CEO Copyright Agency; Professor Martina Mollering, Executive Dean Faculty of Arts; Morry Schwartz AM; Dr Virginia Madsen, Director of the Centre for Media History; Professor Sakkie Pretorius, Deputy Vice-Chancellor (Research).
The Centre for Media History at Macquarie University and the Copyright Agency Cultural Fund hosted the 2018 Brian Johns Lecture on Monday 7 May at the State Library of New South Wales.
Morry Schwartz AM, the esteemed book and journal publisher, delivered this year's lecture: Slow News: Thinking in Public. He discussed how 'fast news', and day-to-day journalism speeding on its never-ending treadmill, is in trouble.
Established in 2015 to honour political journalist and media great Brian Johns, the lecture is now in its fourth year. The inaugural lecture was delivered by then ABC Managing Director Mark Scott.
---
More than 200 scholarship recipients recognised at Macquarie Scholars Connect event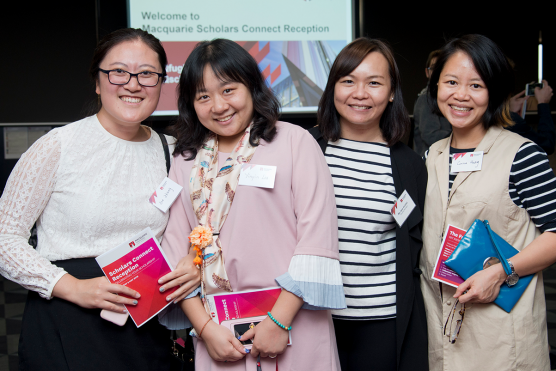 The Vice-Chancellor Professor S Bruce Dowton addressed the assembled scholars and encouraged them to get involved at Macquarie and develop networks which will last a lifetime.
Nicole Brigg, Pro Vice-Chancellor (International), said the diversity of our students at Macquarie created a rich cultural environment on campus for all.
"It's a real thrill to see international scholarship students across all faculties coming together and networking in such a fun and welcoming environment," Brigg said.
"The diversity of our students is remarkable; each one of them brings their own culture and their own story and desire to succeed. While their educational journeys in Australia will all be different, students will make lasting friendships for life; and of course, they will always be part of the Macquarie University family."
Take a look at all the action from the evening on Instagram.
---
Doctor of Medicine welcome ceremony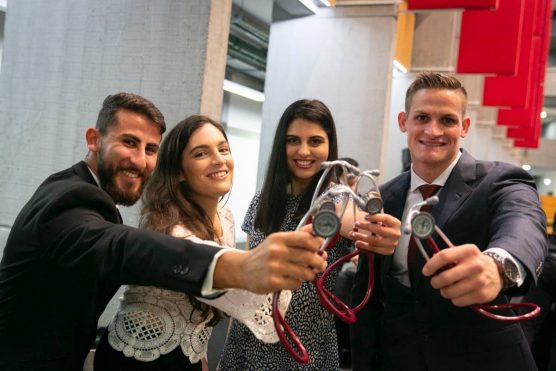 On Saturday 28 April students and their families and friends attended the inaugural Doctor of Medicine (Macquarie MD) welcome ceremony. The historic day marked the start of an exciting journey for Macquarie's MD students, and an important milestone for the Faculty of Medicine and Health Sciences.
The Vice-Chancellor Professor S Bruce Dowton welcomed the attendees, and Professor Patrick McNeil, Executive Dean of the Faculty presented each student with a stethoscope and wished them success on their path to becoming future healthcare leaders.
The students also recited their oath; written by themselves, in front of their peers, mentors, family and friends, as a promise to pursue the mission of Macquarie University Medicine: To Heal, Learn, Discover.
---
A modelling competition – but not as you know it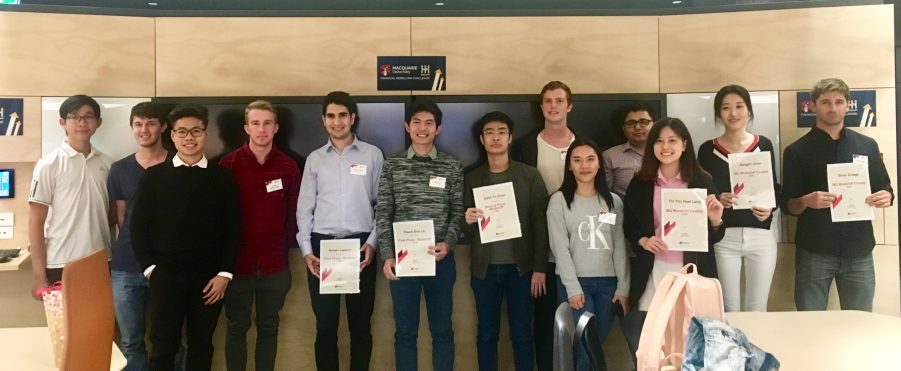 The Finance Decision Lab recently hosted the inaugural Macquarie ModelOff financial modelling competition.
The event, based on the original international competition format, gives participants exposure to real world case studies across a variety of business, finance and Excel-based challenges.
ModelOff aims to inspire and help people to develop their analytical skills in an exciting and fast environment without the cost or time commitment of traditional professional development.
---
Faculty of Science and Engineering welcomes scholarship holders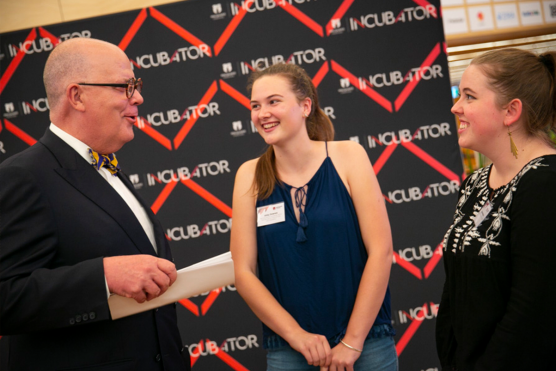 The Faculty of Science and Engineering welcomed its 2018 Scholarship holders and their families at their Scholars Welcome Reception at The Incubator last month.
Vice-Chancellor Professor S Bruce Downton, Executive Dean Professor Barbara Messerle and Dr Sophie Calabretto addressed the scholarship holders, congratulating them on their achievements and encouraging them to look forward to, and make the most of, opportunities available to them as Macquarie students.