As part of Macquarie's commitment to creating more flexible learning spaces to encourage greater interaction and collaboration, 2018 has seen the opening of numerous newly constructed or upgraded spaces on campus.  Here we take a look at some of the newest ones.
---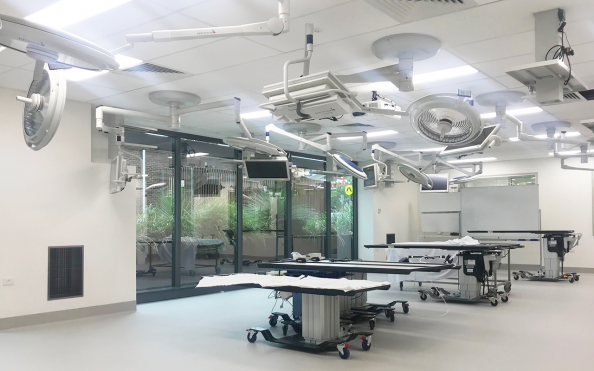 "These tutorial rooms are state-of-the-art spaces, purpose-built for our new MD program," explains Dr Katrina Roberts, Unit Convenor Clinical Practice for Macquarie MD.  "They've been designed to simulate real clinical settings, so our students can learn and practice medical history taking, examination and procedural skills in a controlled, simulated environment with direct, real-time feedback from tutors.
"The spaces' design encourages more tutor/student interaction and more connection and collaboration between academic staff.  Another benefit is that the MD and Doctor of Physical Therapy students will have access to these rooms outside of teaching hours for them to use the Anatomage table and anatomy models."
---
An upgrade of the 14 First Walk playground for children with special needs included landscaping, refurbished 'stage', seating and picnic table areas, and an enlarged sandpit.  The space – in the Macquarie University Special Education Centre (MUSEC) school in the Faculty of Human Sciences' Department of Educational Studies – also features a new garden to grow vegetables and bush tucker as part of the school's programs covering health and nutrition, traditional Aboriginal food, life cycles, food production and sustainability.
"We mostly use the space to teach our students how to play, including the rules of games, and how to use equipment appropriately" says Sally Huck, Master Special Education Teacher.  "They also learn how to sit and eat in the area at meal times, for example how to select food to eat.
"The improvements to the playground's design have made it seem much more spacious, calmer and more inviting. It's also now more accessible and safe, with well-defined areas for particular activities making it easier to monitor.  Everyone is very happy with the result of the upgrade – especially the children!"
---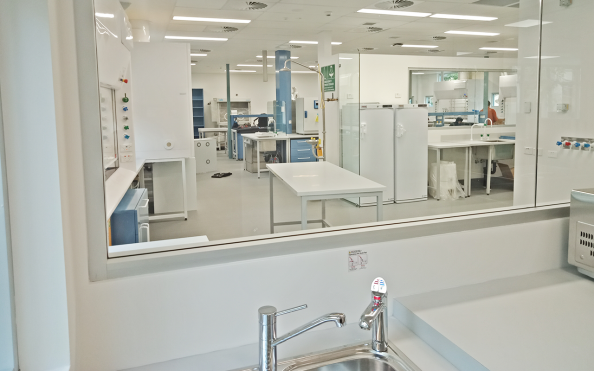 A new laboratory and office building at 4 Wally's Walk was constructed for the Faculty of Science and Engineering's Department of Molecular Sciences.  The building's labs will house researchers and MSc, MRes and PhD students carrying out research in the field of molecular synthesis, and characterisation and exploration of its applications in different areas.
"These new leading-edge facilities will enable us to undertake advanced synthesis methods in a way that hasn't been possible before at Macquarie," says Associate Professor Koushik Venkatesan.  "As well as enhancing opportunities for world-class research in the department, the building's labs are great learning spaces that we'll be using for undergraduate students on summer scholarships who are interested in gaining experience in synthetic chemistry."
---
"Along with the work on spaces for the MD program, MUSEC and Molecular Sciences, we've also enhanced numerous other learning spaces, including 25a Wally's Walk, 14 Eastern Road and level 4 of 12 Second Way," says Mark Broomfield, Director of Property.  "This construction and refurbishment is part of our ongoing program of learning space upgrades to fulfil the University's vision of multiplying students' potential through better connected and more flexible learning environments."

(L-R) Recently refurbished 25a Wally's Walk teaching space, 14 Eastern Road lab space, and 12 Second Way level 4 teaching space.