With the Academic Staff Awards fast approaching, over the last few weeks, we have introduced you to a selection of finalists from each Faculty for both the Learning and Teaching and Research categories. These awards recognise the academic endeavours of our Macquarie community. This week we have our final spotlight on the Faculty of Medicine and Health Sciences.
---

Dr Verity Pacey
Finalist: Award for Teaching Excellence
Dr Verity Pacey is an international clinical expert and research leader in the physiotherapy management of individuals with rare and complex disorders. As an early career academic, she has developed and delivered unique and innovative curriculum, including leading the programmatic design of the paediatric physiotherapy curriculum, within the Doctor of Physiotherapy (DPT) program in the Faculty of Medicine and Health Sciences.
Her teaching utilises a transformative learning approach to challenge students to extend their clinical reasoning skills and alter their clinical practice to provide a more holistic approach to individuals with rare and complex disorders.
Verity's influence as an educator reaches beyond Macquarie University. Her invited presentations at leading international multidisciplinary conferences, and participation in international physiotherapy management consensus groups for rare disorders, inform health professionals and educators world-wide.
"Recognition for teaching is just as important as recognition for research," Verity said.
"Our physiotherapy students are the graduates of tomorrow and the future of our profession. Physiotherapy is undergoing a great deal of change in Australia at present, not moving away from our traditional roles, but embracing new roles in more holistic management of individuals with complex conditions.
"Challenging students' thinking to apply foundational skills to new and emerging areas is exciting and so rewarding to see our students shift their thinking, reflect on their previous experience in clinical placements and think more broadly about their role as a physiotherapist."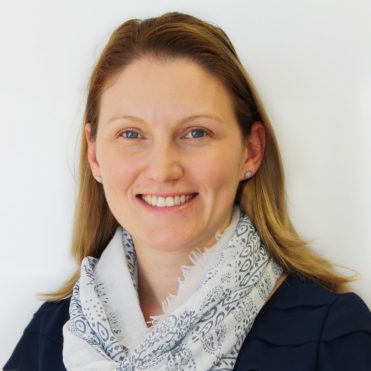 Dr Kate Scrivener
Finalist: Vice-Chancellor's Citation for Outstanding Contribution to Student Learning 
Dr Kate Scrivener's expertise lies in creating an authentic learning environment that integrates evidence and professional experiences to enhance future physiotherapists management of individuals with complex neurological conditions.
"It's fantastic to be nominated for the Vice-Chancellor's Citation for Outstanding Contribution to Student Learning," she said.
"As a passionate physiotherapist and educator, I pride myself on creating authentic learning environments to enhance future physiotherapists' management of individuals with complex neurological conditions.
"Physiotherapy students are typically young and healthy and it is hard for them to imagine the impact of stroke and other neurological conditions. Through my teaching practices and by developing high-quality resources, I try to bridge that gap and provide an insight into real-world practice."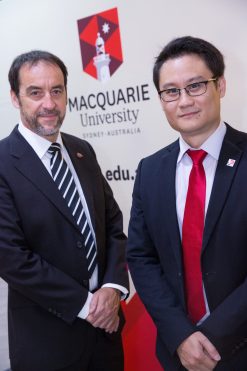 Professor Gilles Guillemin and Dr Edwin Lim
Finalist: Five Future-Shaping Research Priorities
As a team, Professor Gilles Guillemin and Dr Edwin Lim have identified the first blood biomarker for the prognosis of multiple sclerosis (MS) – a debilitating disorder of the central nervous system, which affects around 23,000 Australians and 2.3 million people worldwide.
The biomarker is a world first and an Australian discovery that will be a game changer for the identification and assessment of treatment choice for MS. For someone suffering from MS, quick access to specialised treatment has the potential to slow the disease and limit damage to their brain and spinal cord. However, the treatment can only be tailored to the patient once the particular type of MS has been identified.
At present, MS prognosis requires months and sometimes years of expensive tests to determine which of the three sub-types of MS the patient has. The work and research translation undertaken by their team has resulted in an MS Biomarker testing assay which will enable a fast and accurate diagnosis of the MS sub-type affecting the patient.
This, in turn, will mean treatments for MS can be tailored to the needs of patients at a much earlier stage than is currently possible. It will allow clinicians to use a simple blood test to rapidly determine which of the three types of MS a patient has with 85-91 per cent accuracy and to immediately adapt and apply the treatment for the patient.
It will alleviate years of guesswork in terms of the sub-type of MS a patient has, circumventing the need for repeated, expensive testing via MRI scans and long questionnaires – no doubt leading to better patient outcomes.
"Being nominated for this award is a great acknowledgment of our work and our team here at Macquarie University," Edwin said.
"We will continue to build on our successes which hopefully will have a real impact on improving quality of life in patients with multiple sclerosis. This work also has great potential for biomarker applications in other neurological disorders such as motor neuron disease and Alzheimer's disease."
Don't forget to register for the awards ceremony to be held on Wednesday 1 November.