A prefabricated section of the Incubator roof being positioned by crane
Incubating the future: A space for ideas, research and entrepreneurs  
Those walking through the south-west corner of the campus will have noticed a building going up very, very quickly.
The Macquarie University Incubator is being constructed at record speed, moving from concept to fully functioning work and ideas space in little more than a year.
Due for completion this July, the Incubator will be a brand-new place for staff, students, researchers and entrepreneurs, as well as those working on start-ups for a business idea or social venture to work, think and collaborate.
The new, very green building will incorporate event space, co-working and hot desks as well as a coffee shop.
The Incubator concept is operating already on campus in the form of a 'pop-up' facility on the ground floor of E3B.
Those wanting to be involved or to gain access to the space can contact the team via incubator@mq.edu.au.
---
University Experience Day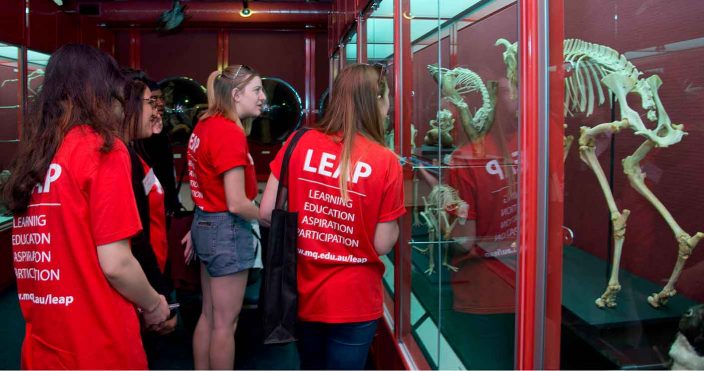 Macquarie's LEAP (Learning, Education, Aspiration, Participation) mentoring program, run by the University's Widening Participation Unit, matches high school students from refugee backgrounds with Macquarie University student mentors. Through mentoring, the program aims to broaden students' aspirations and support their investigation of, and successful transition into, higher education.
The University Experience Day is one of the program's highlights.
This semester, Professor Kevin Jameson, Deputy Vice-Chancellor (Academic) and Registrar, welcomed to campus 96 high school students, their teachers and principals from six partner schools, for a fun and engaging day of activities.
Those attending are offered valuable, first-hand experience of university life and encouraged by the personal stories of current university students from refugee backgrounds. It is a wonderful day for the mentees, but also the mentors who, throughout the program, build skills, connect with like-minded peers and gain a new appreciation for Macquarie as a university of service.
---
Mystery of the missing tapestry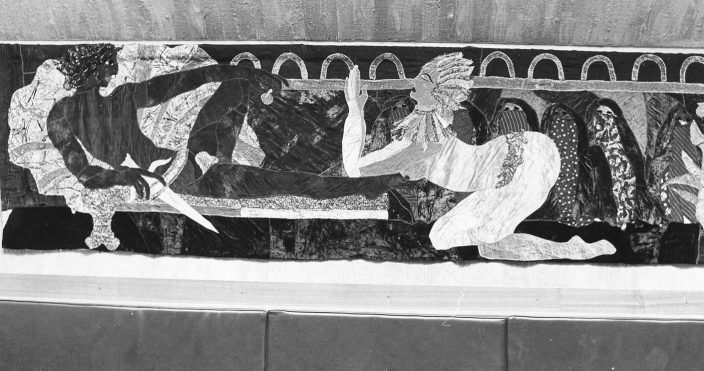 Macquarie University Art Gallery curators have solved – at least in part – the ten-year mystery of a missing artwork.
The tapestry, by Vivienne Pengilley, was one of a series of artworks commissioned in the early 1970s by then University Union Activities Officer, David Humphries.
Each commission was worth $1000 with the works to hang in the Students Union bar.
For her part, Ms Pengilley, a young English artist living in Australia, created the three fabric collage wall hangings pictured.
However, at some stage over the ensuing decades the tapestries were moved, whereabouts unknown, a fact not realised until 2007 when current gallery staff became aware of the work's existence.
Now, one of the tapestry's three components (top) has been found deep in the basement of the Campus Hub, a section of the building to which few people have access, happily in good condition.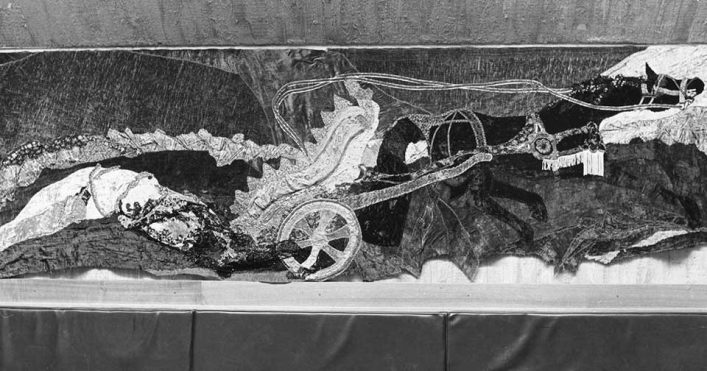 However, the search for the two other components (pictured above and below) continues, with staff asked to keep a lookout, particularly in normally off-limits or private sections of the Macquarie campus.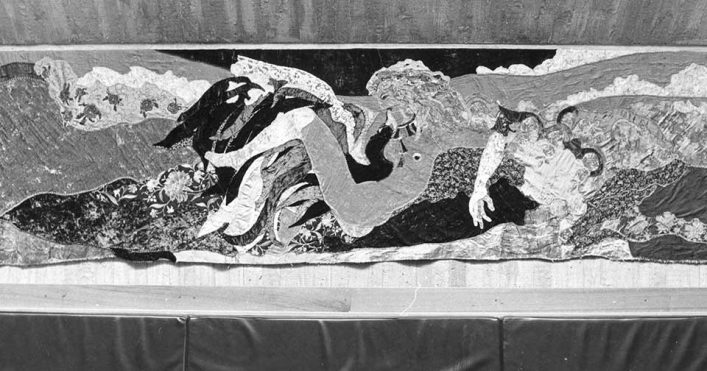 The search is part of a wider audit of artworks on loan throughout the University.
If you have an artwork in your area, please take a quick snap of it with your phone and email to the gallery's Head Curator, Rhonda Davis, rhonda.davis@mq.edu.au,  or curator Leonard Janiszewski, leonard.janiszewski@mq.edu.au
For more information call the gallery on x7437.