The University of Kansas
Since its founding, the University of Kansas has embodied the aspirations and determination of the abolitionists who settled on the curve of the Kaw River in August 1854. Their first goal was to ensure that the new Kansas Territory entered the union as a free state. Another was to establish a university. Just 32 years later, the inventor of basketball, James Naismith, founded a beloved tradition here. The scientist who discovered vitamins A and D was a graduate. Helium was extracted from gas for the first time in a KU lab. The inventor of the time-release medication capsule taught here. Astronauts, artists, authors, business leaders, senators and governors, Pulitzer Prize winners, and a Nobel laureate launched their careers here. Today, KU has become a major public research and teaching institution of 28,401 students and 2,600 faculty on five campuses (Lawrence, Kansas City, Overland Park, Wichita, and Salina). Its diverse elements are united by their mission to educate leaders, build healthy communities, and make discoveries that change the world.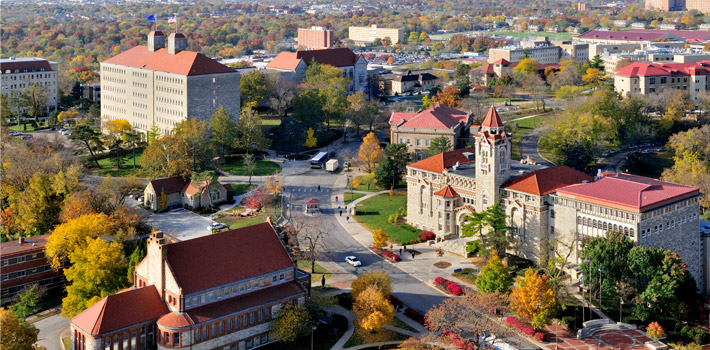 Country

United States of America

Type of Program

Exchange

Level of Study

Undergraduate
Postgraduate

Length of Program

5 months

Program Dates

Fall Semester: August - December
Spring Semester: January - May

Language of Instruction

English

Travel Grant

$800

GPA Requirement (Out of 4.0)

2.5/4.0

Course Information

Business, Engineering (Chemical, Electrical & Computer Science), Speech & Hearing are all flagship programs for the University of Kansas.

The University of Kansas' School of Education is ranked #1 in the USA.

Accommodation

Exchange Student Website
Eligibility criteria
To be eligible for this program, you must meet the following:
Macquarie Abroad General Eligibility Criteria
Sufficient proof of funding for US Visa (varies by university, approximately $8,000-10,000 USD)
Nomination from Macquarie University
English language proficiency for non-native speakers
Review the course information and restricted courses to check it is suitable for your degree progression at Macquarie University
How to Apply
Applicants must complete an online Application form. You'll need to include:
Your personal details, One University preference, It should take around 2 - 3 minutes to complete an application.
Important notes:
Application Fee and Payment Options: For all exchange programs (semester and short term), there is a compulsory application fee. For more information and payment options please refer to the Payment Website.
Insurance: It is a requirement of the exchange program that all students must purchase their own travel insurance to cover them for the duration of their entire journey overseas. More information will be given to students upon acceptance.
Program Costs: You remain enrolled at Macquarie University and continue to pay your tuition fees to Macquarie University. As an exchange student you pay no tuition fees to host university. However, you must also always be prepared for unexpected expenses, and should consider how you will be dealing with the expenses of your exchange before you leave your home country. Prior to departure, you will need to save sufficient funds to cover all of your expenses for the duration of your exchange. Some costs to consider include: airfares, students visa (if required), travel health insurance, accommodation, food, additional travel, entertainment, textbooks, incidental expense. If you wish to work while you are away, it is important to note that work rights for international students vary from country to country. For further information about your visa restrictions please contact the consulate or embassy of your host country.
---
*Disclaimer: Macquarie University does not ensure the quality or reputation of activities run externally, should students choose to undertake these activities they take on the full risk and responsibility. All students need to undertake their own risk assessment before departure, considering wisely their personal health and safety risks. Ultimately participation in these activities is at the students' risk.
Partner logo
No logo uploaded
Summary
Study a Semester Exchange program in The University of Kansas for 6 months, The University of Kansas is located in United States of America
Area of study
Business; Education; Engineering and IT; Health and medical sciences; Media, creative arts, and communication; Society, history and languages
Eligibility
Has a GPA requirement; Full offers only
Tags
Macquarie, Undergraduate, Postgraduate, The University of Kansas, Semester Exchange, United States of America, Business, Education, Engineering and IT, Health and Medical Sciences, Media, Creative arts, and communication, Society, history and languages
Benefits
Travel Grant
Value
$800
Phone
No phone entered
Email
mi.exchange@mq.edu.au
Apply URL
https://students.mq.edu.au/experience/travel-while-studying/apply
Closing dates URL
No closing dates URL entered
Level of study
Undergraduate; Postgraduate