Courses and resources
Courses at Macquarie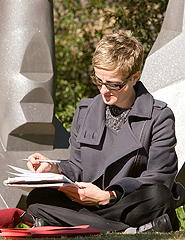 Macquarie University's Department of Modern History and Department of Media, Music, Communication and Cultural Studies offer a range of courses in media history.
These include:
Resources
CMH YouTube Channel
The Centre for Media History's dedicated YouTube Channel hosts an expanding collection of recordings from its events.
Australian Media History Database
Administered by the CMH, the Australian Media History Database is a portal for all aspects of research into the history of the media in Australia. It aims to alert researchers - from industry, academe and the wider community - to current work being undertaken in the field, and to direct them to relevant resources across Australia.
The AMHD has two components:
A database of researchers currently working on projects about the history of Australian newspapers, magazines, radio, television, film, advertising, music and games. The Researcher Database is searchable by title and researcher name.
Listings of relevant research resources, including libraries, archives, online resources, indexes, professional associations, courses and events.
Media Archives Project
The Media Archives Project database is a register of lesser known archives for all types of mass media. The media's role in reflecting society makes it a vital source for the understanding of the wider history of Australia. This essential resource will assist researchers in locating and delving into the untold history of Australia and its media. More details
A History of Women's Pages
In the course of researching her entry on 'women's pages' for A Companion to the Australian Media, CMH Associate Member Dr Justine Lloyd has developed a public list in the National Library's Trove searchable database of digitised newspapers, which is archived here with her research notes.
Australian Literary Journalism Database
This database, developed by Associate Member Dr Willa McDonald, has been set up as part of a larger project that is working towards defining Australian Literary Journalism and tracing its history from the time of modern settlement to today. Further information and listings within the database itself can be found through its website here: www.auslitjourn.info.
Australian History Museum
Macquarie University's Australian History Museum houses artefacts, documents and photographs relating to Indigenous Australia, war and society, women, migration, and domestic and working life. The Australian History Museum aims to enhance research teaching and community engagement experiences and outcomes for students and researchers at Macquarie University and beyond. To this end the Australian History Museum is working to align the existing and future collection to the needs of the Centre for Media History and its affiliated researchers. The museum collection houses a varied selection of publications relevant to the development and interaction of media and history in Australia during the last 150 years.
Relevant publications held in the museum include: Argus (Melbourne), Australian Home Journal, Australian Woman's Mirror, Australian Women's Weekly, Bulletin, Country Life, The Dawn, Decent, The Home, The Idler, Illustrated War News, PIX, Punch, Stead's Review, The Sun (Sydney), Sydney Mail and Woman's Day.
Macquarie University Library
The Macquarie University Library contains many items of use to scholars of media history. Relevant holdings include:
Newspaper indexes including the Sydney Morning Herald (1929-1987), the New South Wales Parliamentary Library (1910-1975) and the Age (1982-1992).
Annual reports of the Australian Broadcasting Control Board (1950-1976), the Australian Broadcasting Authority (1999-2003), the Australian Communications Authority (1997- ), the Australian Broadcasting Commission (1946-1983) and the Australian Broadcasting Corporation (1984- ).
Select reports and transcripts of, for instance, the Australian Broadcasting Tribunal, the Australian Broadcasting Authority, and the Australian Press Council.
Various publications relating to the Australian film industry, including Australian Film Review (1983-1984), Australian Film Data (1988- ) and Encore (1984-1987), and annual reports of the Australian Film Commission (1975- ) and the Australian Film, Television and Radio School (1986- ).
Newspaper News (1928-1971).
A range of newspapers and magazines in hard copy or on microfilm, ranging from the Dawn (1880-1905), the Labor Daily (1930-1933), the Daily Telegraph (1879-1942) and Nation (1959-1972) to the Bulletin, the Sydney Morning Herald, the Age and the Australian.
A range of online national and international newspaper resources, including Factiva, Media Scan and Newspaper Source.
A range of journals, including Journalism History, Media History, Film History, Penguin Film Review, Sight and Sound, and the Historical Journal of Film, Radio and Television.
A strong and ever-growing collection of feature and short films in DVD format, and offers multi-regional playback facilities.
Theses, for example:

Ruth Gwenda Aipperspach, An Historical Analysis of the Macquarie Broadcasting Service Pty Ltd, Sydney Australia, 1938-1958, MSc thesis, 1981.
Judith Rose Bartholomeusz, Ordination by Media?: Analysis of New Texts Constructing the Debate Over Women's Ordination Into the Priesthood in the Anglican Church of Australia in Four Daily Newspapers, 1987-1992, MA (Hons) thesis, 1995.
Johannes Lothar Felix Buchner, Religious Broadcasting in Australia, PhD thesis, 1989.
Jill M. Bull, John Hickling, A Radio Man of His Time: A Bibliographical Study, MA (Hons) thesis, 1993.
B. G. Cole, The Australian Broadcasting Control Board and the Regulation of Commercial Radio in Australia Since 1948, PhD thesis, Northwestern University, 1966.
Diana R. Combe, The Radio Serial in Australia: An Historical Study of the Production of Serials in Australia, and the Influence of the Industry in the Development of Commercial Radio, PhD thesis, 1992.
Julia V. Garcia, Just Another Asiatic Horde?: Australian Media Perceptions of the Vietnam War and Allied Involvement, 1965-1972, MA (Hons) thesis, 1985.
Eric Halliday, An Overview of the History and Regulation of Children's Programs on Commercial Television in Australia, MA thesis, 1987.
Jennifer Kitchener, Business Reporting in the 1980s: An Exploration of What Went Wrong, MA thesis, 1999.
Anthony Emaneul Maniaty, The Changing Role of War Correspondents in Australian News and Current Affairs Coverage of Two Conflicts, Vietnam (1966-1975) and Iraq (2003), MA thesis, 2006.
Mike Minehan, Pay Television in Australia: A Case History of Media Policy, Power and Patronage, PhD thesis, 1998.
Shaouket Mouslimani, Anti-Westernism and Orientalism: An Analysis of Australia's Ethnic Arabic and Mainstream Press During the 1991 Gulf Crisis, MA thesis, 1993.
Matthew Pearce, The Constitution of Australian Broadcasting Policy: Introducing Pay TV, PhD thesis, 2000.
Bryon Quigley, Aboriginal Broadcasting: Development in Australia 1979 to 1986, 1987.
Jennifer Eileen Simmons, The Concept of Woman in the Australian Women's Weekly, 1935 to 1940, 1950 to 1955, 1965 to 1970, BA thesis, Monash University, 1972
International Associations and links to other Centres