History and formation
Egypt produced one of the first great civilisations known to history. For two and a half millennia it dominated the Eastern Mediterranean and under its influence developed the major sources of our culture, such as Israel, Greece and Rome. Its brilliant and massive achievements fascinated the ancient mind no less than the modern.
Many Australians have in the past specialised in Egyptology and indeed, made a contribution to this field, but they had to study at overseas universities and work with foreign archaeological expeditions in Egypt. Macquarie University was the first Australian institution to introduce a full training program in Egyptology and to conduct Australian-based expeditions to excavate, record and preserve Egyptian sites.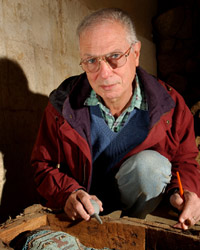 Since 1980 the Macquarie teams, formed of staff and students, have worked annually on a number of important sites including Thebes, Saqqara, Helwan and Giza. Some of these excavations are carried out as joint Australian-Egyptian projects in conjunction with the Egyptian Supreme Council of Antiquities (Cairo).
With the ancient Egyptian monuments suffering increasing deterioration as a result of well-known human and geographic factors, the need is pressing for more international cooperation to rescue this important human heritage. Australia is now well equipped to play a significant role in this endeavour.
A result of the expansion of Australia's involvement in Egyptian archaeology was the establishment by Macquarie University in 1989 of The Australian Centre for Egyptology to coordinate with the Egyptian Supreme Council of Antiquities all Australian excavations in Egypt. In 2009 the centre became a division of the Macquarie University Ancient Cultures Research Centre. Under the auspices of the A.C.E, site reports and research studies are published, which are distributed to scholars throughout the world. Also published is an annual Bulletin with articles on archaeological work and topics of general interest.
The Australian Centre for Egyptology also organises a wide range of educational activities and events, including an Annual Conference featuring international keynote speakers, an Annual Fundraiser Dinner and mini-conference recapturing the previous season's excavation work in Egypt.
The Rundle Foundation for Egyptian Archaeology was established by the Council of Macquarie University in 1981. The aim of the Foundation is to support research in the archaeology and history of ancient Egypt and to cater for the interest of the Australian public in this part of the ancient world.
Funds raised through donations and membership support the university's archaeological links with Egypt as well as research in related studies. Among the ways in which contributions may be used are:
To support excavations of Macquarie University in Egypt
To publish reports of such fieldwork
To assist deserving Australian students to participate in excavations
To develop the Egyptian sections of the Museum of Ancient Cultures at Macquarie University
To bring to Australia international experts in Egyptology for lectures and seminars