Serica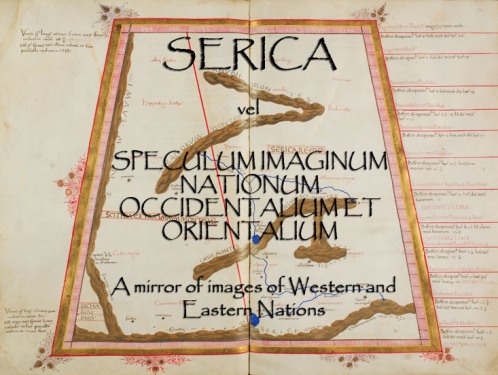 Maps
A series of maps created as an atlas of Silk Road trade routes and their associated towns across the Tarim Basin and Northern China. *These maps are general in nature and serve only to represent prevailing routes and prominent towns for Silk Road traffic across Northern and North-Western China over the broad period in which the Silk Road was active. They should not be taken as examples of any specific period.
Maps of China:
Maps of the Roman Near East:
Maps of Central Asia:
Gazetteer
Places and Peoples in Central Asia and in the Gaeco-Roman Near East - a Multilingual Gazetteer.
The Name
ON THE NAME SERICA:
The names Serike (Greek) and Serica (Latin) were applied by Greeks and Romans to home-land of the people known as Sereswho were the principal producers and exporters of silk. All three names appear to be connected with silk and the se- part of the name might have originally been derived or at least connected with the Chinese name for silk (si ¿) and does not appear to be related to the Chinese name Qin ¿ - the Dynastic name of the first imperial dynasty of China (221-207 BCE) - after which China came to be named (cf. Sanskrit Cina). However, in a little known article published in 1995, the late Dr James Hamilton ( 'East-West Borrowings via the Silk Road of Textile Terms' in Diogenes - A quarterly publication of the International Council for Philosophy and Humanistic Studies 171: 27), one of the most authoritative experts on Chinese and Turkic language documents from Central Asia, had made the following important and insightful observation:
"As for Latin serica, "silk", it was borrowed from the Greek serikon of the same meaning, just as Latin Seres "China", was borrowed from the Greek Seres. Now the Greek name Seres for China, which goes back to at least the 2nd century B.C., must have come from the name of the great Qin dynasty that founded the first Chinese Empire towards the end of the 3rd century B.C. Indeed, at the time when the Chinese name Qin (Early Middle Chinese: *dzin <*dzen), was borrowed into Greek as Seres, the final -n of the Chinese must have sounded very much like the final -r of other languages, for it was then used regularly in Chinese to transcribe a foreign -r."
If Hamilton is correct, then, the well known name Ser or Seres in Classical and Medieval Latin is not derived from the Chinese word for silk but also from Qin ¿ - the first empire to unite China after the so-called Warring States period and under which the (First) Great Wall was constructed.
Students
Students taking Higher Degrees by Research (HDR) at Macquarie University in areas related to the SERICA project include:
Lyndon Arden-Wong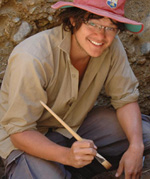 Lyndon Arden-Wong is a Macquarie PhD Candidate, researching the ancient history and archaeology of early medieval Inner Asia. His particular focus is on the Uighur Khaganate and its socio-political dynamics as demonstrated through architectural developments of the period. Lyndon's past field research has taken him to Mongolia, Siberia, China and South Korea.
Personnel
Membership of the ARC project (DP1093687) research team consists of:
They will be assisted, inter alios, by
Dr John Sheldon B.A.(Syd.) , M.A.(Cantab.), PhD (Macquarie), FRAS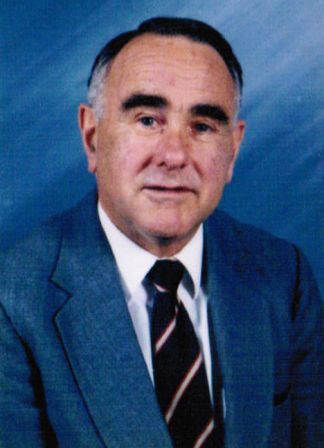 I was Master of the Lower School at Sydney Grammar School from 1969 till 2001 and taught Greek, Latin and Sanskrit there. On retirement from the School I was invited to become a Senior Honorary Research Fellow in the Department of Ancient History at Macquarie University. I have worked there under the direction of Professor Sam Lieu. My studies and research have involved the study of Middle Iranian dialects for the purpose of reading Buddhist and Manichaean texts. I am preparing an edition of a trilingual Manichaean prayer and confessional book. In 2005 I enrolled as a PhD student and have worked on selected references to the Far East in Greek and Latin authors under the supervision of Professor Lieu; this resulted in the award of the degree. I teach Sanskrit to students enrolled at Macquarie.
SELECT PUBLICATIONS
BOOKS
Reading Sanskrit : A Course for Beginners (SGS Press 1998).
Texts of Greek and Latin Authors On the Far East (translation of compilation by G. Coedès) (Brepols 2011).
ARTICLES
'Herodotus and the Iranian tradition' in 'Thinking like a Lawyer' (Festschrift for Emeritus Professor John Crook; Mnemosyne Supplement Vol CCXXXI) (Leiden 2002) pp 167-180.
'Iranian Evidence for Pindar's Spurious San?' in Antichthon vol 37 2003 pp 52-61.
'The Ethnic and Linguistic Identity of the Parthians' in Asian Ethnicity Vol 7, 1, 2006 pp 121-128
'The Sanskrit Translation of the Avestan Haoma Liturgy in the Light of Recent Research' in Themes and Tasks in Old and Middle Indo-Aryan Linguistics ed. Bertil Tikkanen and Heinrich Hettrich, Motilal Banarsidass, Delhi 2006 pp 255-272.
'Harold Walter Bailey' in Encyclopaedia Iranica.
'Middle Iranian Textual Evidence for Silk Road Religions'in Silk Road Studies XII ed. Ken Parry (Brepols 2008) pp 259-275.
'Menander's Dyscolus at Sydney, 1959-2009'in Antichthon vol 44 2010 pp 111-127. (With C.W.A.Flynn)
REVIEWS
'The Ethnic Identity of the Mummies found in the Tarim Basin' review article in Asian Ethnicity Vol 5, 1, 2004 pp 121-128.
'The Wider Context : Common Elements in Indo-Iranian, Greek and other Poetic Traditions and Mythologies' review of M.L.WestIndo-European Poetry and Myth in JRAS 3 19 4 2009 pp1-20.
Mr Gil Davis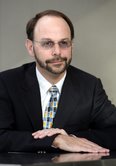 Gil Davis is undertaking a PhD in the Department of Ancient History. His primary research interest is the development of the archaic Athenian polis with a focus on law and coinage. He is also collaborating with Assoc. Professor Damian Gore (Department of Environment and Geography) in a project aimed at quickly and accurately analysing silver coinage using XRF to help determine provenance and authenticity.
Tristan Doust (Technical Officer)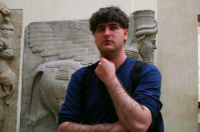 Tristan is currently studying an Arts Degree focusing on Chinese History. He has broad interests, covering both Modern and Ancient periods of Chinese History. Recently Tristan has taken an interest in both the Western and Eastern Han periods. In addition to this he is presently studying Mandarin as well as Classical Chinese. Tristan's interest in learning Classical Chinese is for the purpose of trying his hand at translating and understanding important historical texts such as that of the Hou Han Shu.
The Australian team will also collaborate officially with a number of distinguished scholars:
University of Southern California at Fullerton, USA
School of Oriental and African Studies, University of London
University of Ottawa, Canada
Professor Torbjörn Lodén (PI4)
University of Stockholm, Sweden
Torbjörn Lodén is Professor of Chinese language and culture at Stockholm University and Director of the Stockholm Confucius Institute. He is Fellow of the Swedish Royal Academy of Letters.
Publications
Though the current round of funding from the Australian Research Council for the project began in early 2010, the publication record of the Australian team under the direction of Professor Sam Lieu (CI1) goes back to 2005.
Main Publications:
1. I. Gardner, S.N.C. Lieu and K. Parry, From Palmyra to Zayton: Epigraphy and Iconography, Silk Road Studies (SRS) 10, ISBN: 978-2-503-51883-1 (Turnhout, 2005)
To Order: http://www.brepols.net/Pages/ShowProduct.aspx?prod_id=IS-9782503518831-1
2. G. Coedès, Texts of Greek and Latin Authors on the Far East, From the 4th C. B.C.E. to the 14th C. C.E., trans. John Sheldon, Studia Antiqua Australiensia (SAA) 4, ISBN: 978-2-503-53366-7 (Turnhout: 2009)
To Order: http://www.brepols.net/Pages/ShowProduct.aspx?prod_id=IS-9782503533667-1
3. John Sheldon, Commentary on George Coedès' Texts of Greek and Latin Authors on the Far East, Studia Antiqua Australiensia (SAA) 6, (Turnhout: 2013) ISBN: 978-2-503-54602-5
To Order: http://www.brepols.net/Pages/ShowProduct.aspx?prod_id=IS-9782503546025-1
4. J. Markley, Peace and Peril : Sima Qian's Portrayal of Han-Xiongnu Relations, Silk Road Studies (SRS) 13, ISBN: 978-2-503-53083-3
To Order: http://www.brepols.net/Pages/ShowProduct.aspx?prod_id=IS-9782503530833-1
5. S.N.C. Lieu and G. Mikkelsen (eds.), Between Rome and China: History, Religions and Material Culture of the Silk Road, Silk Road Studies (SRS) 18, ISBN: 978-2-503-56669-6
To Order: http://www.brepols.net/Pages/ShowProduct.aspx?prod_id=IS-9782503566696-1
Related publication:
Yu Taishan (CASS) China and the Ancient Mediterranean World: A Survey of Ancient Chinese Sources, Sino-Platonic Papers 242, November 2013 (Philadelphia: Department of East Asian Languages and Civilizations University of Pennsylvania
Philadelphia, PA 19104-6305 USA, 2013) – This is an online publication.
To Download: http://sino-platonic.org/complete/spp242_china_mediterranean.pdf
Inscriptions
A number of English translations of inscriptions relevant to the Serica project are made freely available here:
Related websites
Major related international projects include:
The International Dunhuang Project
Hosted by the British Library (London, UK) http://idp.bl.uk
Turfan Studies (Turfanforschung)
Hosted by the Berlin-Brandenburg Academy of Sciences and Humanities (Berlin, Germany)http://www.bbaw.de/bbaw/Forschung/Forschungsprojekte/turfanforschung/en/blanko.2005-03-01.2776105380
Mapping the Jewish Communities of the Byzantine Empire
Hosted by the Faculty of Divinity (Cambridge University, UK) http://www.mjcb.eu
Silk Road Seattle
Hosted by the Simpson Center for the Humanities (University of Washington, USA) http://depts.washington.edu/silkroad/
Other ongoing projects in closely related fields conducted by research teams under the direction of Professor Sam Lieu in collaboration with other scholars include:
Hosted by the Ancient Cultures Research Centre (Macquarie University, Australia)
Hosted by the Ancient Cultures Research Centre (Macquarie University, Australia)
The Serica website
SERICA is the website of the Australian project team participating in the international project "China and the Ancient Mediterranean World". This is an official project of the International Union of Academies which aims to foster research collaboration between Ancient Historians and Classical scholars in China and those in the more developed world. While the project will focus on both the literary and archaeological evidence on cultural, commercial and religious contacts between the Romano-Byzantine Empire and China, the Australian team will concentrate on the analysis of Greek, Latin, Middle Iranian, Syriac and Chinese texts on the historical geography of Central Asia and on the diffusion of 'Western' religions. The Australian team is funded by the Australian Research Council (DP1093687, 2010-2012) and SERICA will also function as the official website of the project.
Click here for more information on the "China and the Ancient Mediterranean World" project.
The title-page of website displays in the background a medieval reproduction of one of the maps (XXIII) on Central Asia from the Geographica Claudius Ptolemy by courtesy of the National Library of Naples.
Texts and translations
A number of English translations of texts relevant to the Serica project are made freely available here: