New Documents Illustrating Early Christianity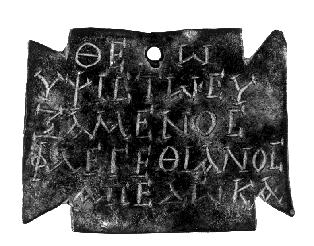 New Documents Illustrating Early Christianity, produced by the Ancient History Documentary Research Centre within the ACRC, reviews and reproduces samples of Greek papyri and inscriptions which were first published or reissued in a designated year or years. Documents are selected to illustrate various aspects of life and language in the Graeco-Roman world.
Text and translation are printed facing each other on the page. Full indices (Subject Index; Index of Greek, Hebrew and Latin Words; Index of Greek, Roman and Patristic Writers; Papyrological and Epigraphical References; Biblical and Rabbinic References) are also provided. Volume 5 contains linguistic essays and a cumulative index for the first five volumes.
For further information about New Docs please contact:
New Documents Illustrating Early Christianity
Ancient Cultures Research Centre
Faculty of Arts
Macquarie University NSW 2109
Telephone: (02) 9850 9962
Fax: (02) 9850 9001
Editor Email: stephen.llewelyn@mq.edu.au
Email: jon.dalrymple@mq.edu.au
Editors:
Vols 1-5 were edited by G.H.R. Horsley.
Vols 6-8 by S.R. Llewelyn under the direction of E.A. Judge.
Volume 9 by S.R. Llewelyn.
Volume 10, edited by S.R. Llewelyn, J. Harrison, and M. Theophilos, is currently in production.
Editorial consultants:
Professor G.W. Clarke
Professor G.H.R. Horsley
Professor M. Lattke
Dr J.A.L. Lee
Mr K.L. McKay
Dr S.R. Pickering
Professor G.R. Stanton
and Professor M. Wilcox
Of the volumes of New Documents reviewers have said:
Umso dankbarer dürfen wir sein, daß junge australische Philologen mit New Documents Illustrating Early Christianity die Aufgabe unternommen haben, dieses riesige, unüberschaubare Material für die Erforschung des frühen Christentums fruchtbar zu machen. (M. Hengel, New Testament Studies)
Must reading for New Testament scholars. (James H. Charlesworth, Religious Studies Review)
The utility of the series is beyond question, and for the vast majority of scholars it will be indispensable. (J. P. Murphy-O'Connor, Revue Biblique)
... bietet höchst anregenden Diskussionsstoff für alle, die philologisch oder historisch an den Texten und der Geschichte des frühen Christentums und seinen Wurzeln arbeiten. (W. Wischmeyer, Gnomon)
Earlier discussions are usefully collected, judiciously summarised and supplemented by new materials. There is much here that adds interesting detail to our knowledge of the life of the early churches (A. Wasserstein, Journal of Roman Studies)
Les ouvrages ... semblent ouvrir la porte à une 'histoire totale' du monde des premiers chrétiens. (G.G. Stroumsa, Numen)
Ordering of New Documents
Copies of volumes 1 to 7 of New Docs can be ordered through Macquarie University using the ordering form, or give us a phone call.
Copies of volumes 8 & 9 of New Docs can be ordered through Eerdmans Publishing, 255 Jefferson Ave. S.E., Grand Rapids, Michigan 49503, U.S.A.
Jacket Covers