Post Doc Research Fellow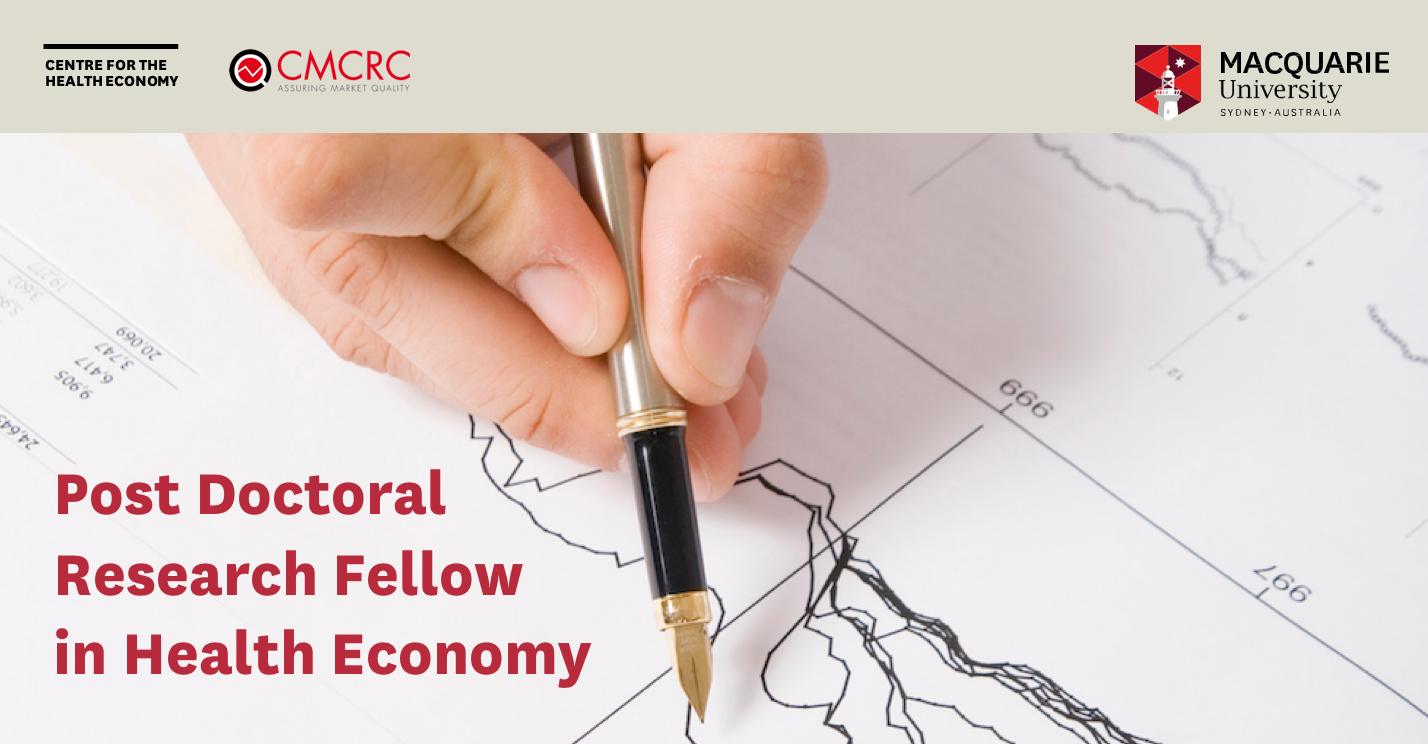 Post Doctoral Research Fellow in Health Economy
The Role:
The Capital Markets Cooperative Research Centre (CMCRC) and Macquarie University Centre for the Health Economy (MUCHE) are seeking a talented postdoctoral researcher to conduct and participate in collaborative research on the Health Economy that will impact public debate. This includes research for the purposes of publishing in leading academic journals, and research sponsored by government, business and not-for-profit organisations.
The successful candidate will:
Undertake, manage and report on collaborative research projects across a number of faculties, disciplines, enterprises and the Health Market Quality Program of CMCRC.
Independently develop a stream of research that produces high quality journal articles acceptable to A and A* journals.
Independently seek Category 2 and 3 funding from government and non-government organisations by developing relationships, promoting research ideas, and writing research proposals.
Continually seek to develop skills, experience, and research impact, with the objective of becoming a leading expert in a specific field of research, both domestically and internationally over time.
Contribute to public relations and Centre branding activities including academic conferences, thought leadership events, print and social media, and training programs delivered to external parties.
Keep abreast of developments in the health economy in Australia and Internationally to help continuously refine the Centre's research strategy over time.
Co-supervise Masters and PhD students working on related projects.
Essential Selection Criteria:
To be considered for this position, please address the selection criteria below and attach as a separate document in the application process.
PhD in economics, public health, bio statistics or health from a leading university.
Outstanding academic record.
Experience in conducting academic research.
Proven teamwork and relationship building skills.
Excellent written and oral communication skills.
Additional selection criteria:
Knowledge of the Australian health care system, or similar international health care systems (e.g., the National Health Service).
Has made an independent and original contribution to research with significant impact.
A strong record of published work or other demonstrated scholarly activities.
Has provided leadership in research, including training and supervision.
Desirable Selection Criteria:
Experience working with government and non-government organisations.
Demonstrated time management skills and ability to work to deadlines.
Proven record of research independence.
Able to commence with minimal delay.
Potential Research Areas
MUCHE is currently pursuing five research areas within the Health Economy. These have been chosen based on a recognised gap in literature, and a recognised need by government and non-government organisations to make improved policy and strategic decisions. The five strategic research areas include:
Integrated care
Mental Health
Health Technology
Aged Care
Disability care
Within these five strategic research areas are four pillars of expertise MUCHE aims to develop. These include funding models, competition and choice, measuring the performance of organisations and individuals, and workforce.
While the successful post-doctoral candidate will have freedom to pursue their own research interests, this would have to sit within the five strategic areas, focusing on developing one or more of the four pillars of expertise.
About CMCRC
Capital Markets Cooperative Research Centre (CMCRC)
The Capital Markets Cooperative Research Centre (www.cmcrc.com), is one of the world's leading independent research and development centres. Our rapidly growing Centre, which specialises in high-end data analytics in finance and health markets, has close ties to leading universities and industry partners in Australia and internationally across four continents.
Headquartered in the beautiful Rocks area in Sydney, CMCRC has a permanent complement of 30 people and up to 100 PhD student and postdoctoral researchers working in collaboration with our many university and industry partners.
About MUCHE
The Centre for the Health Economy
The Macquarie University Centre for the Health Economy (MUCHE) has been established to undertake detailed research on health, ageing and human services. The aim is to provide government, business, not-for-profit organisations with innovative, independent and applied research, which can be used to inform debate, assist decision-making, and formulate strategy and policy.
Our primary area of interest is investigating the Health Economy at the macro level, with particular focus on the interdependencies of these systems with each other, and the broader economy. This includes investigating factors that impact the health and wellbeing of populations.
Our focus areas for research include:
Financing and system structures
Mental health care
Disability and aged care
eHealth
Workforce
Medical R&D
Medical technology
We are also undertaking research across multiple focus areas, such as improving competition in health and human services.
In undertaking our research, we work collaboratively across the University, including the Faculty of Business and Economics, Faculty of Human Sciences, and the Faculty of Medicine and Health Sciences, including the world renowned Australian Institute of Health Innovation (AIHI). We also engage with industry and government partners that are committed to funding independent research in the health economy.