Professor Janet Greeley - Macquarie University Centre for the Health Economy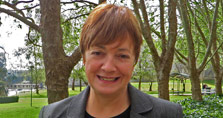 Professor Janet Greeley has an enviable track record as a university researcher and administrator, and is now Executive Dean of the Faculty of Human Sciences at Macquarie University.
She has extensive experience in executive management and lists her areas of research interest as the psychology of addictive behaviour, especially the role of learning in drug tolerance and dependence. The early part of her academic career was spent in Canada, where she obtained a BSc (Hons), an MA and a PhD in Psychology.
Professor Greeley has held academic positions at the University of New South Wales, James Cook University and served on a number of government advisory committees, and a range of professional societies.
Amongst other memberships, she is a representative on the Strategic Policy Advisory Committee of the Australian Medical Council and she is an alternate member of the HEARing CRC.