Peter O'Byrne - Macquarie University Centre for the Health Economy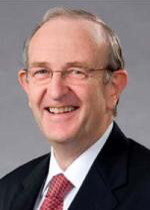 Macquarie University Centre for the Health Economy
Advisory Committee Member
Peter is an Adjunct Professor at Macquarie University's Faculty of Business and Economics, who's current Directorships include:
International Governance and Performance Research Centre
NSW Government's Export and Investment Advisory Council
National Vice Chairman, Australia India Business Council Ltd
He has extensive experience in trade and investment development across Asia and the Pacific as Chief Executive of the Australian Trade Commission (Austrade) for almost eight years. He has been closely involved with international market development services including responsibility for trade offices in China, Japan, Papua New Guinea, Fiji, New Zealand and Europe as well as the sponsorship of Australian trade and investment in the Pacific Island countries. He has also had line management responsibility for the offices, companies and trading operations of the large consumer goods company Reckitt & Colman.
His relevant areas of expertise for this review include:
Strategy development and implementation for regional export and investment activities
Organisation review and restructuring of both government and private entities
Project management, risk assessment, activity evaluation and change management
Performance improvement and measurement
Policy and programme development
Stakeholder consultation and involvement.
Peter has held top management roles in both the public and private sectors, including:
Managing Director, Australian Trade Commission (Austrade) from 2002 to end 2009
Managing Director, Australian Hearing Services a major health services network
Regional Director for Asia, Reckitt & Colman a large international consumer goods company
Peter's policy experience provides unique insights into community issues and the drivers of successful interaction between government, the broader community and business. He has been a Council Member of:
The Export Finance and Insurance Corporation (EFIC),
Australia's Trade Policy Advisory Committee
Asian Trade Promotion Forum
Australian International Cultural Council
A Cooperative Research Centre
Companies throughout Asia and the Pacific.