Juliet Seifert - Macquarie University Centre for the Health Economy
Macquarie University Centre for the Health Economy
Advisory Committee Member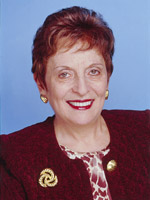 1989 to 2010 - Executive Director of the Australian Self-Medication Industry Inc.
ASMI is the peak industry body representing the vast majority of manufacturers of non-prescription medicines. The ASMI Secretariat is acknowledged by both state and federal governments as the consultation point with industry; and by its members as the focal point through which individual needs can be channelled and thus achieve greater weight in a total industry context.
The primary purpose of her role was to foster community, professional and government acceptance and understanding of the role of consumer healthcare products in community health throughout Australia, through a proactive development of industry profile. Juliet fostered and gained acceptance of the importance of responsible self-medication as part of self-care with key stakeholder groups, through influencing health policy, legislation and regulation. This included maximising opportunities for increasingly self-regulatory and co-regulatory approaches in lieu of prescriptive and costly government regulation; clearly differentiating consumer healthcare product from prescription issues, developing recognition of the distinctions and consequent need for varying approaches, initiatives, regulatory requirements and controls. She also worked with various groups across healthcare sectors as a key contributor in new, innovative processes in Australia i.e. model and standards for medicine information provision to consumers, best practice models for communication interventions between industry and professionals.
1985 to 1989 - Deputy National Director and Acting National Director of the Australian Retailers' Association.
Australian Retailers' Association is the peak body representing all retailers, through direct membership of major retail organisations and membership of State Retail Traders' Associations (also representing small and medium businesses).
1983 and 1985 - established and operated the New South Wales Retail Industry Training Council (RITC)
RITC is the first in a national network of such councils; she subsequently assisted in the establishing of the National Retail ITC and other state councils.
1970-1983 - Training & Development roles for Woolworths Limited.
She also had secondary teaching experience prior to that, teaching French, German and English to foreign students.
Current involvement includes:
Member of the Australian Therapeutic Goods Advisory Council
Board Member of B'nai B'rith NSW
Vice Chair B'nai B'rith Aviv Lodge
Advisory Board Member Courage to Care NSW Inc
Committee Member Moving Forward Together Inc
Past Professional Memberships:
Australian Society of Association Executives
Australian Institute of Pharmacy Management
Australian Institute of Management
Past Professional / Industry Positions and Representation:
Australian Pharmaceutical Advisory Council (APAC)
Australian Pharmacy Research Centre
Communication Research Institute, Board of Governors Medicines Partnership of Australia
Pharmaceutical Health and Rational Use of Medicines (PHARM) -Special Task Force on Consumer Medicines Information
Pharmaceutical Society of Australia (PSA)

Industry Liaison and
Pharmacy Self-Care Committees

Chair and member of Therapeutic Goods Advertising Code Council
TGA / Industry Consultative Committee
World Self Medication Industry (WSMI) – Executive & Board Member