Publications
New!
The MUCHE HEALTH Report 2019
ANALYSIS OF THE 2019 - 20 FEDERAL BUDGET
Dr Henry Cutler, Dr Joanne Epp, Mona Aghdaee and Andrew Partington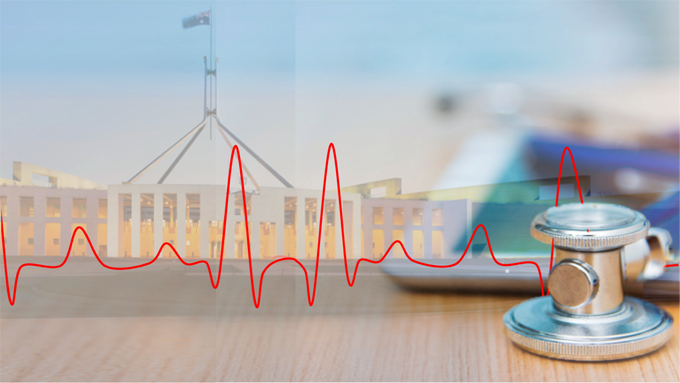 Executive Summary
While some have labelled this a cash splash Budget, health portfolio expenditure has been shackled. This fits within a recent trend of ever lower annual expenditure growth since 2016-17.
There will be a 2 per cent increase in real expenditure from 2019-20 to 2022-23. Most of this growth comes in the last two years of Budget projections. Australians face a reduction in per capita health portfolio expenditure over the next two years.
This is a grass roots Health portfolio budget, with the Australian Government looking to garner approval from local communities. It has allocated funding to several individual infrastructure projects, health programs and not-for-profit groups.
The centrepiece Budget item is the $1.1 billion allocated over five years to support primary care. Aged care was allocated $724.8 million over the next five years for residential care and Home Care packages, but most of this funding was already announced.
This Budget continues to implement the Fifth National Mental Health and Suicide Prevention Plan, allocating funds to after-hours mental health treatment centres, and to reduce our alarming youth suicide rate.
The Australian Government has missed an opportunity to tackle some pressing healthcare issues associated with obesity, public hospital waiting lists, and high out-of-pocket costs.
To find out how the Budget could affect health and human services, click on the link below. There you can view or download our report, which summarises the context and key changes in:
Aged care
Disability
Hospitals
Mental health
Pharmaceuticals
Pharmacy
Primary care and medical services
Private health insurance
Thought Leadership reports and articles
Assessing choice for public hospital patients by Dr Henry Cutler, Dr Yuanyuan Gu and ms Emma Olin
This report answers the following two important questions.
Do Australians want more choice between public hospitals for elective surgery?
Would Australians exercise their right to choose a public hospital based on quality vs. convenience?
The report presents an analysis of 1,000 Australians surveyed, which sought information on respondent attitudes towards greater choice. The study also employed a discrete choice experiment (DCE) to estimate the relative value of seven hospital attributes representing convenience, GP and public opinion, and hospital quality.
Health budget overview 2017-18 by Dr Henry Cutler
According to Sun Tzu (an ancient Chinese military strategist) 'the supreme art of war is to subdue the enemy without fighting'. The 2017-18 Budget has firmed up the coalition party flank against future health care attacks by the Labor government, after the Medi-Scare campaign nearly lost it an election.

The biggest winners are medical practitioners, with the gradual removal of a pause in indexation arrangements for MBS items. Australians also benefit, through greater access to drugs. Additional expenditure will be covered by large savings from drug price reductions, and an increase in the Medicare Levy rate from 2.0 to 2.5 per cent.
The value of health information by Dr Henry Cutler
Never has there been so much information so readily available, but despite improvements in information technology, our health system is struggling to maximise its true value. In this paper Dr Henry Cutler, Director of Macquarie's Centre for the Health Economy looks at why more information doesn't necessarily translate to better healthcare.
Overview of the 2016 Federal Health Budget by Dr Henry Cutler
The biggest winner from the federal health budget is the government, while the biggest losers are private providers reliant on the MBS, and aged care providers reliant on ACFI funding. The ability of providers to pass on lost revenue to patients through increased co-payments will ultimately determine whether this budget hurts the hip pockets of Australians.
Read our overview of this year's health budget
Competition in health and human service by Dr Henry Cutler
Introducing greater competition in health care is appealing. Standard economic theory suggests increased competition can deliver greater choice and improve productivity. But health care is complex. It is unlike the retail sector where people are relatively well informed and purchases are repeated. Nor does it operate like utilities, where the product is relatively homogenous and the primary objective for operators is efficiency. In this paper Dr Cutler explores the role of Competition Policy in health and human services and its impact on outcomes.
Journal articles
2019
| | |
| --- | --- |
| Zhiming Cheng, Ingrid Nielsen, Henry Cutler, (2019) Perceived job quality, work-life interference and intention to stay: Evidence from the aged care workforce in Australia | International Journal of Manpower |
| | |
| | |
2018
Parkinson, B., Gumbie, M., Cutler, H. Gauld, N., Mumford, V., Haywood, P. Cost-effectiveness of reclassifying triptans in Australia: application of an economic evaluation approach to regulatory decisions.
Value in Health

Thathya, V. A., Zanfina A., Huq, M., Rosenfeldt, F., Duffy, S.J., Parkinson, B., Yap, C., Smith, J., Billah, B., Yan, B.P., Brennan, A., Tran, L., Reid, C. The real-world cost-effectiveness of coronary artery bypass surgery versus stenting in high-risk patients: Propensity score-matched analysis of a single-centre experience. Applied Health Economics and Health Policy (2018.

Applied Health Economics and Health Policy
Zhiming Cheng, Ingrid Nielsen and Henry Cutler (2018). Perceived Job Quality, Work-life Interference and Intention to Stay: Evidence from the Australian Aged Care Workforce
International Journal of Manpower
Parkinson, B., Sherman, KA. Brown, P., Shaw, LE., Boyages, J., Cameron, LD., Elder, E., Lam, T., (In Press) Cost-effectiveness of the BRECONDA decision aid for breast reconstruction: lessons for economic evaluations of patient decision aids.
Psycho-Oncology
INFANT Collaborative Group. A study of an intelligent system to support decision making in the management of labour using the cardiotocograph
Peer Reviewed Report: NIHR Health Technology Assessment, volume 22, number 9.
NIHR Health Technology Assessment, peer-reviewed report
Nazlee Siddiqui; Mitch Dwyer; Jim Stankovich; Gregory Peterson; David Greenfield; Lei Si; Leigh Kinsman. Hospital length of stay variation and co-morbidity of mental illness: a retrospective study of five common chronic medical conditions
BMC Health Services Research
Tristan McCaughey, David M Budden, Paul G Sanfilippo, George EC Gooden, Li Fan, Eva Fenwick, Gwyneth Rees, Casimir MacGregor, Lei Si, Christine Chen, Helena Hai Liang, Alice Pébay, Timothy Baldwin, Alex W Hewitt. A need for better understanding is the major determinant for public perceptions of human gene editing
Human Gene Therapy

Palmer AJ, Si, L., Tew M, Hua X, et al. (2018). Computer Modelling of Diabetes and Its Transparency: A Report on the Eighth Mount Hood Challenge

Value in Health

Palmer AJ, Si, L., Tew M, Hua X, et al. (2018). Computer Modelling of Diabetes and Its Transparency: A Report on the Eighth Mount Hood Challenge

BMJ Open

Wang Z, Li X, Chen M, Si, L. (2018) Social health insurance, healthcare utilization, and costs in middle-aged and elderly community-dwelling adults in China

International Journal for Equity in Health

Saing, Sopany; Parkinson, Bonny; Church, Jody; Goodall, Stephen "Cost effectiveness of a community delivered consultation to improve infant sleep problems and maternal well-being."

Value in Health, Regional Issues

'Jie Li, Xue Han, Wangshuai Wang, Gong Sun and Zhiming Cheng (2018). How Social Support Influences University Students' Academic Achievement and Emotional Exhaustion: The Mediating Role of Self-Esteem.

Learning and Individual Differences
2017
| | |
| --- | --- |
| Parkinson, B., Viney, R., Pearson, SA., Haas, M., Goodall, S., Srasuebkul, P., Real World Evidence: a comparison of the Australian Herceptin Program and clinical trials of trastuzumab for metastatic breast cancer | Pharmacoeconomics |
| Parkinson, B., Elshaug, AG. Authors' Reply to Palozzo and Messori: ''Disinvestment and Value-Based Purchasing Strategies for Pharmaceuticals: An International Review'' | Pharmacoeconomics |
| Gumbie, M., Olin, E., Gu, Y., Schroeder, E-A., & Cutler, H. (2017). Protocol for the evaluation of an outcomes based care for vulnerable older people. International Journal of Integrated Care, 17(5), [A164]. DOI: 10.5334/ijic.3472 | International Journal of Integrated Care |
| Schroeder L, Patel N, Keeler M, Rocca-Ihenacho L, Macfarlane AJ. The economic costs of intrapartum care in Tower Hamlets: A comparison between the cost of birth in a freestanding midwifery unit and hospital for women at low risk of obstetric complications. Midwifery. 2017 Feb; 45:28-35. doi: 10.1016/j.midw.2016.11.006. Epub 2016 Nov 21. | Midwifery |
| Parkinson, B., Sherman, KA. Brown, P., Shaw, LE., Boyages, J., Cameron, LD., Elder, E., Lam, T., (In Press) Cost-effectiveness of the BRECONDA decision aid for breast reconstruction: lessons for economic evaluations of patient decision aids. | Psycho-Oncology |
| INFANT Collaborative Group. In reply, The INFANT TRIAL The Lancet Volume 390, No. 10089, p28, 1 July 2017 Open Access DOI: http://dx.doi.org/10.1016/S0140-6736(17)31594-5 The INFANT Collaborative Group: Peter Brocklehurst, David Field, Keith Greene, Ed Juszczak, Robert Keith, Sara Kenyon, Louise Linsell, Christopher Mabey, Mary Newburn, Rachel Plachcinski, Maria Quigley, Elizabeth Schroeder, Philip Steer | The Lancet |
| Wang L, Cocker F, Kilpatrick M, Otahal P, Si L., Palmer AJ, Sanderson K (2017) The Associations of Multimorbidity With Health-Related Productivity Loss in a Large and Diverse Public Sector Setting: A Cross-Sectional Survey | Journal of Occupational and Environmental Medicine |
| Ghijben, P., Gu, Y., Lancsar, E., and Zavarsek, S. (2017). Revealed and stated preferences of decision makers for priority setting in health technology assessment: a systematic review. | Pharmacoeconomics |
| Haining Wang, Russell Smyth and Zhiming Cheng (2017). The Economic Returns to Proficiency in English in China | Chinese Economic Review |
| The INFANT collaborative Group, Schroeder, E. (March 2017). Computerised interpretation of fatal heart rate during labour (INFANT): a randomised controlled trial | The Lancet |
| Haining Wang, Zhiming Cheng and Russell Smyth (2017). Consumption and Happiness | Journal of Development Studies |
| Yeqing Huang, Fei Guo and Zhiming Cheng (2017). Stay or Return? The Impacts of Market Machanism on Settlement Intention of Rural Migrants in Metropolises of China | Asian Population Studies |
| Ratcliffe, J., Lancaster E., Walker, R. and Gu, Y. (2017). Understanding what matters: an exploratory study to investigate the views of the general public for priority setting criteria in health care | Health Policy |
| Huang, Y., Guo, F. and Cheng, Z. (2017). Market mechanisms and migrants' settlement intention in urban China | Asian Population Studies |
| Li, L., Sun, G. and Cheng, Z. (2017). The influence of political skill on salespersons' work outcomes: a resource perspective | Journal of Business Ethics |
2016
Wang, H., Cheng, Z. and Smyth, R. (2016). Language and Consumption

China Economic Review

INFANT Collaborative Group, Brocklehurst P1. A study of an intelligent system to support decision making in the management of labour using the cardiotocograph - the INFANT study protocol. BMC Pregnancy Childbirth, Jan 2016 (Protocol)
The INFANT Collaborative Group: Peter Brocklehurst, David Field, Keith Greene, Ed Juszczak, Robert Keith, Sara Kenyon, Louise Linsell, Christopher Mabey, Mary Newburn, Rachel Plachcinski, Maria Quigley, Elizabeth Schroeder, Philip Steer

BMC pregnancy

Zhiming Cheng, Stephen P. King, Russell Smyth and Haining Wang (2016). Housing Property Rights and Subjective Wellbeing in Urban China

European Journal of Political Economy

Cheng, Z., Ingrid Nielsen, Vinod Misha, Russell Smyth and Ben Zhe Wang (2016). The Economics of Wellbeing in China

Social Indicators Research (Special Issue)

Zhiming Cheng and Russell Smyth (2015). Crime Victimization, Neighborhood Safety and Happiness in China.

Economic Modelling

Haining Wang, Zhiming Cheng and Russell Smyth (2016). Language and Consumption

European Journal of Political Economy

Sun, G., Wang, W., Cheng, Z., Jie Li and Junhua Chen (2016). The Intermediate Linkage between Materialism and Luxury Consumption: Evidence from the Emerging Market of China

Social Indicators Research

Parkinson, B., Elshaug, AG. Authors' Reply to Palozzo and Messori: ''Disinvestment and Value-Based Purchasing Strategies for Pharmaceuticals: An International Review''

Pharmaco-
economics

Parkinson, B., Viney, R., Pearson, SA., Haas, M., Goodall, S., Srasuebkul, P., Real World Evidence: a comparison of the Australian Herceptin Program and clinical trials of trastuzumab for metastatic breast cancer

Pharmaco-economics

Parkinson, B., Viney, R., Pearson, SA., Haas, M., Goodall, S., Srasuebkul, P., Real World Evidence: a comparison of the Australian Herceptin Program and clinical trials of trastuzumab for metastatic breast cancer

Asia-Pacific Journal of Clinical Oncology

Boyages, J., Xu, Y., Kalfa, S., Koelmeyer. L., Parkinson, B., Mackie, H., Viveros, H., Gollan, P., Taksa, L. The Financial Cost of Lymphedema Borne by Women with Breast Cancer, Psycho-Oncology (accepted with minor revisions).

Psycho-Oncology
2015
Wang, B. Z. and Cheng, Z. (2015). Environmental Perceptions, Happiness and Pro-environmental Actions in China

Social Indicators Research

Cheng, Z., Nielsen, I., and Smyth, R. (2015). Determinants of Wage Arrears and Their Implications for the Socioeconomic Wellbeing of China's Migrant Workers: Evidence from Guangdong Province. In Iredale and Guo (eds.),

Handbook of Chinese Migration: Identity and Wellbeing

Cheng, Z. and Smyth, R. (2015). Crime Victimization, Neighborhood Safety and Happiness in China.

Economic Modelling

Wang, H., Cheng, Z., and Smyth, R. (2015), Are Chinese workers compensated for occupational risk?

Journal of
Industrial Relations

Cheng, Z. and Smyth, R. (2015). China's Imbalanced Sex Ratio and Satisfaction with Marital Relations.

Journal of Industrial Relations

Cheng, Z. and Smyth, R. (2015). Why Give it Away When You Need it Yourself? Understanding Public Support for Foreign Aid in China

Journal of Industrial Relations

Wang, H., Smyth, R. and Cheng, Z. (2015). The Economic Returns to Proficiency in English in China

Journal of Industrial Relations

Cheng, Z., King, S. P., Smyth, R. and Wang, H., (2015). Housing Property Rights and Subjective Wellbeing in Urban China

Journal of Industrial Relations
Books, book chapters and reviews
Books

2014
Si, L. and Palmer, A.J., "Prevention of T2DM: health economics", Diapedia. The living textbook of diabetes., R. Landgraf (ed) (2014)

Wang, M., Cheng, Z., Zhang, P., Tong, L. and Ma, Y. (2014). Old Industrial Cities Seeking New Road of Re-Industrialisation: Models of Revitalizing Northeast China. Singapore: World Scientific. [Publisher Tier – 1]​

​

Cheng, Z., Wang, M. and Chen, J., (eds.) (2014). Urban China in the New Era: Market Reforms, Current State, and the Road Forward. Berlin and New York: Springer. [Publisher Tier – 1]​

Book Chapters​

2015​

Guo, F., Cheng, Z., Hugo, G. and Gao, W. (2014). Wages and Employment Status of China's Migrant Workers. In Wang, Kee and Gao (eds.), Transforming Chinese Cities, 95-112. London: Routledge.​

​

2014​

Guo, F., Cheng, Z., Hugo, G. and Gao, W. (2014). Wages and Employment Status of China's Migrant Workers. In Wang, Kee and Gao (eds.), Transforming Chinese Cities, 95-112. London: Routledge.​

​

Cheng, Z. (2014). The New Generation of Migrant Workers in Urban China. In Cheng, Wang and Chen (eds.), Urban China in the New Era: Market Reforms, Current State, and the Road Forward, 125-153. New York: Springer. ​

​

Cheng, Z., Wang, H. and Chen, Y. (2014). Labour Contract, Trade Union Membership, and Workplace Relations: A Study of Migrant Workers in Guangdong Province, China. In Hao and Chen (eds.), Social Issues in China: Gender, Ethnicity, Labor, and the Environment, 183-206. New York: Springer.​

Book Reviews​

​2015

Cheng, Z. (2015). Chinese Social Policy in a Time of Transition, Oxford: Oxford University Press. Political Studies Review. [ERA: B; IF: 1.286; JCR: 37/157 (Political Science)]​
Commissioned reports
2017
An economic evaluation framework
An economic evaluation framework to inform the scheduling of medicines: Use and access to over-the-counter medicines in Australia
Australian Self
Medication Industry
2015
Consumer behaviour fact book
In conjunction with the industry body for over-the-counter-medicines, MUCHE undertook a study to better understand consumers' use and attitudes towards OTC medicines, vitamins, minerals & supplements, and the down scheduling of certain prescription medications.

Download
Australian Self Medication Industry
2014
The Value Study
MUCHE undertook a study to quantify the savings made to the Australian healthcare system from the use of over-the-counter-medicines (OTC). The study surveyed 1,146 Australians over the age of 18 years regarding their attitudes towards OTC and prescribed medications within eight common categories and calculated the cost should respondents have to visit the doctor to obtain a script.

Download
Australian Self Medication Industry
Conferences and poster presentations
2018
| | |
| --- | --- |
| Parkinson, B., Gumbie, M., Cutler, H., Gauld, N., Mumford, V., Haywood, P. Cost-effectiveness of down scheduling triptans in Australia | ISPOR 8th Asia-Pacific Conference, 8-11 SEPTEMBER 2018, KEIO PLAZA, TOKYO, JAPAN |
| Gumbie, M., Parkinson, B., Bowman, R., Song, R., Cutler, H., Cost-effectiveness of screening a 5 year old child for hearing loss using Sound Scouts compared with no screening: a decision model analysis | ISPOR 8th Asia-Pacific Conference, 8-11 SEPTEMBER 2018, KEIO PLAZA, TOKYO, JAPAN |
| Gumbie, M., Parkinson, B., Cutler, H., Gauld, N., Mumford, V. Is the oral contraceptive pill Rx to OTC switch cost-effective? | ISPOR 8th Asia-Pacific Conference, 8-11 SEPTEMBER 2018, KEIO PLAZA, TOKYO, JAPAN |
| Si, L, Wu, Y, Hua, XY, Palmer, AJ, Clarke, PM. One-way sensitivity analysis in cost-effectiveness analyses in diabetes: which parameters are important? | Mount Hood Challenge Diabetes Meeting, 5-8 Otc. 2018, Dusseldorf, Germany |
| Si, L. Health economic evaluation through the lens | 2018 International Symposium of Spondyloarthritis / Ankylosing Spondylitis, Guangzhou, China |
| Gu Y, Cutler H, Jones A, Will public hospital patients choose a better quality hospital given the choice? | International Academy of Health Preference Research 27-28 September 2018, Hobart, Tasmania |
| Aghdaee M, Parkinson B, Sinha K, Gumbie M, Cutler H, Olin E, CART Analysis: A new approach to mapping patient reported outcome measures to multi-attribute utility instruments | International Academy of Health Preference Research 27-28 September 2018, Hobart, Tasmania |
| Cutler, H., Improving engagement and policy impact in health economics | AHES, 25-26 September 2018, Hobart, Tasmania |
| Gumbie, M., Song, R., Bowman, R., Cutler, H., The cost effectiveness of Sound Scouts | AHES, 25-26 September 2018, Hobart, Tasmania |
| Song R, Parkinson B, Cost-effectiveness of prostate cancer diagnostic test using PET scan (with F18 DCFPyL radio pharmaceutical) combined with computed tomography (CT) scan for patients with recurrent prostate cancer: a preliminary analysis | AHES, 25-26 September 2018, Hobart, Tasmania |
| Sharma R, Gu Yuanyuan, Sinha Kompal, Parkinson Bonny. Mapping CHU9D utility values from the Strengths and Difficulties Questionnaire (SDQ) | AHED, 25-26 September 2018, Hobart, Tasmania |
| Epp J, Cutler H, Evaluating Outcomes Based Care for Vulnerable Older People: Challenges and lessons learned from a complex program evaluation | AHES, 25-26 September 2018, Hobart, Tasmania |
| Aghdaee M, Parkinson B, Sinha K, Gumbie M, Cutler H, Olin E, CART Analysis: A new approach to mapping patient reported outcome measures to multi-attribute utility instruments | AHES, 25-26 September 2018, Hobart, Tasmania |
| Bowman R, Cutler H, Parkinson B, Economic evaluations of cochlear implants in older adults: A systematic review | AHES, 25-26 September 2018, Hobart, Tasmania |
| Introducing Quality Adjusted Life Years (QALYs) (part of organised session: Parkinson B, Dalziel K, Gold L, Sinha K, Mortimer D, Reflections on teaching health economics) | AHES, 25-26 September 2018, Hobart, Tasmania |
| Lei Si, Jieruo Gu, Andrew J Palmer, Liudan Tu, et al. Patient willingness to pay for osteoporosis medications: a discrete choice experiment | WCO-IOF-ESCEO 2018, 19-22 April 2018, Kraków, Polan |
| Lei Si, Jieruo Gu, Andrew J Palmer, Liudan Tu, et al. What is Chinese patients' preference for osteoporosis treatment? A discrete choice experiment | WCO-IOF-ESCEO 2018, 19-22 April 2018, Kraków, Polan |
| Lei Si, Jieruo Gu, Liudan Tu, Ya Xie, Mickael Hiligsmann, et al. Knowledge about osteoporosis among Chinese at high risk for osteoporotic fractures | WCO-IOF-ESCEO 2018, 19-22 April 2018, Kraków, Polan |
| Gumbie, M., Understanding individual and household choices in Africa using longitudinal data | Workshop on longitudinal datasets in Africa, 7-9 March 2018, Dar-es-Salaam, Tanzania |
| Schroeder E. The cost-effectiveness of multimodal approaches in preventing and treating chronic pain | EUHEA Conference, 11-14 July 2018, Maastricht, The Netherlands |
| Schroeder E. The cost-effectiveness of implementing a European systems-based approach to suicide prevention in Australia. | EUHEA Conference, 11-14 July 2018, Maastricht, The Netherlands |
| Yuanyuan, G., Cutler, H., Olin, E. Will public hospital patients choose a better quality hospital given the choice? A discrete choice experiment | EUHEA Conference, 11-14 July 2018, Maastricht, The Netherlands |
| Gumbie, M., Parkinson, B., Cutler, H., Is the oral contraceptive pill Rx to OTC switch cost-effective? | EUHEA Conference, 11-14 July 2018, Maastricht, The Netherlands |
| Gumbie, M., Song, R., Bowman, R., Cutler, H., The cost effectiveness of Sound Scouts | EUHEA Conference, 11-14 July 2018, Maastricht, The Netherlands |
2017
| | |
| --- | --- |
| Gumbie, M. Should oral contraceptive pills be available over the counter? | The 10th Health Services and Policy Research Conference, Gold Coast, Australia |
| Parkinson, B., Gumbie, M. To down-schedule, or not to down-schedule, triptans in Australia? | The 39th Annual Australian Health Economics Society Conference, September 21-22, 2017, Sydney, Australia |
| Gu, Y., Cutler, H., Olin, E. Will public hospital patients choose a better quality hospital given the choice? A discreet choice experiment | The 39th Annual Australian Health Economics Society Conference, September 21-22, 2017, Sydney, Australia |
| Gumbie, M., Cutler, H., Parkinson, B. Should oral contraceptives be available over-the-counter? | The 39th Annual Australian Health Economics Society Conference, September 21-22, 2017, Sydney, Australia |
| Olin, E., Cutler, H., Gu, Y. The potential use of quality information when choosing between public hospitals for surgery. The impact of health literacy | The 39th Annual Australian Health Economics Society Conference, September 21-22, 2017, Sydney, Australia |
| Cutler, H. The use and usefulness of outcomes based funding for hospitals | The 39th Annual Australian Health Economics Society Conference, September 21-22, 2017, Sydney, Australia |
| Gu, Y. Priority setting in HTA: Preferences of decision makers | International Health Economics Association, 8-11 July, 2017, Boston, USA |
| Gumbie, M,. Cutler, H., Parkinson, B. Framework for oral contraceptive Rx to OTC switch in Australia | International Health Economics Association, 8-11 July, 2017, Boston, USA |
| Cutler, H., Gu, Y., Olin, E. The potential use of quality information when choosing between public hospitals for surgery. The impact of health literacy | International Health Economics Association, 8-11 July, 2017, Boston, USA |
| Cutler, H., Gu, Y., Olin, E. Will public hospital patients choose a better quality hospital given the choice? | International Health Economics Association, 8-11 July, 2017, Boston, USA |
| Gumbie, M., Olin, E., Gu, Y., and Cutler, H., Protocol for the Evaluation of an Outcomes Based Care for Vulnerable Older People | 17th International Conference on Integrated Care, 8 May 2017, Dublin, Ireland |
| Bilgrami, A. The potential impacts of private health insurance reforms on membership and policy downgrading | 8th Australasian workshop on Econometrics and Health Economics, 1-3 May 2017, Coral Sea Resort, Airlie Beach, Queensland |
| Lancsar, E., Gu, Y., Gyrd-Hansen, D., Butler, J., Ratcliffe, J., Bulfone, L., and Donaldson, C., "General public preferences and weights for priority setting in health care resource allocation" | Values in Priority Setting Workshop: Report and Discussion of the NHMRC VIP Project,Melbourne |
| Gu, Y., Lancsar, E., Ghijben, P., Butler, J., and Donaldson, C., "Attributes and weights in health care priority setting: a systematic review of what counts and to what extent" | Values in Priority Setting Workshop: Report and Discussion of the NHMRC VIP Project,Melbourne |
2016
| | |
| --- | --- |
| Parkinson, B., Viney, R., Haas, M., Goodall, S., Real-world observational data in cost-effectiveness analyses: Herceptin as a case study | ISPOR Australian Chapter Contemporary Economic Modelling Workshop |
| Ariyaratne TV, Ademi Z, Huq M, Duffy SJ, Billah B, Rosenfeldt F, Parkinson B, Yap CH, Yan BP, Smith J, Brennan A, Tran L, Reid CM, The Real-World Cost-effectiveness of Coronary Artery Bypass Grafting Versus Stenting in High-risk Patients: Propensity Score Analysis of a Single Centre Experience | ISPOR 21st Annual International Meeting, May 21-25 2016, Washington DC |
| Parkinson B, Sermet C, Clement F, Crausaz S, Godman B, Garner S, Choudhury M, Pearson SA, Viney R, Lopert R, Elshaug AG. ''Disinvestment and Value-Based Purchasing Strategies for Pharmaceuticals: An International Review'' | National Medicines Symposium |
| Wang, H., Cheng, Z. and Smyth, R. (2016). Language and Consumption | The Asian Conference on Psychology and the Behavioral Sciences, Japan |
| V. Mumford, D. Greenfield, B. Parkinson, J. Braithwaite. Do the benefits of accreditation outweigh the costs? A case study approach to evaluate what it would take for accreditation to be cost-effective. | 33rd ISQua Conference 2016, 16-19th October, Tokyo |
| Parkinson B, Brown, P, Sherman K. Cost-effectiveness of a decision aid for breast reconstruction after surgery | International Congress on Behavioural Medicine, December 2016, Melbourne |
| Parkinson B, Brown P, Boyages J, Cameron L, Elder E, Lam T, Shaw LK, Sherman K. Cost-effectiveness of a decision aid for breast reconstruction | The 38th Annual Australian Health Economics Society Conference, Mon 26th - Tue 27th September 2016, Esplanade Hotel, Fremantle, Perth, Australia |
| V. Mumford, D. Greenfield, B. Parkinson, J. Braithwaite. Do the benefits of accreditation outweigh the costs? A case study approach to evaluate what it would take for accreditation to be cost-effective. | The 38th Annual Australian Health Economics Society Conference, Mon 26th - Tue 27th September 2016, Esplanade Hotel, Fremantle, Perth, Australia |
| Schroeder, L. A systematic literature review of the economic impacts of suicide, suicide attempt and suicide prevention | The 38th Annual Australian Health Economics Society Conference, Mon 26th - Tue 27th September 2016, Esplanade Hotel, Fremantle, Perth, Australia |
| Bilgrami, A. The potential impacts of private health insurance reforms on membership and policy downgrading | The 38th Annual Australian Health Economics Society Conference, Mon 26th - Tue 27th September 2016, Esplanade Hotel, Fremantle, Perth, Australia |
| Cheng, Z. Cutler, H. Migration and Subjective Wellbeing in Australian Aged Care Workforce | The 38th Annual Australian Health Economics Society Conference, Mon 26th - Tue 27th September 2016, Esplanade Hotel, Fremantle, Perth, Australia |
Industry presentations
2018
| | |
| --- | --- |
| An ageing Australia. Doom or boom? | Living to 100 Conference, Centre for Healthy Brain Ageing, UNSW |
| Taking stock of the Australian healthcare system | Healthcare Leaders Forum 2018 |
| Economic Evaluation for Integrated Care | International Foundation for Integrated Care Symposium, NSW Parliament House |
| Considering integrated care to keep people out of hospital | Novartis Pre-Congress Symposium, 2018 World Hospital Congress, Brisbane Australia |
| Financing integrated care and creating incentives | International Federation for Integrated Care, Byron Bay, NSW |
| An economic evaluation framework to inform the scheduling of medicines in Australia | National Medicines Symposium, 30 May - 1 June 2018, Canberra |
| The economics of hearing health care | Workshop: Planning and Implementing Hearing Healthcare: From Global To Local Solutions |
2017
| | |
| --- | --- |
| Parkinson, B. Health Economic Framework to Inform Prescription to OTC Switch | World Self Medication General Assembly 2017 |
| Cutler, H. Analysing data: Fast and slow | Revisiting Whitlam's Vision for Health: Economists, Data and Efficiency |
| Cutler, H., Gu, Y. Competition Policy - Choice in Public Hospitals | The Australian Productivity Commission |
| Cutler, H. Improving the patient experience | Informa |
2016
| | |
| --- | --- |
| Cutler, H. The Future of Australia's aged care workforce | Macquarie University |
| Cutler, H. Economic evaluation of hearing devices. Some surgery required. | Cochlear Global Symposium |
2015
Cutler, H. Competition in health and human services

MUCHE

Cutler, H. How do we evaluate systems in health care?

New Horizons Conference, Northern Sydney Academic Health Sciences
Centre

Cutler, H. The economics of health technology. Some surgery required.

Medtech, Medical Technology Association of Australia

Cutler, H. The value of health technologies

Medtech, Medical Technology Association of Australia