Real time prediction of remaining days of hospitalisation readmission and death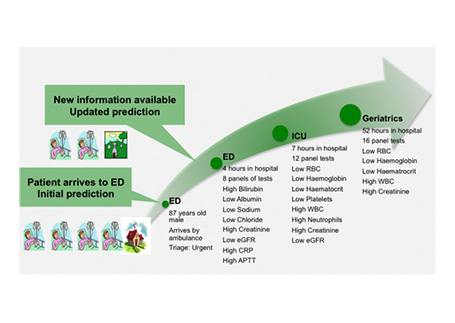 Project members - Macquarie University
Associate Professor Blanca Gallego Luxan - Associate Professor
Dr Oscar Perez Concha - Visiting Fellow
Project main description
Rapid identification of hospitalized patients at high risk of extended length of stay, readmission or death has the potential to improve quality of care and reduce avoidable harm and costs. Early and accurate identification of patients at high risk of death can be used to call emergency medical teams to prevent death or alternatively to initiate counseling about end-of-life care. An accurate estimate of length of stay together with risk of readmission and death can help clinicians with important discharge planning strategies for their patients; these strategies are likely to improve continuity of care, and prevent readmissions and post-discharge deaths.
We are developing non disease-specific predictive models that simultaneously estimate the future daily probability of being in hospital, at home or dead for a hospitalised patient over a period of time following a temporal event (e.g. new pathology test result). This provides a more comprehensive, finer-grained forecast of patient status. In addition, these predictions are continuously updated as new information becomes available. These properties make these models suitable to aid in decision making at the point-of-care.
Opportunities (Scholarships, Grants and Research Positions)
Our postgraduate programs allow candidates to undertake advanced research leading to a Master's or PhD degree under the supervision of experienced senior research staff in one of AIHI's research areas. Current research opportunities at AIHI.
References
Cai X., Perez-Concha O., Martin-Sanchez F., Gallego B. Modeling of time series health data using Dynamic Bayesian Networks: An application to predictions of patient outcomes after multiple surgeries. HIC Conference on Big Data in Health and Biomedicine, 2014
Gallego B, Perez-Concha O, Lin F, Coiera E: Exploring the role of pathology test results in the prediction of remaining days of hospitalisation. In: Health Informatics: Building a Healthcare Future Through Trusted Information-Selected Papers from the 20th Australian National Health Informatics Conference (Hic 2012). vol. 9; 2012: 45.
Project sponsors
NHMRC Project Grant APP1045548 (2012-2015), St Vincent's Clinic Foundation (2014)
Collaborative partners
Professor Ric Day, St Vincent's clinical school, UNSW Medicine
Professor Fernando Martin-Shanchez, Biomedical Informatics Centre, University of Melbourne
Dr Brett Gardiner, Director Clinical Governance and Chief Medical Officer, St Vincent's hospital, Sydney
Mr David Roffe, Chief Information Officer, St Vincent's hospital Sydney
Related projects
Temporal Patterns of Patient Safety and Quality of Care
Project status
Current
Centres related to this project