Centre for Atypical Neurodevelopment

Improving the lives of children with neurodevelopmental disorders
Many childhood conditions can impact on a child's brain development and significantly affect their cognition, learning, behaviour and emotions as they grow. These conditions might include autism, reading and intellectual difficulties, social anxiety disorder, hearing impairment, cerebral palsy and brain injury. The Centre for Atypical Neurodevelopment (CAN) leads research and clinical interventions to address the needs of children and their families as they transition into adulthood.
Our research

Learn about our multi-faceted approach to research into atypical neurodevelopment.

Our projects

Discover research projects undertaken with leading Australian and international organisations.

Our people

Connect with our members about research collaboration or partnership opportunities.
Participate in our research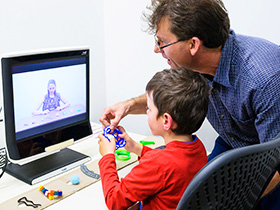 Our researchers are looking for children with a wide range of conditions to participate in research that could help children, their families and ultimately others with their condition.
Contact us
Call us
Phone: +61 2 9850 6869 (Jon Brock)
Phone: +61 2 9850 6768 (Melanie Porter)
Email us
Visit us
Level 3
Australian Hearing Hub
16 University Avenue
Macquarie University NSW 2109