News and events
2017
January
2016 was a busy year with three PhD completions!
Photos from the day Ashwin received the good news...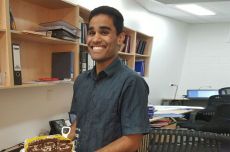 2016
August
Ashwin's work on 'Ruthenium Complexes of Hemilabile Pincer Ligands: Synthesis and Catalysing the Transfer Hydrogenation of Ketones' gets published! Dalton Trans. 2016, 45, 14335-14342.
Shelly has headed off to University of New Brunswick to do an organic synthesis project.
Josh joins us in the lab for four weeks as our latest MRes Year 1 student.
July
Mark, Ralph, Sam and Barbara head down to Melbourne for ICOMC 2016.
The group all head over to UNSW for the 29th Reactive Organometallics Symposium where Mark and Sam are giving talks. The chemistry-themed cookies are perfect to cheer up Sam and Roy after watching the Brexit counter tot up.
April
Congratulations to Shelly, who won the award for Best Student in her cohort at the Faculty of Science and Engineering's Awards Evening this month!
January
The new year gets off to a great start: Sandy received fantastic results for her PhD thesis!
Chin heads to the UK for collaborative NMR work with Prof. Simon Duckett at the University of York.
New Postdoctoral Researcher Dr Roy McBurney joins us from Scotland.
A busy month! New starters Adam and Neil join us for six-week summer projects, Andrew returns to start his MRes Year 2, Ralph is back to commence his PhD project, and Sandy returns as a Postdoctoral Researcher.
2015
December
8-11th December: We all head to USyd for OZOM9. Chin, Ashwin, and Sam give talks and Mark presents a poster.
Chin's latest paper 'A versatile method for the preparation of carbon-rhodium hybrid catalysts on graphene and carbon black' is accepted into Chemical Science: Chem. Sci., 2016, Advance Article
15-20th December: Barbara heads to Pacifichem in Hawaii to present Mark and Sandy's PhD work
Ralph can now call himself a Master of Research!
November
6th November: We host our first event at Macquarie University - the 28th Reactive Organometallics Symposium (ROMS 28), at the Hearing Hub.
October
Macquarie MRes Year1 project students Alex and Andrew join us for four weeks each.
September
Ralph and Vera both have papers accepted in Organometallics!
June
Dr Samantha Binding joins us from the UK as our new Post-doctoral Researcher.
Shelly Wang joins us as we head to Canberra for ROMS 27 at ANU, a steep start to her Merit Scholarship!
May
Dr Barney Walker leaves for a new job in New Zealand. We wish him the best of luck.
January – May
Our brand new lab at Macquarie University takes shape!
2014
July
13-18th July – 26th ICOmC- Sapporo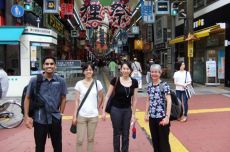 21-25 July – 41st ICCC- Singapore
22-25 July- 8th OZOM- Magnetic Island (Brisbane)
Congrats on the poster prize Matt...
March
Ralph Lam commences his Honours year with us.
Matt Peterson & Vera Diachenko return to us to begin their PhDs.
Artur Kochanke joins us for a six month exchange from Georg- August University, Goettingen.
2013
December
November
8th November: We hold the 24th Reactive OrganoMetallics Symposium (UNSW) and welcome the annual visit of our Canberran cousins! (Tony Hill group).
Andrey's paper entitled "Rh(I) complexes bearing N,N and N,P ligands anchored on glassy carbon electrodes towards recyclable hydroamination catalysts" is published in JACS: J. Am. Chem. Soc, 2013, 135, 16429-16437. Good Job!
October
31st October- 13th November: Research labs shut down at the School of Chemistry as new flooring is installed, giving us time to catch up on all our 'house' work and writing! It's a little sad and so very strange to see our work spaces empty and chemicals imprisoned though!
27th-31st October 2013: Prof. Messerle is invited to present at the ANZMAG- 5th Asia Pacific NMR Symposium (ANZMAG-APNMR, Brisbane) as a Plenary lecturer.
We celebrate our 100th paper withAndrey presents "Rh(I) complexes bearing N,N and N,P ligands anchored on glassy carbon electrodes towards recyclable hydroamination catalysts" in J.Am.Chem.Soc (published online on 2nd October 2013).
September
Dr. Barney Walker joins us as our new Post-Doctoral Researcher!
'Directing the regioselectivity of Rhodium(I) catalysed cyclisation of 2-alkynyl benzoic acids' in Polyhedron (published on 18th September 2013).
Marina, Mark and Khuong publish their findings on 'Bimetallic complexes for enhancing catalyst efficiency – Probing the relationship between activity and intermetallic distance' in Organometallics (published online on 6th September 2013) as a collaborated product with Prof. Stuart Macgregor.
August
Sandra Choy returns from a two month education with the Stuart Macgregor Group (Heriot-Watt University, Scotland).
Khuong publishes one of the last projects he was working on with us as a report on 'Cationic Rh and Ir complexes containing bidentate imidazolylidene-1,2,3-triazole donor Ligands: synthesis and preliminary catalytic studies' published in Dalton Transactions (published online on 20th August 2013).
Sandra's long-awaited findings on 'Cooperative Catalysis : Large Rate Enhancements with Bimetallic Rhodium Complexes' published in Organometallics (published online on 16th August 2013) is finally out after three years of anticipation.
July
25-26th July 2013: Sandra scoops another poster prize at the 47th Universities of Scotland Inorganic Chemistry conference (USIC, Edinburgh).

Poster titled 'Flat Rh(I) Complexes for Catalysed C-X Bond Formation – Enhanced Cooperativity.

30th June – 4th July 2013: Barbara, Michael, Mark and Sandra attends the 20th EuCheMS Conference on Organometallic Chemistry on the other side of the world at the University of St Andrews in Scotland.

Sandra wins a poster prize for her poster titled 'Flat Rh(I) Complexes for Catalysed C-X Bond Formation – Enhanced Cooperativity'.
May
Congratulations to all 2012 prize winners:
The CETEC Prize for Best Performance in Honours Thesis – Chin Min Wong.
The Angyal Prize for Best Performance in Honours Chemistry – Chin Min Wong.
The UNSW Chemical Society George Wright Prize for Meritorius performance in Level 2 Chemistry Courses – Sharon Yu.
The RACI Analytical Chemistry Group Prize for Best performance in Level 3 Analytical Chemistry – Vera Diachenko.
The Du Pont Prize for Best Performance in B.Sc. 3 year degree in Chemistry, Overall "top" of Chemistry – Kiara Olrich.
The School of Chemistry Prize and School Medal for best performance in Level 3 Chemistry – Kiara Olrich.
The UNSW Chemical Society Dwyer Prize for Best performance in Level 3 Inorganic Chemistry – Kiara Olrich.
The Inglis Hudson and Jeffrey Bequests for Best performance in Level 3 Organic Chemistry – Kiara Olrich.
The Bosworth Prize and Medal for Best performance in Level 3 Physical Chemistry – Kiara Olrich.
UNSW Postgraduate Research Student Support Award for Conference Travel – Mark Gatus & Sandra Choy.
Postgraduate Teaching Fellowships – Mark Gatus & Sandra Choy.
March
Ashwin Nair joins us from the University of Waikato (N.Z) to take on a PhD candidature.
January
7th Australasian Organometallics Discussion Group Meeting (OZOM7).
Farewell to Dr. Khuong Vuong as he leaves for a new position in Singapore.
News and Events Photo Gallery
Interactive gallery
The following gallery contains a number of links. Each link opens an interactive gallery slideshow in a popup window. From the popup window you will be able to cycle through the available gallery images. A button to close the popup window will also be provided.
End of interactive gallery