News and events
Slideshow presentation
The following slideshow can be cycled through displays. Depending on screen reader and browser combination, they may present one at a time or all at once. Additionally, when the slideshow has keyboard focus, the left and right arrow keys can also be used to navigate the slides.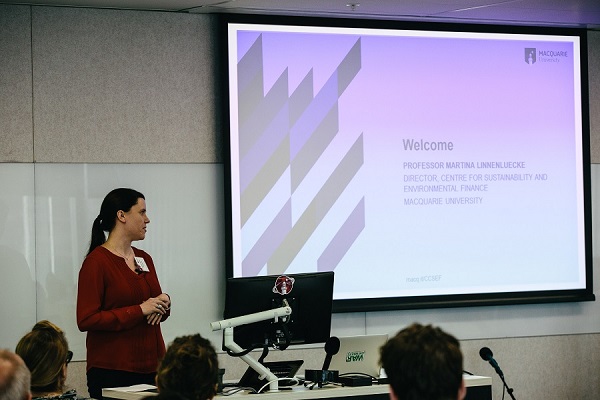 End of slideshow
Our Lunch Time Seminars
Please note the 2019 lunch time seminar series has concluded.
2019 SEMINARS:
Date, Time & Venue

Join Us For The Two Great Lunch Time Talks!

1) Green Alpha & Carbon Neutral Equity Portfolios

By: Mr Roy Maslen, Chief Investment Officer - Australian Equities at AllianceBernstein

2) The Impact of UN PRI Signatures on Fund Flows

By: Mr Dan Daugaard, Deputy Head for the Department of Applied Finance, Macquarie Business School

To Register - Please Click Here

Date: Friday 18th October, 2019

Time: 12:30 - 1:30 pm

Venue: Macquarie University City Campus, Level 24,Angel Place,

123 Pitt Street, Sydney, NSW 2000

Two Great Sustainability Talks on Eco-Efficiency: What Drives the Return on Natural Capital? and Clothes that Won't Cost the Earth!

What Drives the Return on Natural Capital? The Case of Automobile Production

By: Professor Frank Figge, Kedge Business School

Clothes that Won't Cost the Earth: Sustainability Strategies in the Fashion Industry

By Professor Martina Linnenluecke, Macquarie University

For More Information - Please Click Here

Date: Friday 15th March, 2019

Time: 12:30 - 1:30 pm

Venue: Macquarie University City Campus, Level 24,Angel Place,

123 Pitt Street, Sydney, NSW 2000

Value Creation through Crowdsourcing (the 'what') and Gamification (the 'how') presented by Professor Tom Smith, Macquarie University and Assistant Professor Andrea Thorpe, Kedge Business School

For More Information - Please Click Here

Date: Friday 12th April, 2019

Time: 12:30 - 1:30 pm

Venue: Macquarie University City Campus, Level 24,Angel Place,

123 Pitt Street, Sydney, NSW 2000
Our Events
6 Dec 2018

TARGET ZERO: ZERO CARBON, ZERO POLLUTION, ZERO WASTEThe Centre for Corporate Sustainability & Environmental Finance at Macquarie University w

18 Oct 2018 12:30 pm

Climate Risk & Volatility: Implications for Financial MarketsHave you been feeling the heat?We mean literally! The temperature volatility has

14 Mar 2019 5:00 pm

On behalf of Professor Martina Linnenluecke, Director for the Centre for Corporate Sustainability & Environmental Finance would like to invit