Prince William announces Living Seawalls as a Finalist in the inaugural year of the £50 million Earthshot Prize
18 September 2021
Living Seawalls, a flagship project of the Sydney Institute of Marine Science, with scientists from Macquarie University and UNSW Sydney, has been selected as a finalist in the Earthshot Prize – the most prestigious environmental prize in history.
Created by HRH Prince William and The Royal Foundation, The Earthshot Prize has led an unprecedented global search for the most inspiring and innovative solutions to the greatest environmental challenges facing the planet.
750 nominations were received across every continent, and from a rigorous selection process lasting 10 months, 15 inaugural Finalists – from 14 countries – have been selected by an Expert Advisory Panel. The Finalist's solutions were assessed on their potential to create game-changing impact around the world, their ability to help reach the Earthshot goals while also positively impacting people, communities and the natural world.
Led by an all-female team of scientists from Macquarie University, UNSW Sydney, and SIMS, with industrial design expertise from Reef Design Lab, Melbourne, Living Seawalls uses innovative and replicable seawall panels to bring marine life back to coastal sea defences. Selected as one of only three finalists in the Reviving Our Oceans Earthshot category, Living Seawalls is a project that lies at the intersection of ecology, design and engineering.
Associate Professor Melanie Bishop from the Macquarie's Department of Biological Sciences says, "Seawalls, breakwaters and other built structures are a growing source of biodiversity loss in our coastal oceans. Living Seawalls is a solution bringing life back to the most degraded marine environments on Earth."
Five of the 15 Finalists announced will be awarded The Earthshot Prize and will win £1 million in Prize funding for the best solutions of the five Earthshot goals: Protect and Restore Nature; Clean our Air; Revive our Oceans; Build a Waste-free World; and Fix our Climate.
Dr Katherine Dafforn from Macquarie's Department of Earth and Environmental Sciences says, "The Living Seawalls team is thrilled and honoured to be recognised as an Earthshot finalist for reviving our oceans. This is an amazing opportunity to share our message of co-design for both humans and nature with the world."
HRH Prince William says, "Over half a century ago, President Kennedy's 'Moonshot' programme united millions of people around the goal of reaching the moon. Inspired by this, The Earthshot Prize aims to mobilise collective action around our unique ability to innovate, problem solve and repair our planet.
"I am honoured to introduce the 15 innovators, leaders, and visionaries who are the first ever Finalists for The Earthshot Prize. They are working with the urgency required in this decisive decade for life on Earth and will inspire all of us with their optimism in our ability to rise to the greatest challenges in human history."
About the Earthshot Prize
The Earthshot Prize winners will be selected by The Earthshot Prize Council, a diverse team of influential individuals which includes: HRH Prince William, Her Majesty Queen Rania Al Abdullah of Jordan, Sir David Attenborough, Dr Ngozi Okonjo-Iweala, Indra Nooyi, Shakira Mebarak, Christiana Figueres, Luisa Neubauer, Cate Blanchett, Yao Ming, Daniel Alves Da Silva, Ernest Gibson, Hindou Oumarou Ibrahim, Jack Ma, and Naoko Yamazaki.
In the run-up to the awards ceremony on 17 October, BBC One and BBC iPlayer and Discovery will release a 5-part documentary series EARTHSHOT, featuring the Finalists of The Earthshot Prize and a group of Earthshot Prize Council Members including Prince William and Sir David Attenborough. This landmark series will highlight the inspiring story of Living Seawalls and other finalists.
The Prize is an urgent call to action to the world and aims to turn the current pessimism surrounding environmental issues into optimism, by championing inspiring leadership and helping to scale incredible cutting-edge solutions. It will discover 50 winners over 10 years with the power to repair the planet.
Filed under: Featured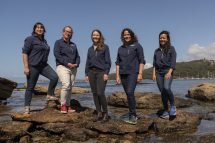 Media contact
02 9850 1055
View by category