Three Macquarie University subjects rank in top three nationally
4 March 2021
The QS 2021 Subject Rankings have again rated Macquarie University in the top three in Australia for Philosophy, Linguistics, and Classics and Ancient History, with a total of 14 subjects ranking in the top 150 globally.  
Macquarie is ranked first in Australia and 51-70th in the world for Classics and Ancient History, while Philosophy placed second nationally and Linguistics third. Philosophy and Linguistics also climbed in the global standings, now being ranked 23rd and 27th respectively.
Macquarie Business School saw several subjects rise in the global rankings, with Accounting and Finance now at 84th in the world, Business and Management and Economics both moving into the top 200.
Other top performing subjects included Psychology (74th) and Education (78th), while Computer Science climbed over 100 places to rank in the top 200.
Other subjects rated in the top 150 included Archaeology, English Language & Literature, Earth & Marine Sciences, Geography, Geology, Geophysics, Communication & Media Studies and Law.
The QS World University Rankings by Subject ranks the world's top universities in individual subject areas using a combination of research citations, as well as the University's reputation among academics and employers.
Deputy Vice-Chancellor Engagement, Professor David Wilkinson says the outstanding results in the QS Subject Rankings reflected Macquarie University's strong reputation across a broad range of fields.
"The high-impact research and quality teaching at Macquarie University across Humanities, Business, Science and Health is being recognised at an international level by academics and employers," says Professor Wilkinson.
"These latest QS Subject Rankings reinforce our global standing in key disciplines and reflect the efforts of our academic community towards being one of the highest-performing research universities in Australia."
Filed under: Featured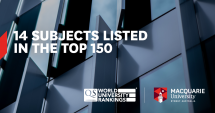 Media contact
02 9850 1055
View by category