MACQUARIE UNIVERSITY'S MASTER OF BUSINESS ADMINISTRATION (MBA) RANKS IN THE TOP 100 GLOBALLY
24 September 2020
Macquarie University's MBA, run by the Macquarie Business School (MQBS), has ranked 95th out of 258 MBA courses offered worldwide in the 2021 Global MBA QS World University Rankings.
Macquarie Business School's MBA has moved up in ranking from the previous year, breaking into the top 100 globally. This year, Macquarie Business School also submitted three more of its post graduate courses to QS for ranking consideration. All three have been ranked in the top 50 globally. The Master of Marketing is ranked 19th, Master of Applied Finance ranked 32nd and Master of Management ranked 49th globally. These results mean that the Master of Marketing and Master of Applied Finance both ranked 1st in Australia.
The Global MBA QS World University Rankings is based on five key indicators: employability, return on investment, alumni outcomes, thought leadership and diversity.
Professor Eric Knight, Executive Dean, Macquarie Business School says the results were a testament of their focus on the student's learning experience: "The MBA at Macquarie Business School has a long heritage as one of the most distinguished and prestigious courses in global business. Building on the legacy of those who have come before, we continuously work to reinvent the learning experience, so it offers the most cutting edge and all-rounded transformation for tomorrow's most senior executives".
Associate Professor Steve Jaynes, MBA Course Director, Macquarie Business School says that their continual emphasis on industry relevant courses, is a driving force that has led to these rankings: "We are delighted that the Macquarie MBA is ranked in the top 100 of the 2021 QS Global MBA rankings. This top ranking is testament to our practice-led and industry relevant MBA program that enables graduate mobility to senior leadership roles both within and across-industry."
Macquarie University's Vice-Chancellor and President, Professor S. Bruce Dowton says the Macquarie Business School's MBA has continued to go from strength to strength. "It has an exceptional reputation, and this is because of the innovative nature of the program in a dynamic global marketplace and the quality of our teaching staff. This recognition, across the entire post graduate course suite, is very well deserved."
QS World University Rankings was established in 1990. QS is widely known as a pioneer in university rankings, producing the QS World University Rankings and related regional and national rankings each year.
Filed under: Featured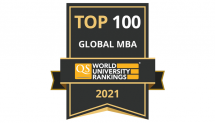 Media contact
02 9850 1055
View by category