Professor Eric Knight Joins Macquarie University To Lead Business School
17 June 2020
Professor Eric Knight has been appointed as Executive Dean of Macquarie Business School succeeding Professor Stephen Brammer who served as the inaugural Dean before his departure to The University of Bath, UK earlier this year.
Professor Knight joins Macquarie University from The University of Sydney where he was Professor of Strategic Management and Pro-Vice-Chancellor (Research – Enterprise and Engagement).
Professor Knight is an internationally recognised scholar in the fields of organisational theory and strategic management. He has published research in top-tiered journals including Strategic Management Journal, Academy of Management Review, and Organization Studies.
He holds a Doctor of Philosophy (DPhil) from the University of Oxford, where he studied as a Rhodes Scholar, before working in industry for the Boston Consulting Group.
Professor Knight has played a pivotal role in various aspects of curriculum innovation in online, undergraduate and MBA formats. His own teaching in Design-led Strategy, for example, has attracted more than 20,000 students and has created new forms of engagement between industry and academia, leading to the creation of various companies and company product launches by his students.
Professor Knight recently returned from Stanford University where he was a visiting Fulbright Senior Scholar. He is the incoming chair of the Strategy Practice interest group of the Strategic Management Society and has played an important role in establishing two State networks to support research engagement, the Defence Innovation Network, and the NSW Smart Sensing Network.
"I'm honoured to be appointed Executive Dean of Macquarie Business School. It is on a rapid rise to being one of the best business schools in Asia, if not globally, and I look forward to working with such an outstanding set of colleagues, students and alumni," said Professor Knight.
"I look forward to working with Professor Knight who will help lead enhancements to our leading MBA program and to continue to build on the strong industry partnerships for which Macquarie Business School is renown," said Professor Bruce Dowton, Vice Chancellor and President, Macquarie University.
Filed under: Featured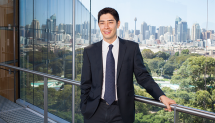 Media contact
02 9850 1055
View by category