Macquarie University signs commitment to continue prioritising gender equity
11 June 2020
Macquarie University has signed a joint Australian Higher Education sector position statement, Preserving Gender Equity as a Higher Education Priority During and After COVID-19.
The position statement, signed by nine universities and six sector partners, acknowledges the gendered effects of COVID-19 and outlines a shared commitment to mitigating these impacts.
"It is absolutely vital that we continue to work together and build on the recent inroads we have made towards gender equity," says Macquarie University Vice-Chancellor Professor S Bruce Dowton.
"As we have witnessed across the globe, there is a very real need for the sector to continue its collective work to help mitigate the gendered economic and social impacts of COVID-19 for staff and students."
As outlined in the position statement, Macquarie has made a commitment to focus on the following five key areas:
Actively seeking equal representation of women in COVID-19 response planning and decision-making
Formally monitoring and reporting on gender equity impacts of COVID-19-related decision making within the University and collaborating with other universities and sector partners to address emerging issues
Continuing our participation in the Science in Australia Gender Equity (SAGE) Athena SWAN initiative
Maintaining gender equity and diversity programs and KPIs
Preserving the gender equity progress that has been made to date – and into which has been invested significant time, effort and resourcing over many years – by maintaining:

women's representation at senior academic levels D and E
women's representation at senior professional staff levels 10+
support for the progression of women as students, higher degree researchers, and early-mid career researchers
support for gender equity for those studying and working in 'non-traditional' disciplines such as Science, Technology, Engineering, Mathematics and Medicine
"We have made progress in implementing the actions set out in Macquarie's Workplace Gender Equity Strategy, and we are committed to maintaining our focus on diversity and inclusion," says Vice-President, People and Services Nicole Gower.
"Work has already begun on designing measures to ensure the gendered and broader diversity impacts of COVID-19 are addressed and prioritised. Our aim is to 'fix the system' for gender equity, this approach must be maintained through times of challenge and change, and we remain committed to our gender equity goals and targets," she concluded.
Filed under: Featured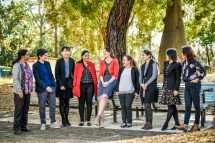 Media contact
02 9850 1055
View by category