Macquarie University climbs QS World University Rankings
10 June 2020
The QS World University Rankings 2021 released today have ranked Macquarie University 214th in the world, up 23 places from last year.
This result places Macquarie University 12th in Australia and consolidates its position in the top one percent of universities worldwide.
QS assesses more than 3,500 institutions globally on research, teaching, employability and international outlook, and publishes the standings of the top 1,000 universities worldwide. Reputation is a key measure, with the views of more than 139,000 academics and employers accounting for half of the total score.
Macquarie University's rise in this year's rankings has been driven by an increase in its quality research output, recognition by academic colleagues, and employers' positive regard for its graduates.
Deputy Vice-Chancellor Engagement, Professor David Wilkinson, says the result reflects Macquarie University's strong global reputation for research impact and teaching excellence.
"Macquarie University's rise in the QS World University Rankings shows that Macquarie University is being increasingly recognised by academic peers and industry partners as one of the highest-performing research universities, and one that is equipping graduates for future success," says Professor Wilkinson.
"In a demanding and uncertain world, we are focused on preparing students to excel, and harnessing our deep local and global connections within and beyond academia to innovate both in research and teaching. While rankings are just one indicator of success, it is pleasing to see our reputation growing alongside our investment in these aims."
Now in its 16th year, the QS World University Rankings is viewed as one of the three most widely read global university rankings, along with Academic Ranking of World Universities and Times Higher Education World University Rankings, results of which will be released later this year.
Filed under: Featured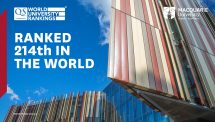 Media contact
02 9850 1055
View by category