Macquarie partners with Love Your Sister
30 March 2020
Australian actor Samuel Johnson OAM, who won the hearts of Australians when he was crowned Dancing With The Stars winner last year, and his charity Love Your Sister have chosen to partner with Macquarie University to help raise funds for the fight against cancer.
Samuel's Love Your Sister charity, which has raised $12 million dollars for cancer research, has allocated $712,000 to the Macquarie University Cancer Biobank. These funds will assist the head of Biomedical Sciences, Professor Helen Rizos, and her team continue their ground-breaking work in harvesting high quality cancer biospecimens across all cancers, including breast, colorectal, prostate, brain, liver, gastrointestinal and bladder, so that researchers can find better treatments and cures.
"This generous grant from Love Your Sister will go towards the next phase of our vision, which involves generating the genetic and cellular fingerprint date for every banked cancer biospecimen," says Professor Rizos.
"The first 100 biospecimens will be banked and profiled within the next two years thanks for Love Your Sister."
Samuel and his older sister Connie, who died from breast cancer in 2017, created Love Your Sister. The charity seeks out important research projects across the country to put the money to best use.
The Macquarie University Cancer Biobank, which launched last year, has the capacity to store 80,000 cancer specimens.
"I am immensely proud to be partnering with the team at Macquarie University, who, like us, believe that providing personalised treatment for ALL cancer patients – whatever the cancer, regardless of location, income, or status – is key. I am confident that supporting their work will bring us closer to a future where every cancer patient is offered the right treatment, first time, every time," says Sam.
Filed under: Featured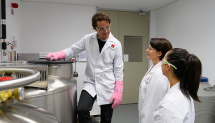 Media contact
02 9850 1055
View by category