New research partnership gives students experience in frontiers of financial services technology
12 March 2020
Macquarie University and Tata Consultancy Services (TCS) today announced a new research agreement that will provide opportunities for Macquarie students to gain valuable real-world experience in the frontier application of artificial intelligence (AI) in the financial services sector.
As part of the substantial research agreement, TCS and Macquarie will provide research scholarships to postgraduate students, giving them global research exposure, access to international conferences and the opportunity to work on projects that explore the use of data analytics and AI in the financial services sector.
The research project will be led by Dr Amin Beheshti, Director of Macquarie's AI-enabled Processes (AIP) Research Centre and Head of the Data Analytics Research Lab, and Srini Goluguri, TCS Banking and Financial Services Client Partner and head of the Data Analytics Research Lab and banking stream lead for Macquarie's AIP Research Centre.
"Macquarie University highly values our partnership with TCS and we look forward to building future opportunities that will benefit our students and that will have a positive impact on society," says Vice-Chancellor Professor S Bruce Dowton. "Partnerships with market leaders such as TCS are vital in facilitating the international exchange of ideas and innovation through research collaboration and industry networks."
"TCS has been partnering with leading Australian companies in harnessing the power of artificial intelligence, machine learning and other emerging technologies to power their growth and transformation," said Vikram Singh, Country Head, TCS Australia and New Zealand. "Our collaboration with Macquarie University will provide further impetus to exploration of innovation opportunities in the financial services value chain using these powerful new technologies, and help Australian industry retain its global competitiveness."
The partnership will create future opportunities for Macquarie students, including access to the Tata Global Internship Program (TGIP), which provides internships that enable students to build critical business skills while working on real projects globally. The students will learn how Tata manages operations across its conglomerate of companies spanning a wide range of industries.
About Tata Consultancy Services Ltd. (TCS)
Tata Consultancy Services is an IT services, consulting and business solutions organization that has been partnering with many of the world's largest businesses in their transformation journeys for the last 50 years. TCS offers a consulting-led, cognitive powered, integrated portfolio of business, technology and engineering services and solutions. This is delivered through its unique Location Independent Agile delivery model, recognized as a benchmark of excellence in software development.
A part of the Tata group, India's largest multinational business group, TCS has over 446,000 of the world's best-trained consultants in 46 countries. The company generated consolidated revenues of US $20.9 billion in the fiscal year ended 31 March 31 2019, and is listed on the BSE (formerly Bombay Stock Exchange) and the NSE (National Stock Exchange) in India. TCS' proactive stance on climate change and award-winning work with communities across the world have earned it a place in leading sustainability indices such as the Dow Jones Sustainability Index (DJSI), MSCI Global Sustainability Index and the FTSE4Good Emerging Index.
Filed under: Featured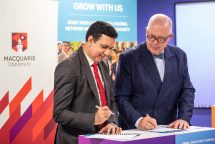 Media contact
02 9850 1055
View by category