Macquarie University is proud to partner with medical technology incubator FLEDGE Innovation Labs
30 January 2020
Macquarie University today announced a new partnership with FLEDGE Innovation Labs, providing opportunities for passionate Macquarie students to access medical technology industry expertise whilst developing impactful and community-minded medical products.
FLEDGE provides project-based learning experiences where aspiring MedTech entrepreneurs can develop real products under the leadership and guidance of FLEDGE mentors, supported by an extensive network of experienced med-tech advisors.
Based on the Macquarie University Incubator distributed model approach, FLEDGE has become an important contributor to Macquarie University's thriving innovation ecosystem and the Macquarie Park Innovation District (MPID).
"Macquarie University is extremely proud to welcome FLEDGE as its partner and we look forward to leveraging the many opportunities that this partnership will provide for the benefit of the community and our students," said Professor David Wilkinson, Deputy Vice-Chancellor (Engagement).
The uniqueness of FLEDGE comes from combining deep domain expertise with the local environment: prototyping facilities, manufacturing and scalability. As a Macquarie partner and part of MPID, FLEDGE is at the core of a unique innovation ecosystem that includes the Macquarie University Hospital, expertise in teaching and research in medicine and health sciences, and a high concentration of local experts in the medical devices industry.
The experience of interning at Fledge has provided many students from Macquarie's faculties of Medicine and Health, Science and Engineering, and Arts with opportunities to collaborate with students from other universities, gain valuable hands-on experience, make valuable industry connections, and greatly increase employability prospects.
45 students (25 from Macquarie) have already been instrumental in developing some of FLEDGE's innovative social impact projects, including:
VitaMon™: real-time monitoring of vital signs for hospital inpatients. VitaMon™ is being developed to monitor ECG, respiration, SpO2, temperature, cuff-less blood-pressure, location and kinematics in real-time. Coupled with an AI expert system, VitaMon™ will alert carers to patient degradation, enabling early intervention.
VR-4-CP: Non-contact Virtual Reality interfaces and immersive content for people living with cerebral palsy (CP), acquired brain injury (ABI), spinal cord injury, stroke and neuro-muscular disorders. This project was led by FLEDGE in collaboration with a Macquarie Arts undergraduate living with cerebral palsy and a Macquarie Computer Science PhD student.
RESPI (Respiration Enhancement & Support for Preterm Infants): Reducing the mortality rate of preterm infants in resource-limited countries. Two Macquarie students completed their PACE Work Integrated Learning internships on this project.
Filed under: Featured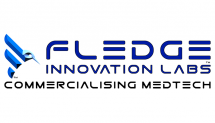 Media contact
02 9850 1055
View by category