Macquarie PhD candidate awarded a Fulbright Scholarship
21 January 2020
A Macquarie University PhD candidate has been announced as the recipient of a prestigious Fulbright Scholarship.
Timothy Yee, who is currently undertaking his PhD in the Department of Media, Music, Communication and Cultural Studies, will be joining the research group metaLAB @ Harvard for six months as an affiliate, with the support of a Fulbright Postgraduate (Research) Scholarship.
The Fulbright Program is the flagship foreign exchange scholarship program of the US, aimed at increasing binational research collaboration, cultural understanding, and the exchange of ideas.
Yee will be conducting ethnographic research and making visual and conceptual artworks in response to his research findings with internationally renowned creative practitioners in the networked arts and humanities. The aim of the project is to explore the ways in which the concept of innovation is mediated in everyday corporate cultures.
"The purpose of my visit is to explore new research methodologies that bring media studies, digital ethnography and creative practice together," says Yee.
"I'm beyond excited to be returning to Harvard University in 2020, having previously participated in a three month research internship during my MQ Master of Research in 2017.
"The Fulbright Scholarship will allow me to continue working with a global network of artists, scholars and professionals conducting cutting edge research in my field.
Filed under: Featured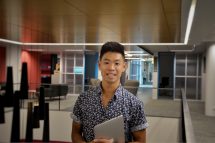 Media contact
02 9850 1055
View by category