Macquarie University to lead three new Linkage projects
13 January 2020
Macquarie University researchers have been awarded three grants under the Australian Research Council Linkage Project scheme. A total of $1,174,111 was granted to research projects that will have significant benefits for protecting coastal floodplains, improving retirement planning, and making autonomous vehicles safer.
The successful projects were announced today by Minister for Education, the Hon. Dan Tehan MP. The Linkage Program promotes national and international research partnerships between researchers and business, industry, community organisations and other publicly funded research agencies.
Macquarie University Deputy Vice-Chancellor Research Professor Sakkie Pretorius congratulated the University's researchers for securing the grants.
"These collaborative projects will leverage Macquarie University's world-leading research expertise to address some of the most pressing environmental, social and technological issues facing our society today.
"By partnering with industry, other research organisations and traditional owners, these projects promise to uncover innovative solutions with real-world impact."
Dr Emilie-Jane Ens from the Department of Earth and Environmental Sciences will lead a project with other Macquarie investigators Professor Damian Gore, Professor Neil Saintilan, Professor Andrew Skidmore and Dr Tim Ralph and PhD student Daniel Sloane in partnership with the Laynhapuy Indigenous Protected Area Manager Dave Preece and Cultural Advisor Yumutjin Wunungmurra to explore innovative ways to protect and manage coastal floodplains of northern Australia from feral animals and rising sea levels.
The research team was awarded $507,000 for the cross-cultural multidisciplinary project working with local Yolngu Traditional Owners and Aboriginal Yirralka Rangers to investigate the impact of feral animal control on managing the degradation of tropical coastal floodplains and the complex interaction between feral animals and sea level rise.
Associate Professor Joanne Earl from the Department of Psychology was awarded $325,258 to lead a project aimed at designing a new holistic model to improve retirement planning. The new model integrates financial advice with career and health planning to make better decisions about workplace exit and improve the wellbeing of retirees longer-term.
Dr Xi Zheng from the Department of Computing received $341,853 to partner with UTS and SilverQuest to develop an innovative safety-preserving ecosystem for autonomous driving, to detect and prevent malicious attacks on autonomous vehicles.
Filed under: Featured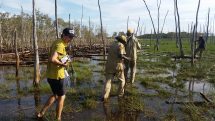 Media contact
02 9850 1055
View by category